Work Design in Amsterdam: How employees shape their hybrid workplace culture
2023-05-22 ・ Jana Šlechtová
Effective communication and collaboration are important for any team, but when it comes to the reality of hybrid teams, they become a critical success factor. Learn about the way we have been designing work at foryouandyourcustomers in Amsterdam.
Hybrid workplace
Hybrid teams work towards common goals just like any other team, but they do so while enjoying flexible work structures. Team members in such teams might be often working at different times, at different locations or even a combination of both. And while this way of working brings benefits to both the employer and the employees, it requires focus and effort to design a successful hybrid work model.
At foryouandyourcustomers Amsterdam, employees have autonomy over where, when and how they work. Whether they prefer to work in an office environment, remotely, or alternating between these two is up to them, as long as it works with the agreements they make with others in the team. We believe that every individual is mature enough to know where and how they best achieve goals and balance in all aspects of their lives.
However, hybrid work is not only about the location. Enjoying high levels of flexibility results in higher complexity of communication. Within our dedicated project teams as well as within the larger team in Amsterdam, we continuously adjust our mix of synchronous and asynchronous techniques and tools, making conscious decisions about how we will collaborate so that we can maximise the benefits of the freedom we are enjoying. 
The foundation for it all is the people we surround ourselves with and the relationships we build amongst each other. Promoting a sense of belonging and community is paramount in building and maintaining those. When neglected, productivity and collaboration will not thrive, negatively impacting the team's productivity, as well as leaving team members at risk of feeling disconnected and isolated. 
How we shape our hybrid culture, is by being invited to be actively involved in its making and we do take the opportunity.
Shaping our culture with employee initiatives
In Amsterdam, we, as employees, are the drivers of change. A specific example of an initiative that shapes our team culture and working model is a recurring Team Day.
The idea is simple: regularly scheduled time, when the team leaves their daily work behind and comes together. Over the past two years, we have experimented with the format, timing and mix of activities that allow us to reach our goal: strengthen relationships, get to know one another better and make lasting memories.
Team Day in Amsterdam
On Friday, April 14, the team gathered in our office in Amsterdam Noord and after sharing a cup of coffee, the morning workshops started.
Taking full advantage of being in one location, the activities that were prepared focused on in-person interactions. Not only did we discuss the latest updates, but above all we took time for a creative and collaborative working session focused on our plans for the upcoming months. 
---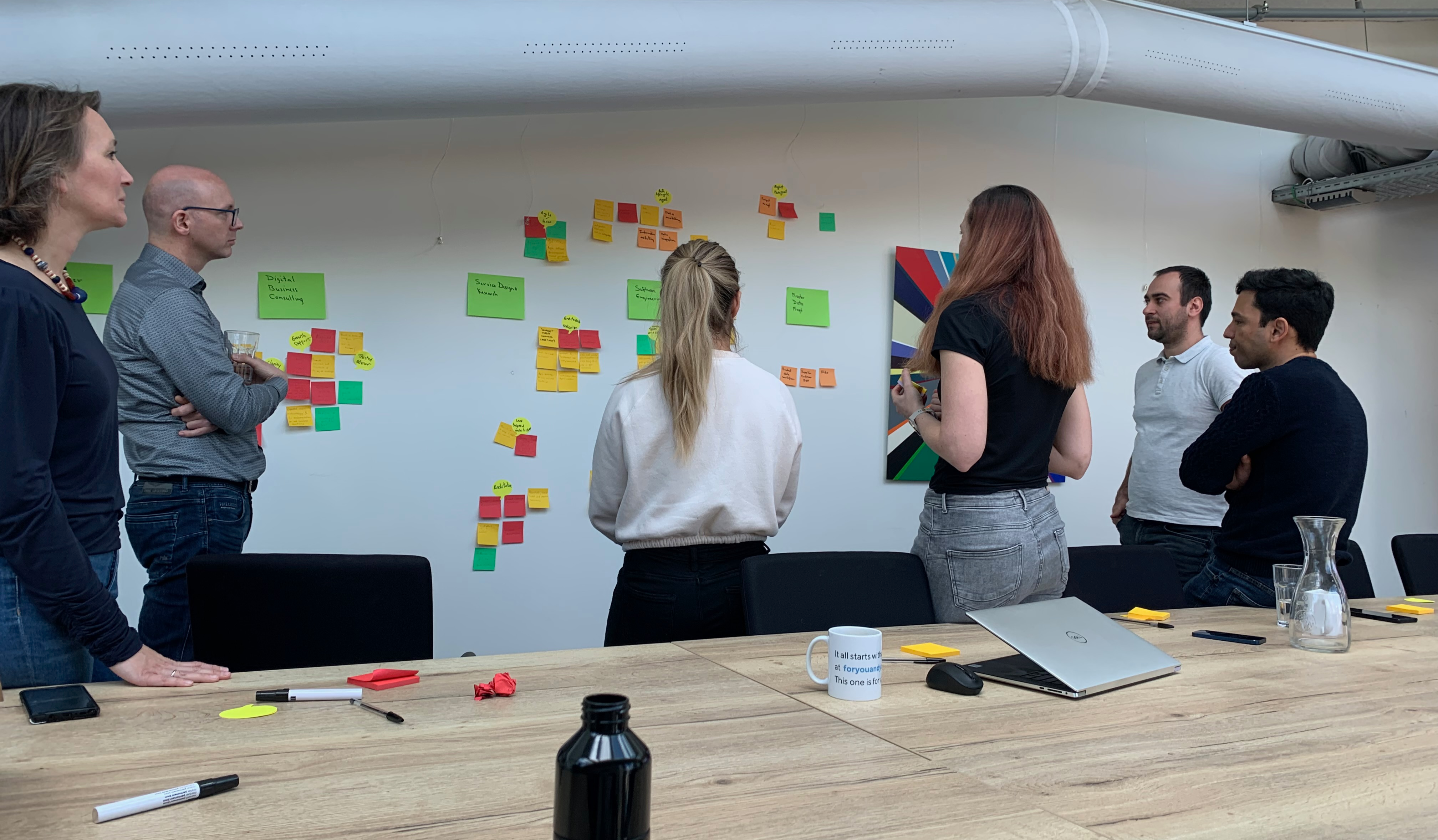 ---
The intensive session was put on hold for shared lunch in a nearby restaurant. The break provided time for everyone to catch up, and enjoy their meal with a view of the NDSM area.
Based on the success of the previous Team Day, we have also dedicated time to an activity proposed by one of the team members. This time, the activity was related to art, a subject that plays a special role in our company's identity. 
The art workshop was organised in a local pub, where we arrived after a short walk. In no time, everyone found themselves at their new workstation equipped with a canvas, brushes and paint, transforming themselves into an artist for the rest of the day.
Two creative hours of experimenting with colours and materials went by quickly and soon every participant was richer not only with the shared experience but also with a canvas to take home.
---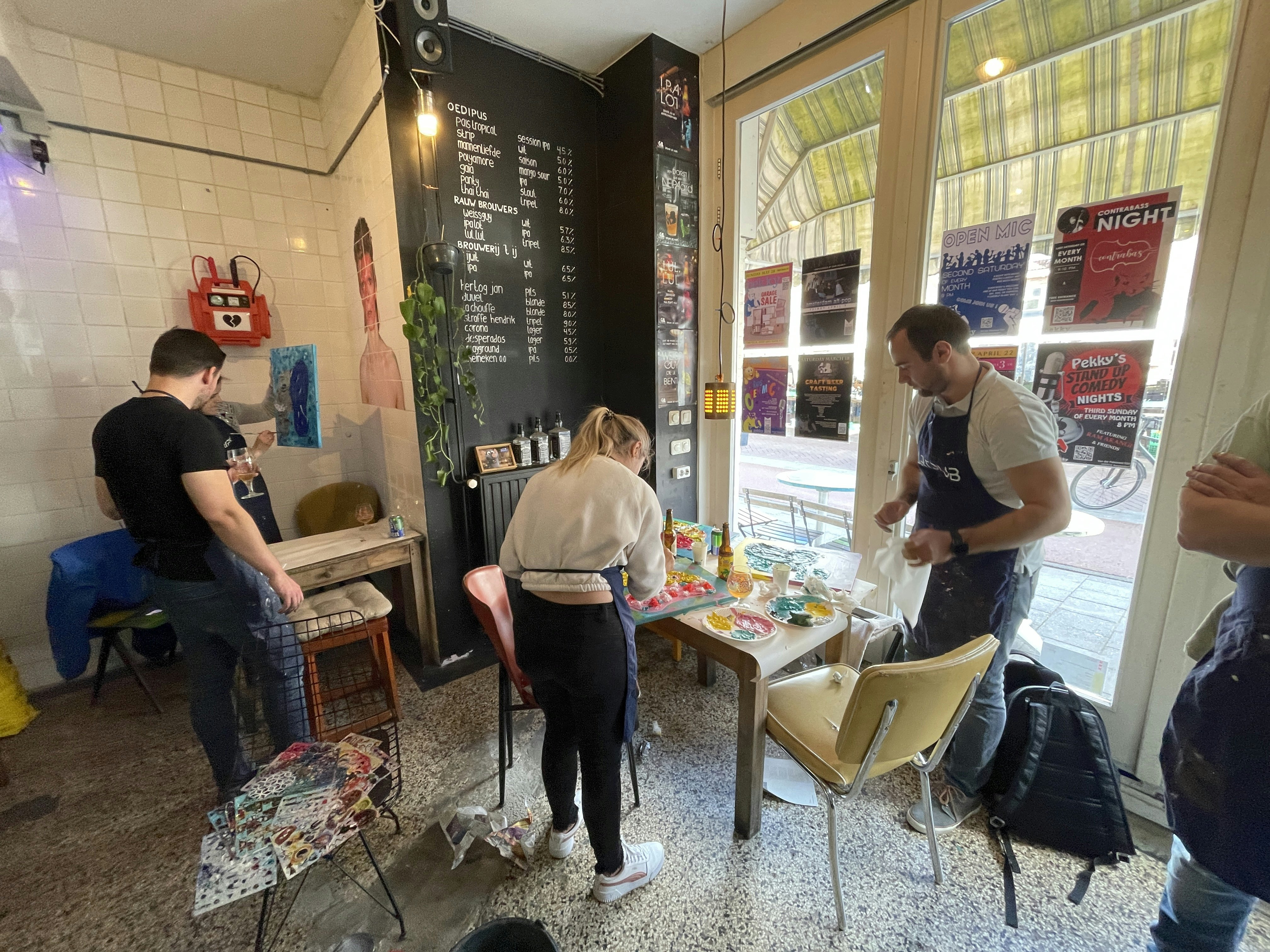 ---
The elephant in the room
One month after the Team Day, when you open a conference call with our team, there will be an elephant in the room.  And while for the participants of the workshop, the sight might trigger memories of the shared experience, it has also become an interesting conversation starter for others.
By fostering an environment of open dialogue and respect, we keep our elephants pinned to the walls of our (virtual) backgrounds while we find solutions and common ground. How do you design your workplace and do you and your team have "elephants in the room"?
---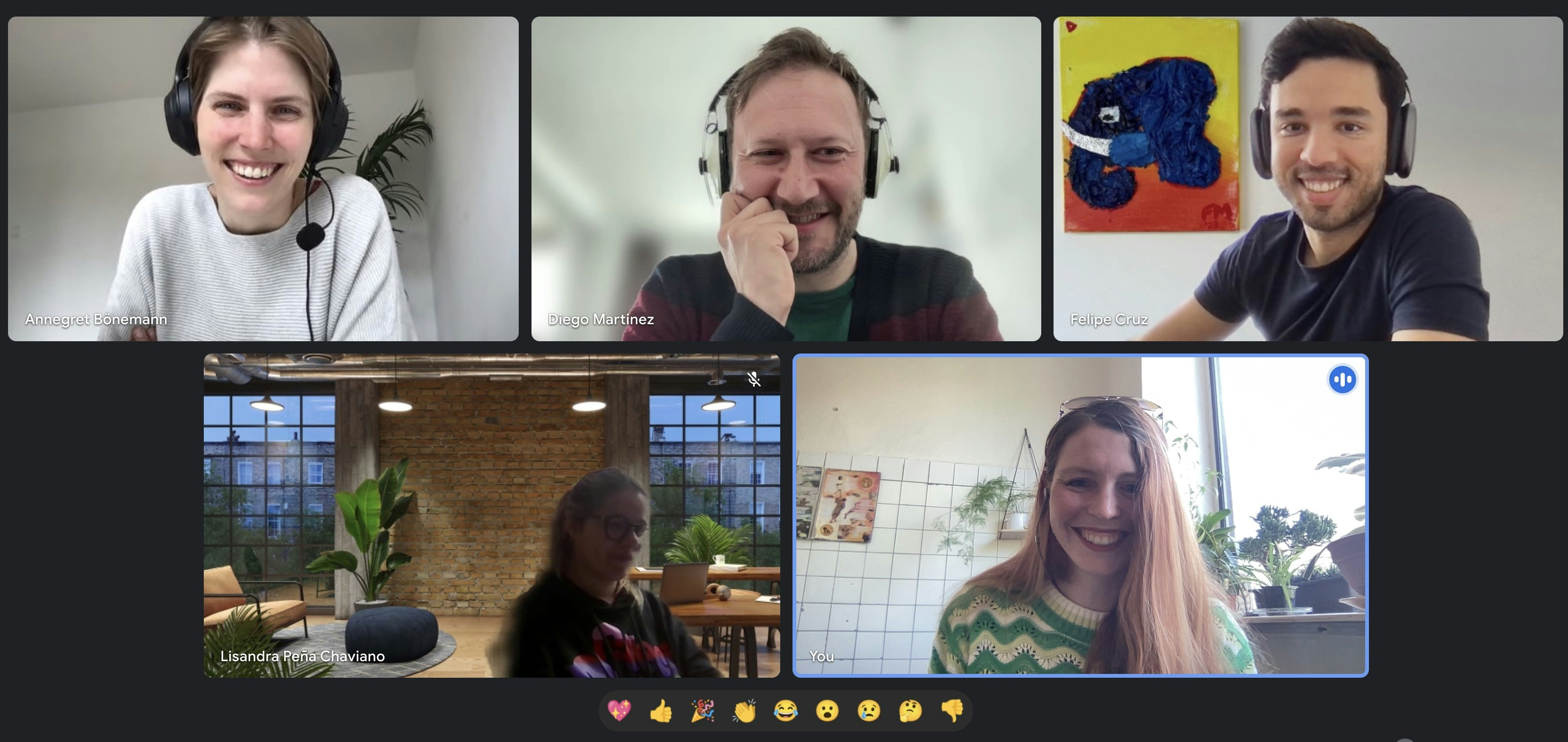 ---