Art is part of our identity, which is why we display contemporary art in our offices
Art is an integral part of the culture at foryouandyourcustomers. It is the foundation of an inspiring work environment for our employees and is accessible to customers and art lovers alike. Our exhibitions comprise works from different creative phases of various artists. The works are both dynamic and static, reflecting the artists' development as well as a constancy – adapting and evolving but still recognisable, just like foryouandyourcustomers.
62nd exhibition: Julia Burek
---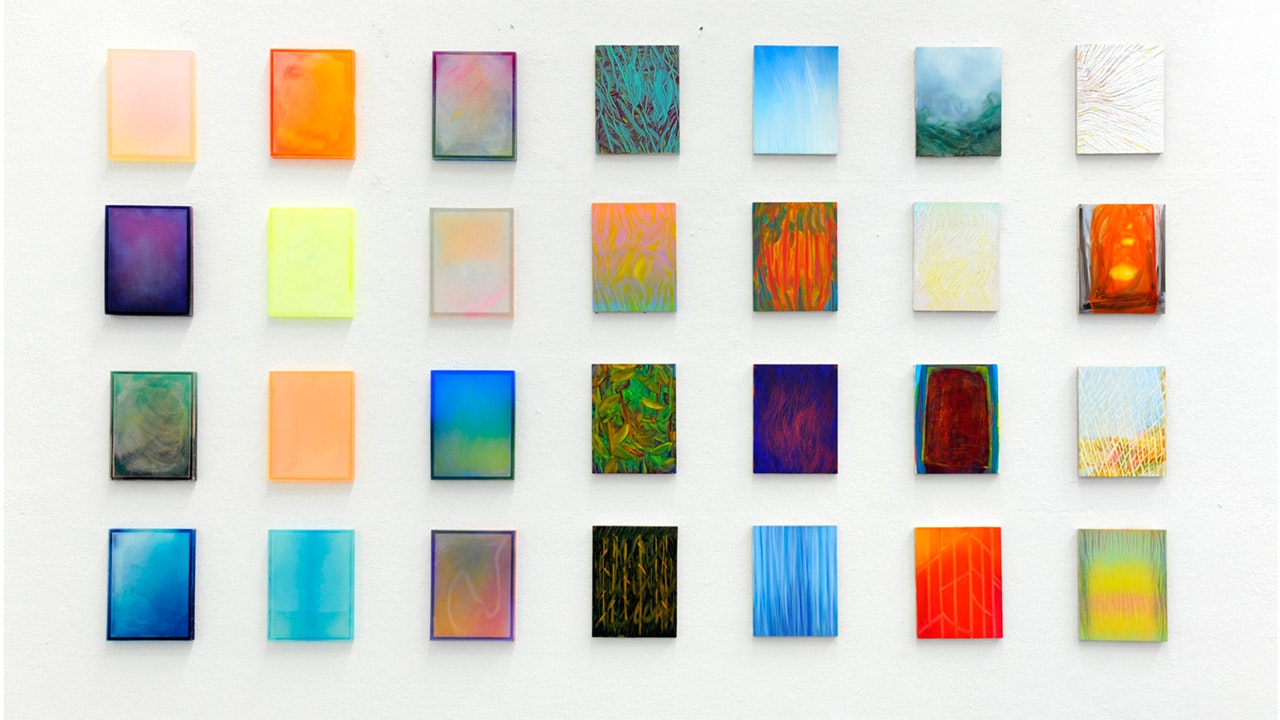 ---
Julia Burek celebrates the multifaceted possibilities of colour in her paintings. In her paintings, she transforms visual situations of everyday life into "colour moments" that never attempt to mimetically depict what is perceived, but only take it as an occasion for a translation, or rather: a new creation in the language of painting. Julia Burek speaks this language suspensfully; the pictures oscillate between two-dimensionality, spatiality and depth and examine questions about the relationships and effects of colours to each other, about light and transparency, about painterly surfaces and about materiality in general. Julia Burek poses and answers these questions anew with each painting, working out the properties of the respective medium layer by layer with oil, acrylic or watercolour. And above all, when she uses epoxy resin to take away the painterly gesture of the picture, giving it an object character and thus gently pushing it to its limits. Julia Burek, * 1992 in Munich, has been studying painting at the Academy of Fine Arts since 2016.(Text, Art Curator: Carola Conradt)
---
61st exhibition: Kate Mitchell
---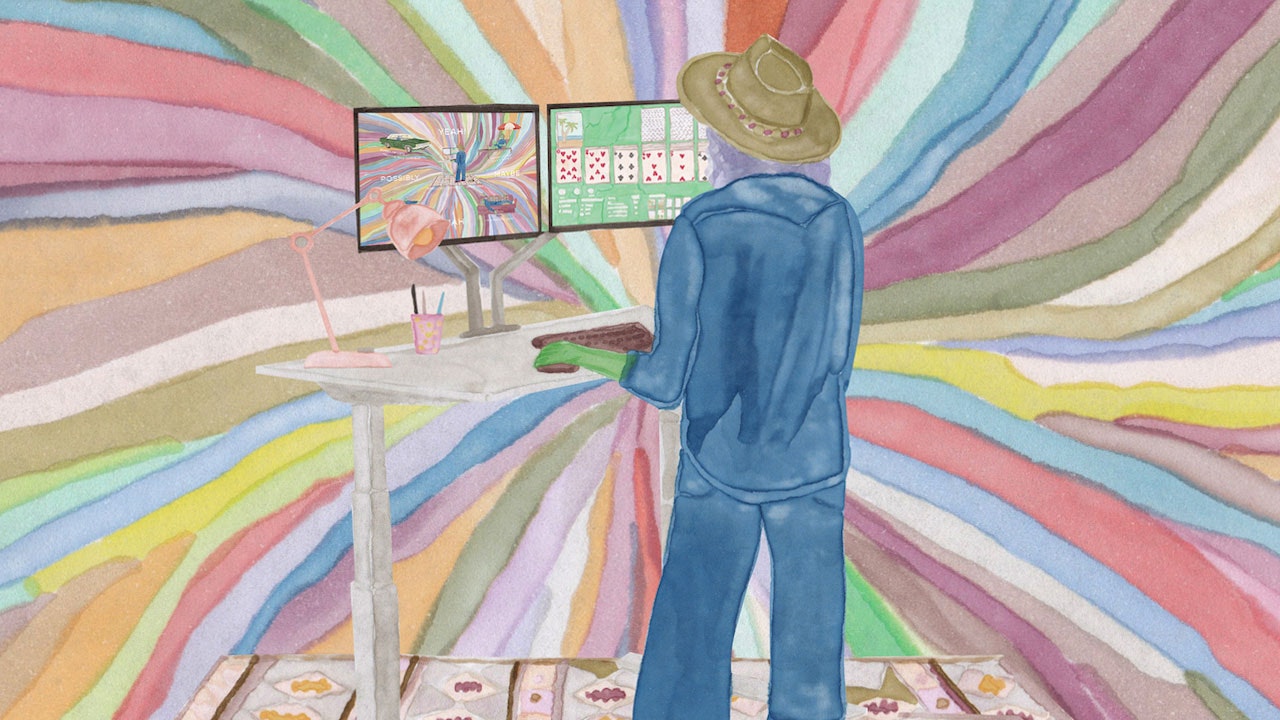 ---
All Washed Up is a presentation of newly commissioned and recent works by Sydney–born, Sunshine Coast–based artist Kate Mitchell. Working across video, performance, sculpture and drawing, the artist infuses a sense of surreal and often absurdist humour into her reflections on contemporary life, its pressures and responsibilities. All Washed Up centres focus on the inevitability of work, ruminating on ideas and deflections of purpose, motivation and agency of choice. Conceived in response to the office environment, Mitchell ponderously unpacks notions of time and labour to elaborate questions of existentialist meaning and value in a manner that holds universal gravitas. With wit and whimsy, Mitchell creates an environment that joyously enlivens the shared office environment, while plotting pathways for escape from it. (Text, Art Curator: Mark Feary)
---
60th exhibition: Ruth Maria Obrist
---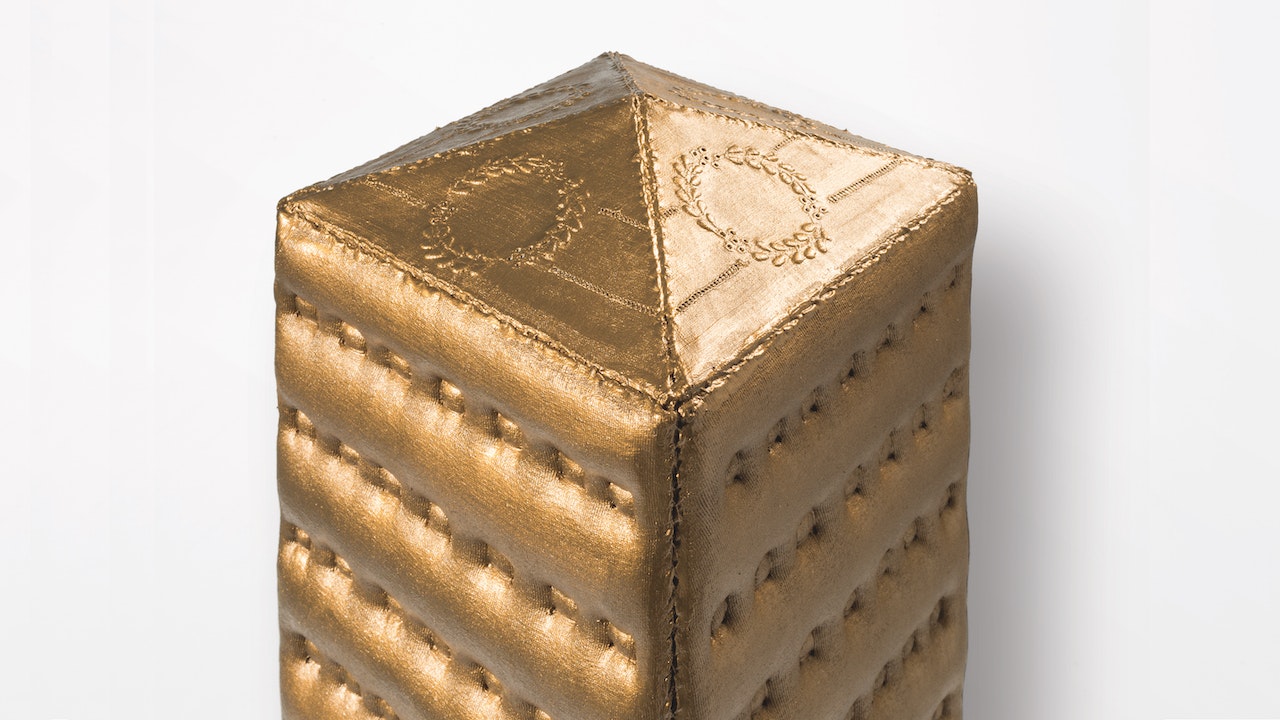 ---
Ruth Maria Obrist, born in Laufenburg in 1955, has created an extensive body of work over 40 years. This includes wall and room objects as well as installations and numerous art-in-building projects for private individuals or in public spaces. In Ruth Maria Obrist's work, the material is central as a starting point, allowing her to be inspired and challenged by the intrinsic colour as well as the behaviour of a substance. She creates sensual surfaces with bitumen, white glue, mercuchrom, gold or rust. Despite the dense materiality, her works radiate a poetic lightness. Her great love is mathematics. She uses principles of order such as the sequence of prime numbers or geometric elements as a measure that gives meaning and support. Connected to this are architecture and space in the broadest sense, the house as well as the vessel. The perception and design of the space in between is of particular importance. (Text: Judith Annaheim, Art Curator: Guido Baumgartner)
---
59th exhibition: Armin Hartenstein and Ilka Helmig
---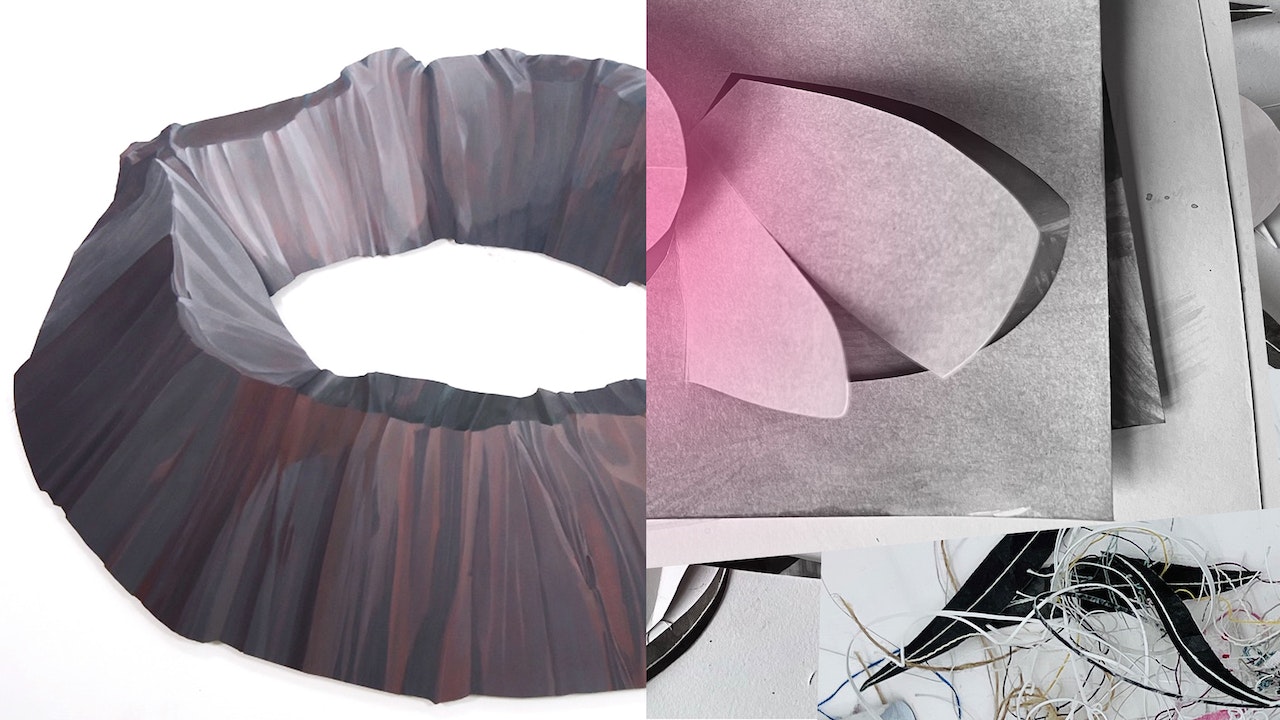 ---
In the exhibition, they meet in the play with the three-dimensional, Hartenstein through the question of his own location in front of the work, Helmig through organically growing forms and structures on the threshold of the spatial. Armin Hartenstein has become known above all for his volcanic cauldrons and island forms, the outlines of which he cuts and breaks out of wooden panels and then develops on this picture support using the Tromp l'Oeil technique. Although the image carrier is two-dimensional, a very three-dimensional spatial illusion is created, which only dissolves when viewed from the side. Hartenstein places mountains, craters and geological structures in the picture in a painterly and object-like manner, playing with appearance and reality. While Hartenstein creates fictional abstractions of landscapes, Ilka Helmig abstracts scientific phenomena. For example, she has made works on the theme of random distribution, locating self-similar structures in the most diverse contexts. Helmig plays with our notions of the random and the provisional, yet everything in her work is very clearly and thoughtfully conceived in relation to each other and to the exhibition space. (Text, Art Curator: Torsten Obrist)
---
58th exhibition: Marta Djourina
---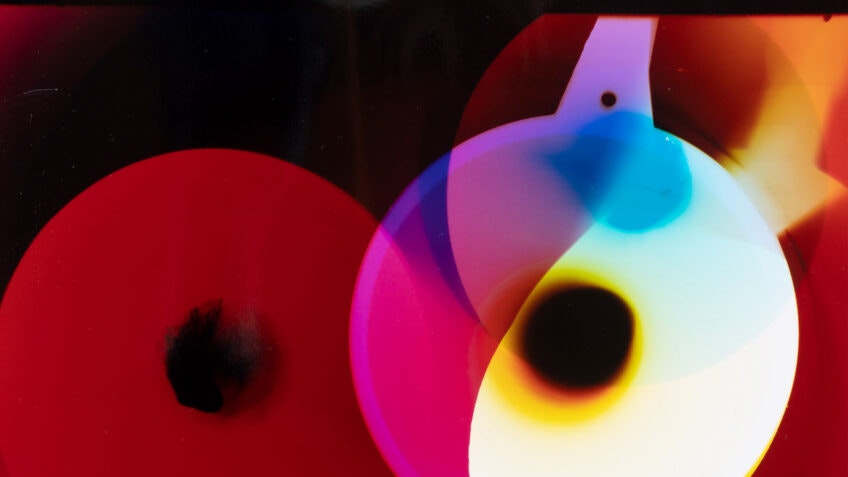 ---
Marta Djourina focuses in her practice on experimenting with lights, body, and time as a means of exploring what is or could be photography. For her exhibition "In Touch", she covers the glass walls at the office of foryouandyourcustomers in Sofia with enlarged prints of traces, such as these she would smudge with her fingers on the self-made film negative when working in the analog photo lab. The new series of works involves the site employees by making colourful photograms akin to "portraits" of their favourite belongings. Marta's work takes one more direction: she converts algorithms and notes made for the digital space into their analog version, thus probing their materialized presence. (Text, Art Curator: Viktoria Draganova)
---
57th exhibition: Michaela Lautenschlager
---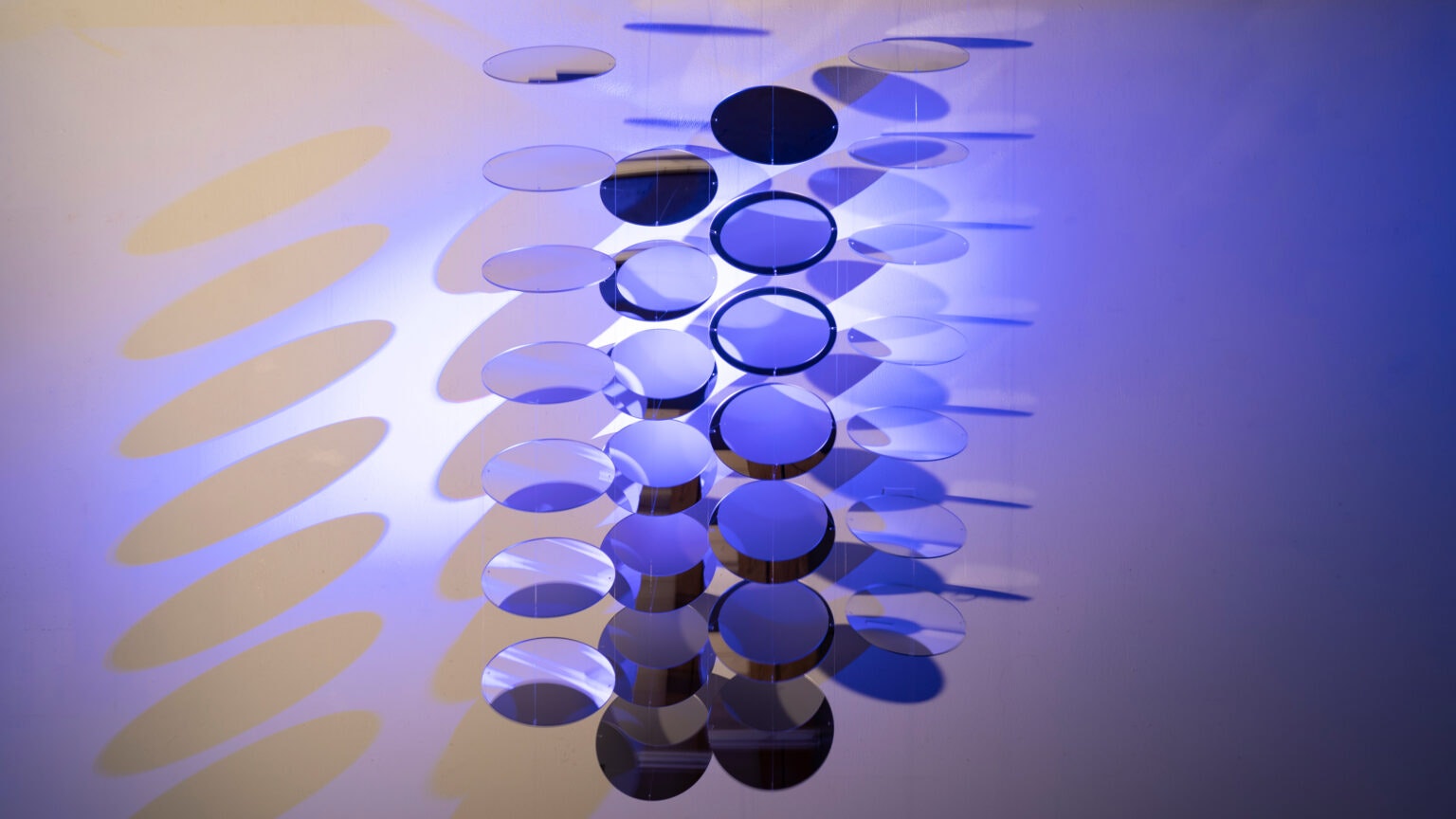 ---
The information designer Michaela Lautenschlager (*1988, Amberg) works at the intersection between
spatial design and interactive media art. In her technically and aesthetically sophisticated installations and thematic exhibitions, the artist deals with the physicalization, sonification and visualization of big data in the context of the digital city. The central aspect of her work is the translation of complex relationships into spatial experiences, making various environmental issues tangible and tackling human self–perception. Her focus is just as kinetic as her installations themselves – from the microscopic view of the butterfly's wings to the scientific examination of electromagnetic radiation, the tech–savvy designer deals with a wide range of themes. With this, the IIID–Award winner hits the pulse of the times and invites a critical yet playful reflection of modern urban subjects. (Text, Art Curator: Nadine Bajek)
---
56th exhibition: Katja Pudor
---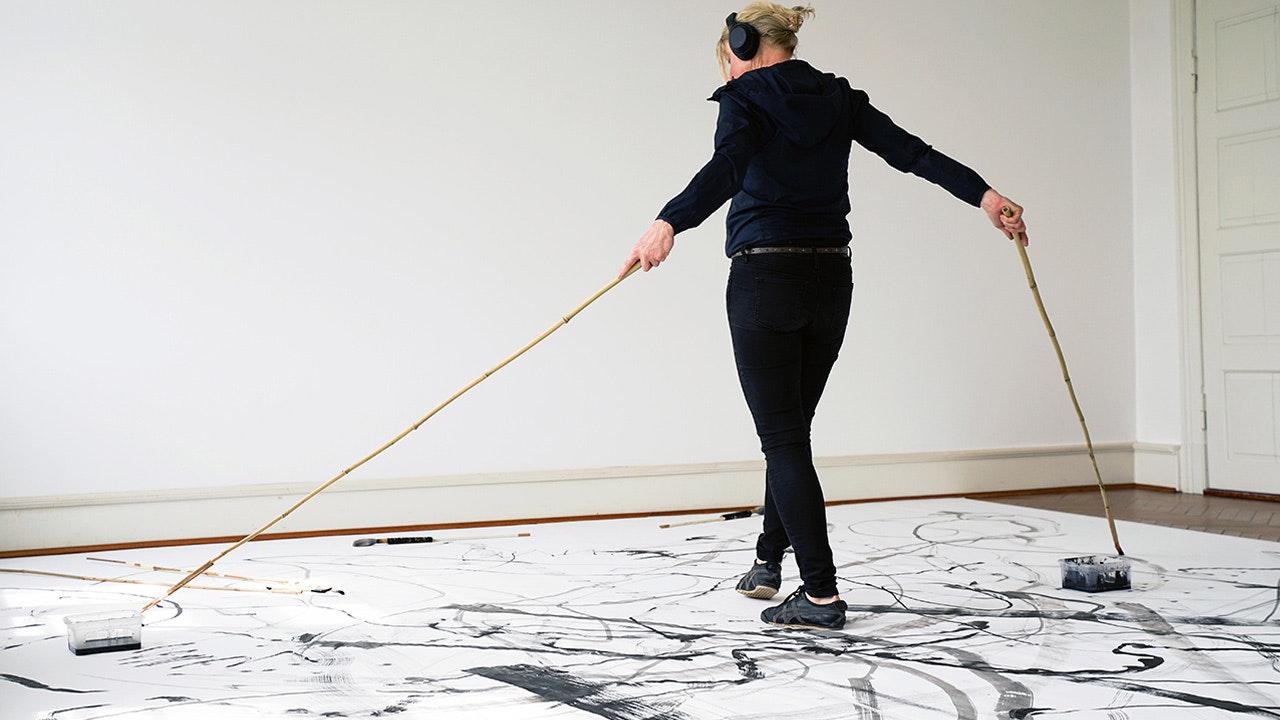 ---
"About hearing and listening and the resulting possibilities for action": Katja Pudor stages the theme of "time"; she creates palimpsest-like spaces of superimposed structures of thought and action by capturing the transience of the moment. In Saarbrücken, the artist shows sound-based drawings in the sense of the archaeology of the present: seismic traces of an intensive examination of complex processes of reception and transfer. Memories, meanings, and references to various genres and physical locations are uncovered and manifested with materials such as paper, charcoal, and ink. "For me, drawing is a conceptually explorative as well as physical work: mental and physical processes that are shaped by the material, the format of the paper, and the posture of the body. "Katja Pudor studied painting/fine arts at the Berlin-Weißensee School of Art with Katharina Grosse and graduated as a master's student in 2005. (Text, Art Curator: Véronique Verdet)
---
55th exhibition: Magdalena Abele
---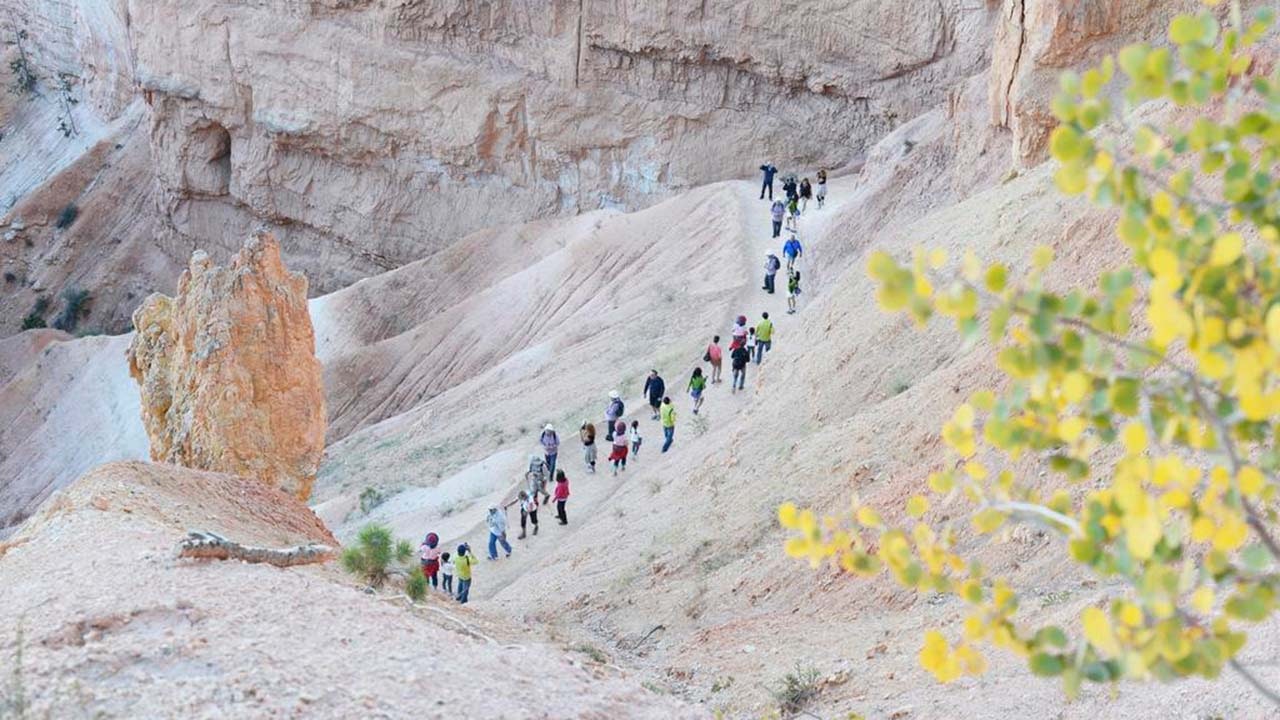 ---
Magdalena Abele (*1986) often begins her photographic exhibitions with a journey to famous sights, especially places of outstanding scenic beauty. These have included North America, South Korea, Cuba and Italy. Abele's carefully composed portraits of these tourist magnets open up the everyday to the wider world. But they go further than that, becoming a stage on which the artist can enact a spectacle that is as quiet and elusive as it is absurd and thought-provoking. The throngs of tourists in Abele's images feature subtle peculiarities. As an artist-director, she uses theatrical, cinematic and photographic methods to create images that at first seem wholly quotidian, but on closer inspection confuse the viewer, inviting a slower, deeper contemplation. (Text, Art Curator: Carola Conradt)
---
52nd exhibition: Lauren Burrow
---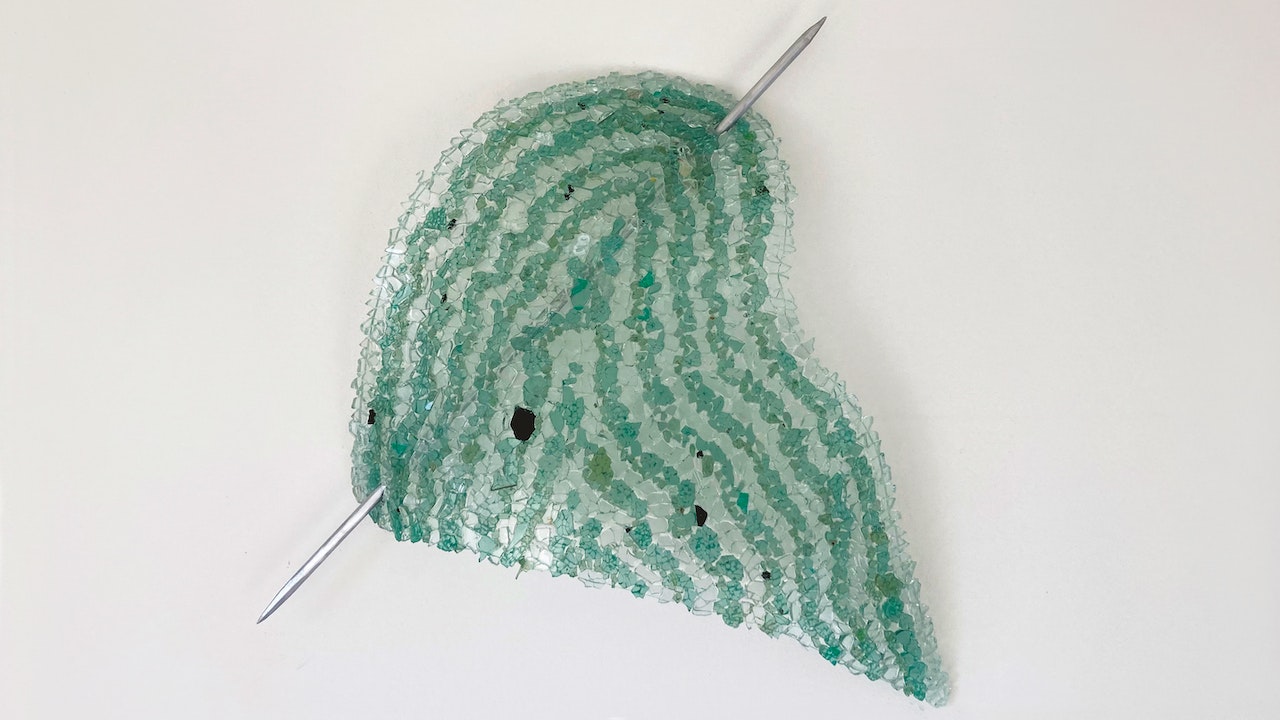 ---
Lauren Burrow is a Darwin-born, Narrm (Melbourne)-based artist, whose sculpture and installation practice is founded on deep research. These inquiries are encapsulated in materially grounded, glimmering artworks whose appearance contains contradictions: simultaneously attracting the gaze while speaking to volatility and seemingly invisible histories. Grappling with relationships between human and non-human entities, she is interested in how colonial interventionist approaches to land have resulted in cycles of degradation and re-development. With this latest series of works crafted from safety glass scavenged from broken car windows, she recreates shapes of waterways that course through the heart of the city. Reflecting the Birrarung's patterns, before and after dynamite was used to divert its natural shape, the glittering glass' beauty is belied by the frenzied changes that have been wrought on the river's flows. (Text, Art Curator: Ella Krivanek)
---
51st exhibition: Hans Thomann
---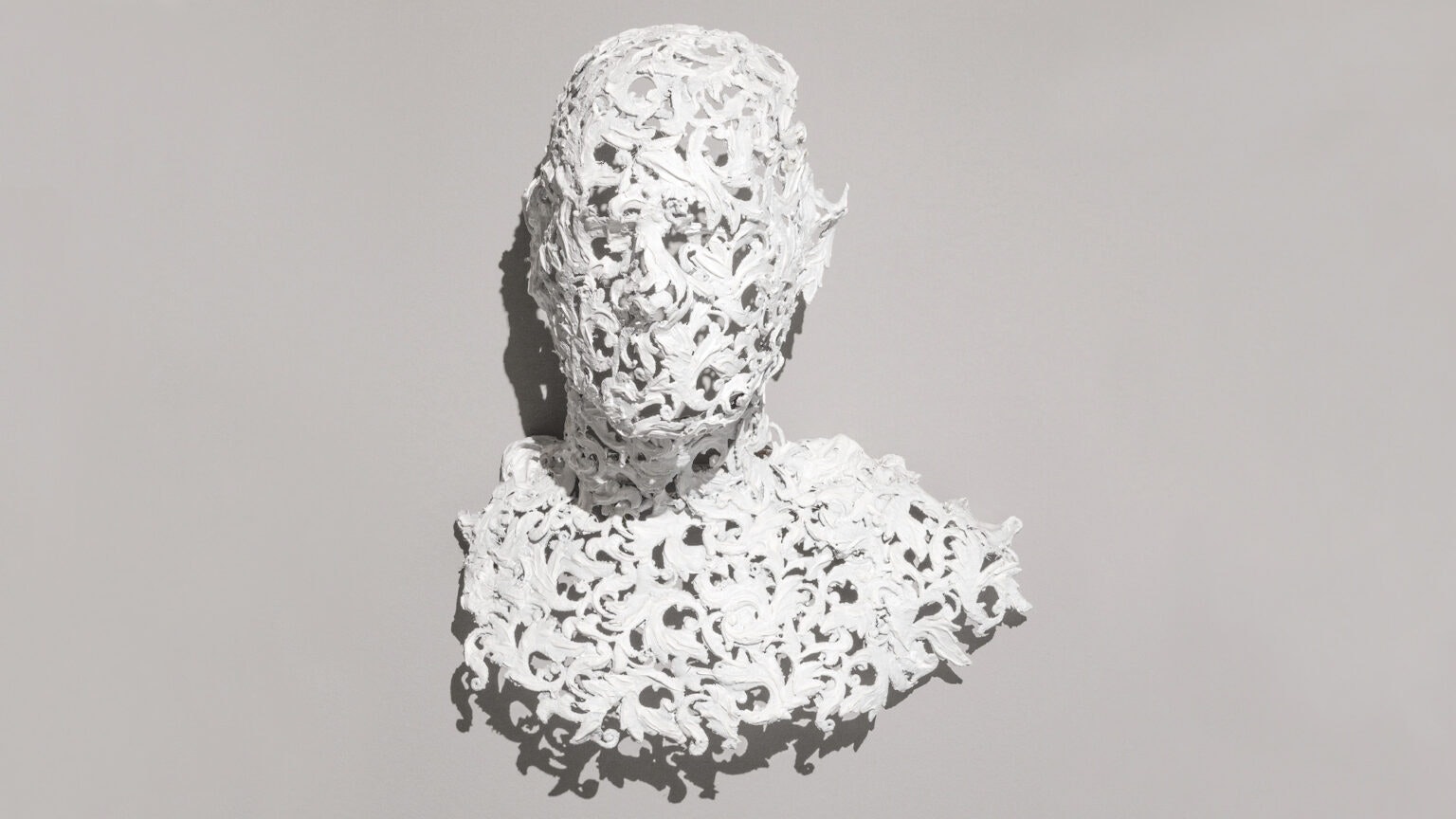 ---
In Hans Thomann's work, the figure is the constant. He is interested in how people present and perceive themselves. Life-size sculptures of people, Superman, dwarfs, Jesus: Thomann gets to the bottom of culturally shaped constructs that often turn out to be fragile illusions. Ambivalence is the artist's constant companion, but so is humour. Thomann engages in a continuous reflection on the human existence through his work, which includes numerous installations in public spaces and on business premises. His discussion also enters sacred spaces, accomplishing inspiring, critical or provocative interventions. Thomann lives and works in St Gallen. He completed the master class with Mario Merz in Salzburg in 1981, winning renowned prizes. (Text: Judith Annaheim, Art Curator: Guido Baumgarter)
---
49th exhibition: Florian Nährer
---
---
Typical for the artistic work of Florian Nährer (born 1976 in St. Pölten, lives and works in St. Pölten) are clear, contrasting colours and geometric shapes. Having grown up with the music and films of the 1980s and 1990s, which serve as a constant point of reference, the artist works primarily in the media of painting, drawing and sculpture. As a source ofrefreshment and as an antidepressant –that's how Florian Nährer's pictures come across to us, but it would be limited to understand his art only in the mood-lifting or decorative sense. A myriad of questions lies behind it, which is also alluded to by the exhibition title "BENEATH". In addition to his studies in painting, Florian Nährer also completed studies in theology –his art is an outstretched hand inviting viewers to discover and understand the larger connections of human existence and faith. (Text, Art Curator: Dr. Lisa Ortner-Kreil)
---
48th exhibition: Wolfgang Flad
---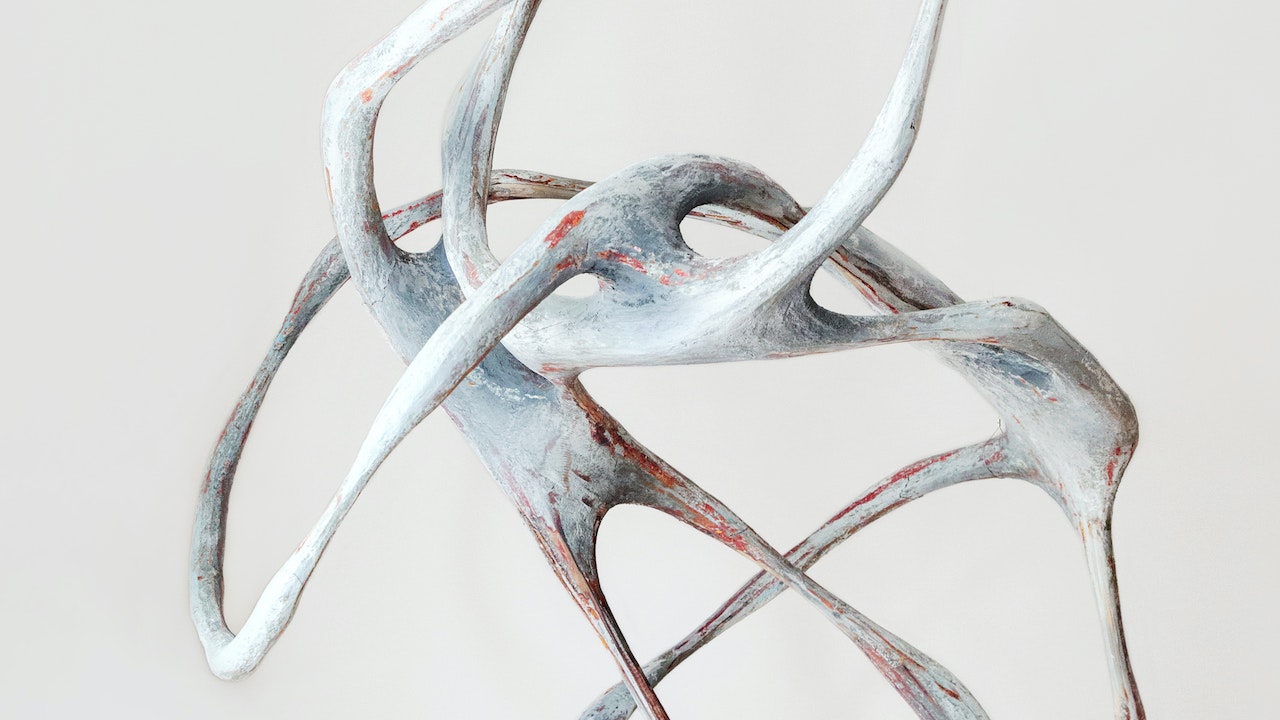 ---
Wolfgang Flad (*1974 in Reutlingen) created sculptures in wood, papier mâché and paint that give these three variables an energetic flow. Flowing, dancing, spinning: they define and interpret spaces and the surrounding negative space. Sitting, lying, hanging, ever present, ever new. A change of perspective is on the cards today. Reflected in the wall works from the "Dark side of the moon" series, the pieces echo each other, intensifying their effect and playing off one another, highlighting their contrasts. New images emerge, new spaces enrich one another, providing commentary, flirting, reproducing and reinventing themselves. A space within a space, a piece within a piece. The colours change, the sculptures dance, and I want to move with them, creating images, a viewer within the image, within the space. (Text, Art Curator: Carola Conradt)
---
47th exhibition: Lisa Biedlingmaier
---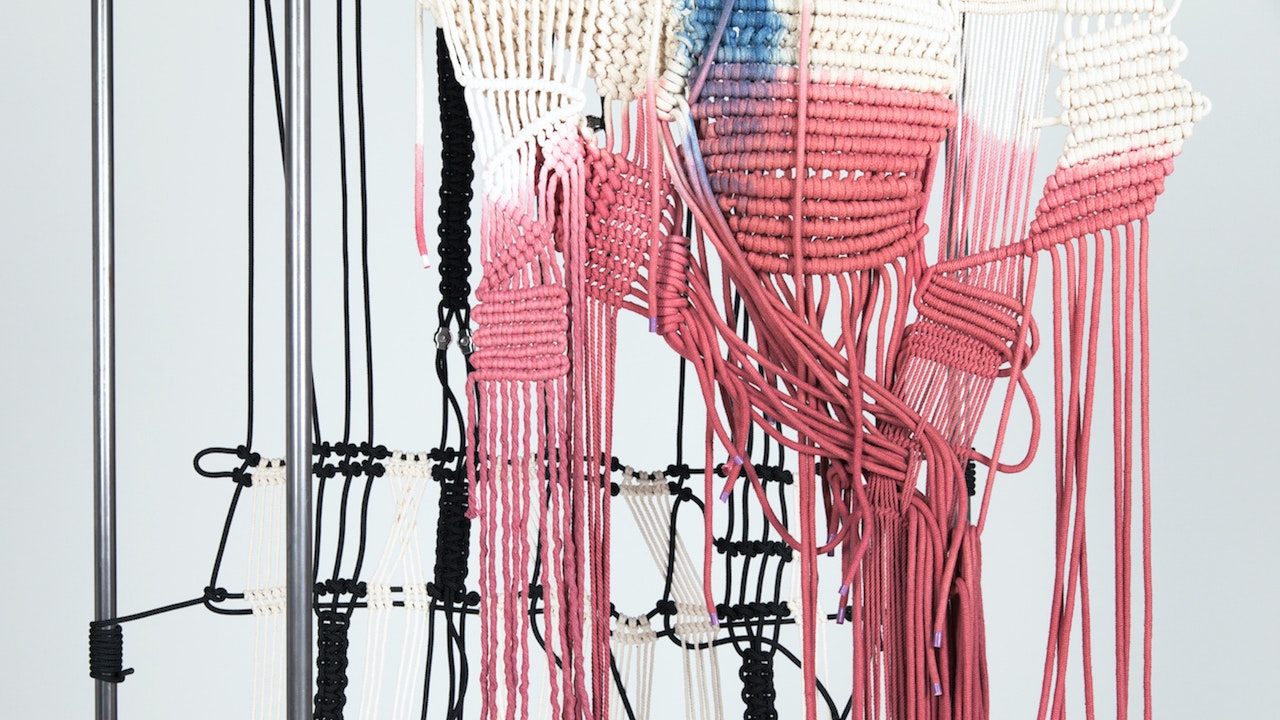 ---
In her sculptural installations, Lisa Biedlingmaier takes traditional craftsmanship and converts it into a distinct, contemporary artistic language. As the foundation, she uses macramé, the ancient oriental knotting technique. Her knotted, mostly freely hanging objects are reminiscent of abstract, fragile human bodies. The knotting and releasing become themselves the thematic focus. The artist uses this technique as a metaphor to contemplate human existence: Into what social structures are we born? What entanglements arise in the course of our lives? And what established patterns and correlations would we like to dissolve? The craft of knots thus creates both an oppressive and a healing effect at once. (Text, Art Curator: Ana Vujić)
---
46th exhibition: Jürgen Jansen and Thomas Zika
---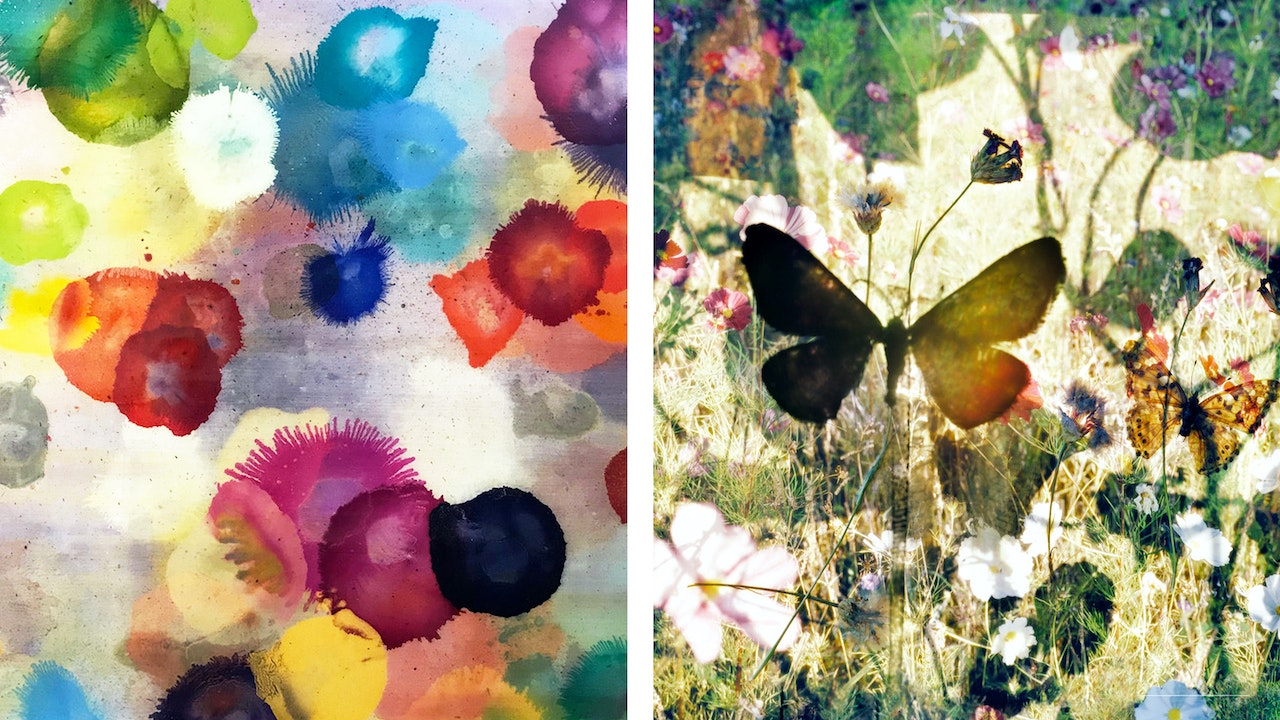 ---
After almost two years, we can at last resume our exhibition activities: in a new "Cross Over", two artists of different genres meet. They do, however, have something in common – the use of strong colours and an extremely extensive range of colours.
The artist Jürgen Jansen who hails from Düsseldorf, master pupil of Per Kirkeby and Jan Dibbets, works with heterogeneous materials, which he pours in many layers onto the painting surface and then spreads with various tools: acrylic meets oil paint; epoxy resin meets watercolours. The shapes are reminiscent of cell structures and space shots, of flowers and corals, of objects both physical and abstract. With ease, the artist connects disparates and creates distinct works of great force and magic, which carry the beholder into fantastic worlds. The visual spaces in the tableaux of the photographer Thomas Zika from Essen convey the same magical feeling. In his "Butterflies" series, the butterflies throw their shadows onto scenery that consists of bits of nature photos and elements that are graphic and ornamental. These pictures are not the result of digital processing, but collage and composition using leaves and photos that Zika has on his desk, which the artist then photographs again in turn. (Text, Art Curator: Torsten Obrist)
---
45th exhibition: Guillaume Bruère
---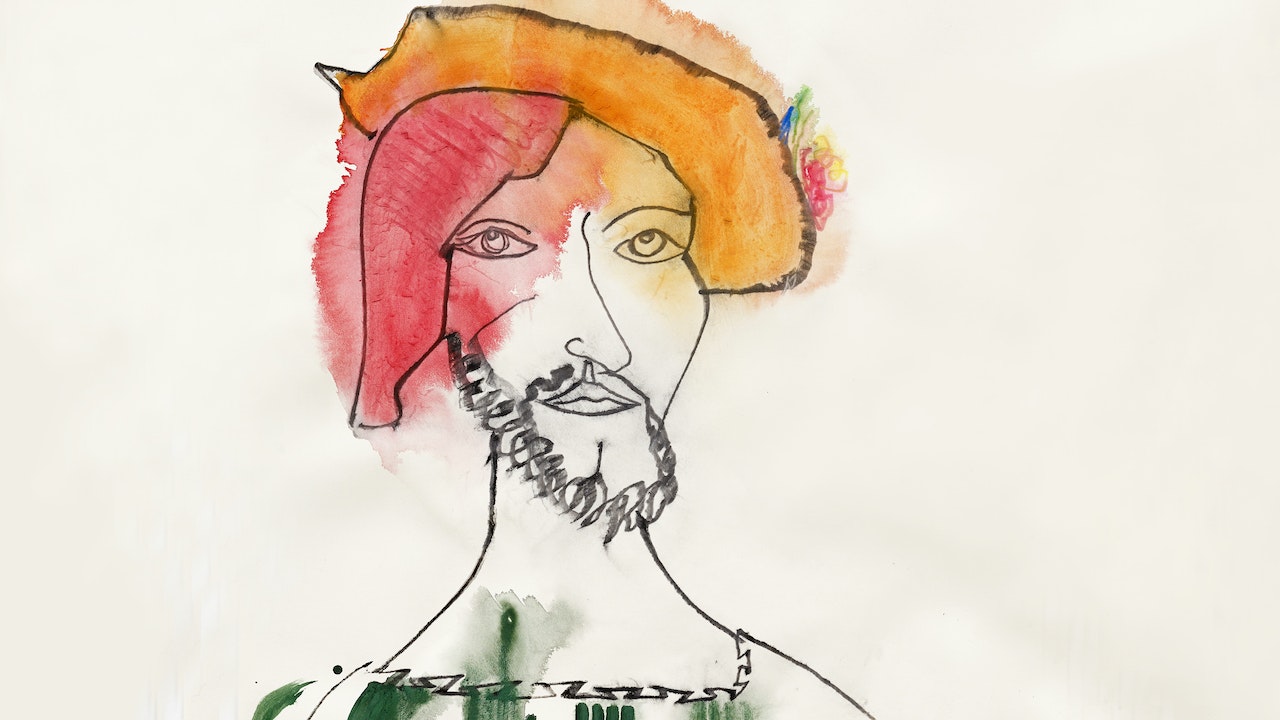 ---
Guillaume Bruère (born in 1976 in Châtellerault, France) draws with an incredibly vivid stroke: intentional and powerful, at the same time open and inquisitive, yet also turbulent and with fragility. When he captures the facial features of humanity in his work, what he creates only serves as an impetus for producing entire series – if at all. Artistic and collective visual memory subtly comes into play as Bruère coaxes out the essence of his piece. But the living, breathing climax of the process of artistic creation dominates everything. 100 per cent present and 100 per cent free. This intensity bleeds into every page with motions that are sometimes a feverish flurry of activity, sometimes gentle, always a rebirth, never overtly forward. Guillaume Bruère lives in Berlin. His works are displayed internationally in countless public and private collections, including the Contemporary Art Collection of the Federal Republic of Germany, the art collection of the German Bundestag, in the Marta Herford museum and in the Kunstmuseum Stuttgart. He has exhibited his works many times, most recently in a solo exhibition in the Kunsthaus Zürich. (Text, Art Curator: Carola Conradt)
---
44th exhibition: Maria Nalbantova
---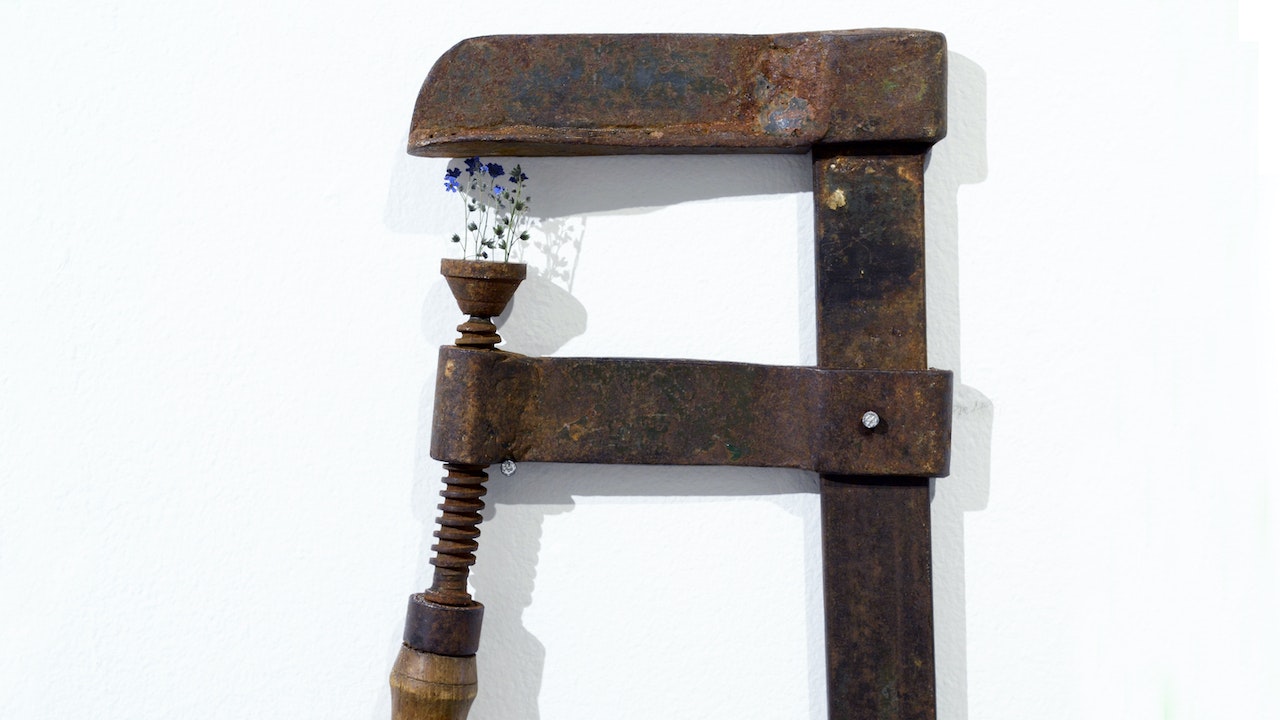 ---
For the first art project at the new office in Sofia, Maria Nalbantova turns one of the spaces into a studio, thus involving the people working there in the artistic process, and it is key because her works are almost always the result of continuous researching and collecting of materials, information and personal experiences, gradually forming a visual language and narrative. For the series "Post-Tools", Nalbantova uses accidentally discovered – on markets and dumps – well used work tools, which she configures in various forms and interactions. They seemingly oppose labor in the digital environment and the accompanying dematerialization, recalling not only the history archived in the objects, but also the significance of the touch sealed in the traces on them. The title of the series directs us to personal responsibility and that in the end the specific usage as well as significance of an object depends on us. In the office, Nalbantova also creates an environment of plants – a clear contrast to the industrially produced objects, turning the place not only into an organism, but also raising the question of our paradoxical attitude towards nature. (Text, Art Curator: Viktoria Draganova)
---
43th exhibition: Aldo Giannotti and Borjana Ventzislavova
---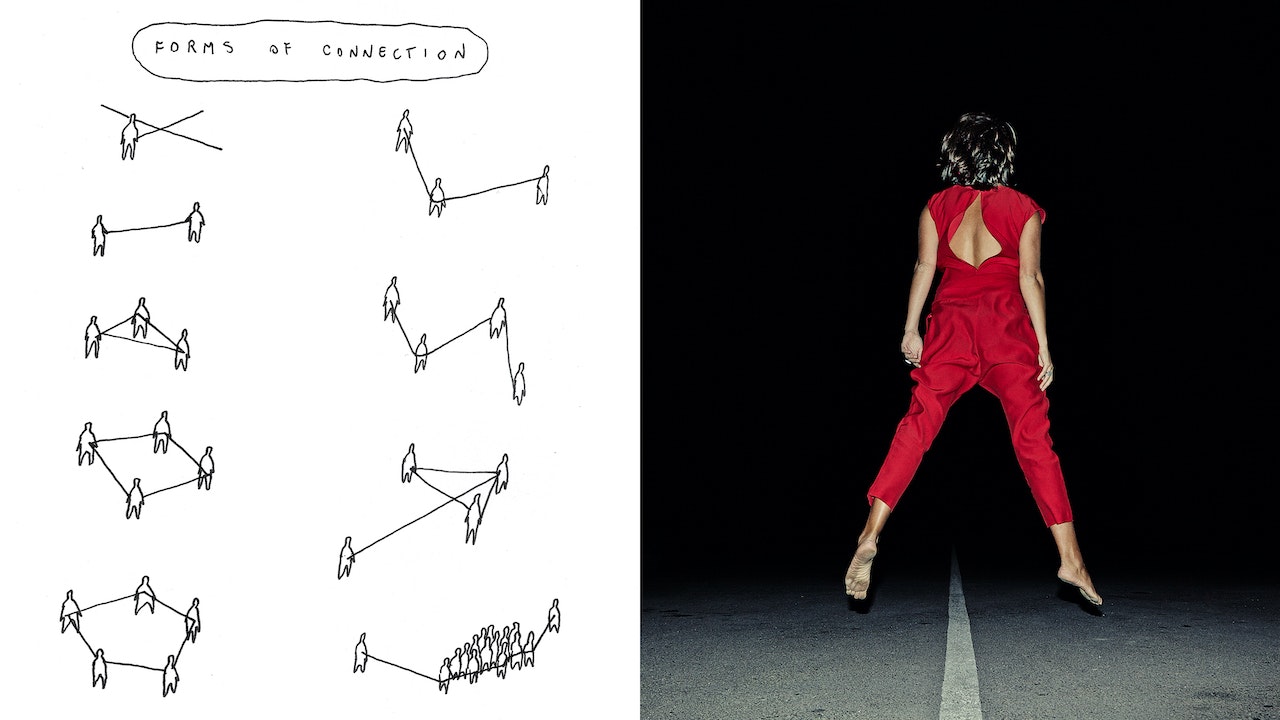 ---
Aldo Giannotti (born in Genoa; lives and works in Vienna) is a draughtsman. In his minimalist depictions he refers to (cultural-)political, social and societal circumstances and conditions. Gianotti's medium, the line, has also been increasingly striving towards the physical space, especially in recent years, seeking points of overlap and connection with architecture, installation and performance and actively involving his audience, by issuing playful instructions for action via his drawings, for example. Borjana Ventzislavova (born in Sofia; lives and works in Vienna) works primarily with the media of photography, video and installation. Her artistic work revolves around themes such as migration, envisioning the future and utopia, generational change and the alienation of humans from nature. In a mysterious, intensely colourful – but also dark – visual language, the aesthetics and pop culture of the 1980s are constant points of reference for Borjana Ventzislavova. Parallel to the exhibition, six interventions by Borjana Ventzislavova and Aldo Giannotti can also be seen in public spaces in St Pölten (at the railway station, Cinema Paradiso, Klangturm, Festspielhaus and Landtagsschiff). The project was organised by art hoc projects and generously supported by foryouandyourcustomers. (Text, Art Curator: Lisa Ortner-Kreil)
---
42th exhibition: Group Exhibition
---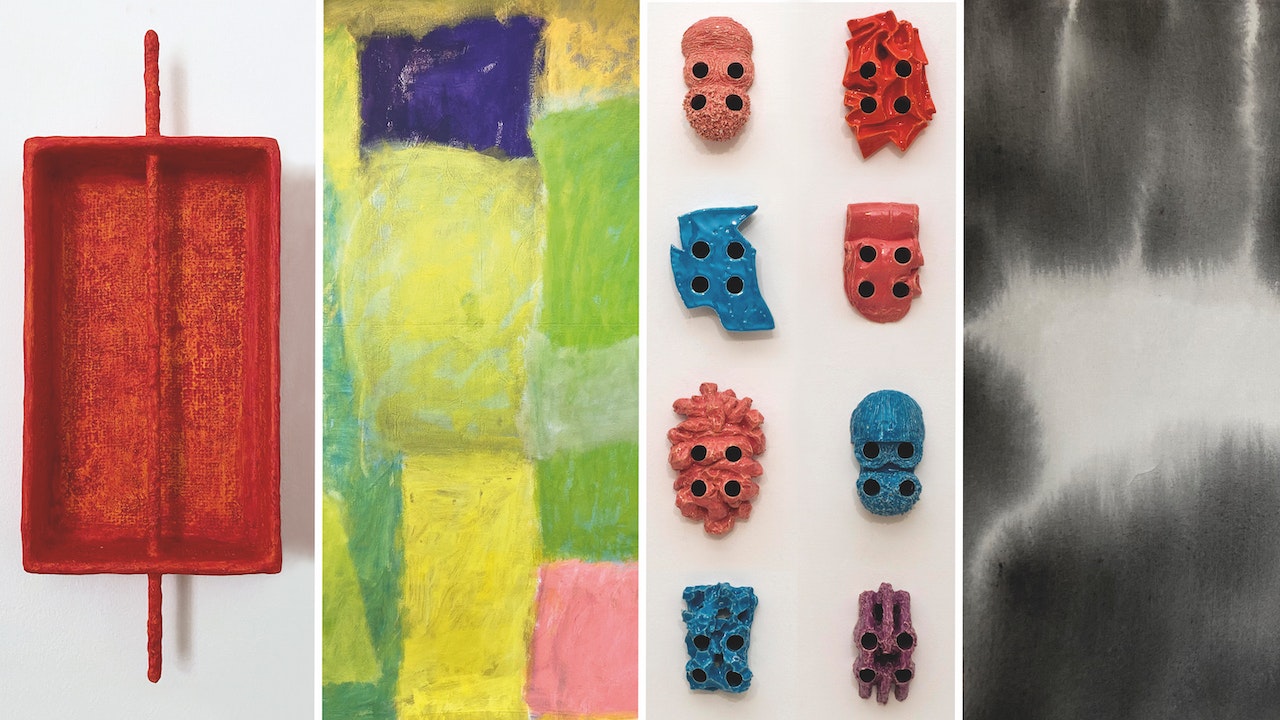 ---
The exhibition curated by Sali Oelhafen brings different artistic positions into a successful dialogue which is rich in contrasts. Gerlinde Thuma's works focus on the two-part form as the smallest possible way of representing time sequences and variations of a formal idea. The division of the picture is a constantly recurring parameter. Gerlinde Thuma's works, reduced to the palette of black and white, contrast with the colourful canvases of Helene Rohrbacher – pictures such as a summer landscape, in which the crown is an omnipresent motif, a reference to the mosaic of the Cathedral of San Vitale in Ravenna. The focus is on colour, which she applies in many layers – using a technique that makes her paintings glow from within. Herbert Flois's wall objects and sculptures draw their formal inspiration both from nature and from everyday objects. The colour and the reduction of objects to their basic forms and linear structures serve to abstract them and inscribe them in the space. The combination of science and art, working with principles of order and digital parameters characterise the works of Helmut Stadlmann. The range of media in which he implements his conceptual considerations extends from graphic works to painting and ceramics. Spontaneous gestures and graphical flow meet geometry and grid structures. (Text: Silvie Aigner, Art Curator: Sali Oelhafen)
---
41th exhibition: Werner Zemp
---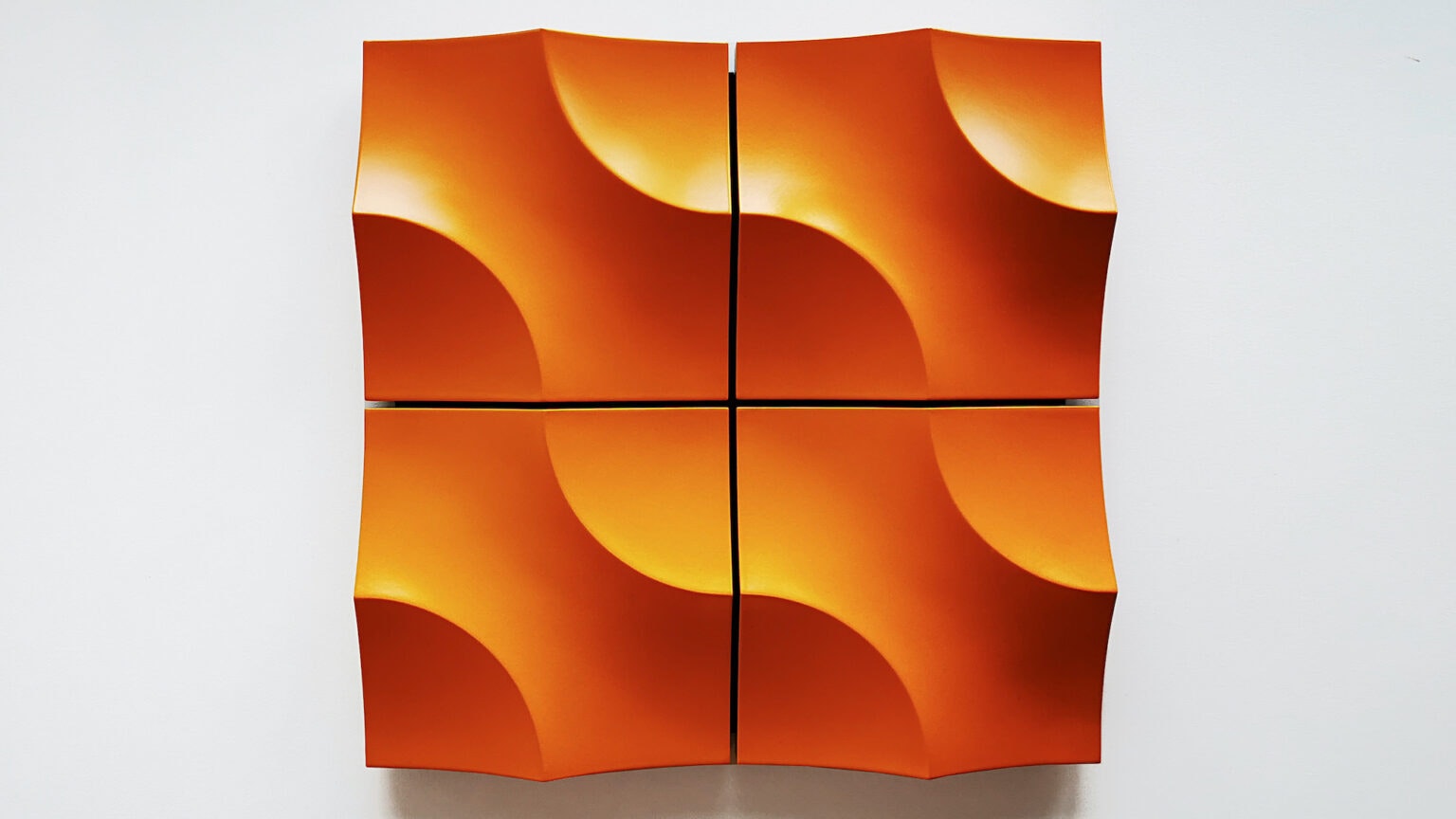 ---
Thoroughly in the spirit of concrete art, Werner Zemp draws on the potential of geometric forms with his objects. The circle is the archetypal harmonious form, but is also an invitation to play: objects that can be rolled and that can be assembled in different ways make it possible to experience the transformation from surface to space or from the straight to the round. The search for technical perfection in combination with aesthetic effect has moved Werner Zemp throughout his life. For decades, he worked in product design for industrial production. As a designer, he created award-winning everyday objects such as coffee machines, office furniture and information systems. His Abfallhai waste bin conquered numerous cities in Europe and was included in the Museum für Gestaltung Zürich's collection. Werner Zemp has been living and working in the mountain village of Amden above Lake Walen since 2008. Free from the need to make something useful, he creates experimental objects and large-scale sculptures there. (Text: Judith Annaheim, Art Curator: Guido Baumgartner)
---
40th exhibition: Tina Lechner
---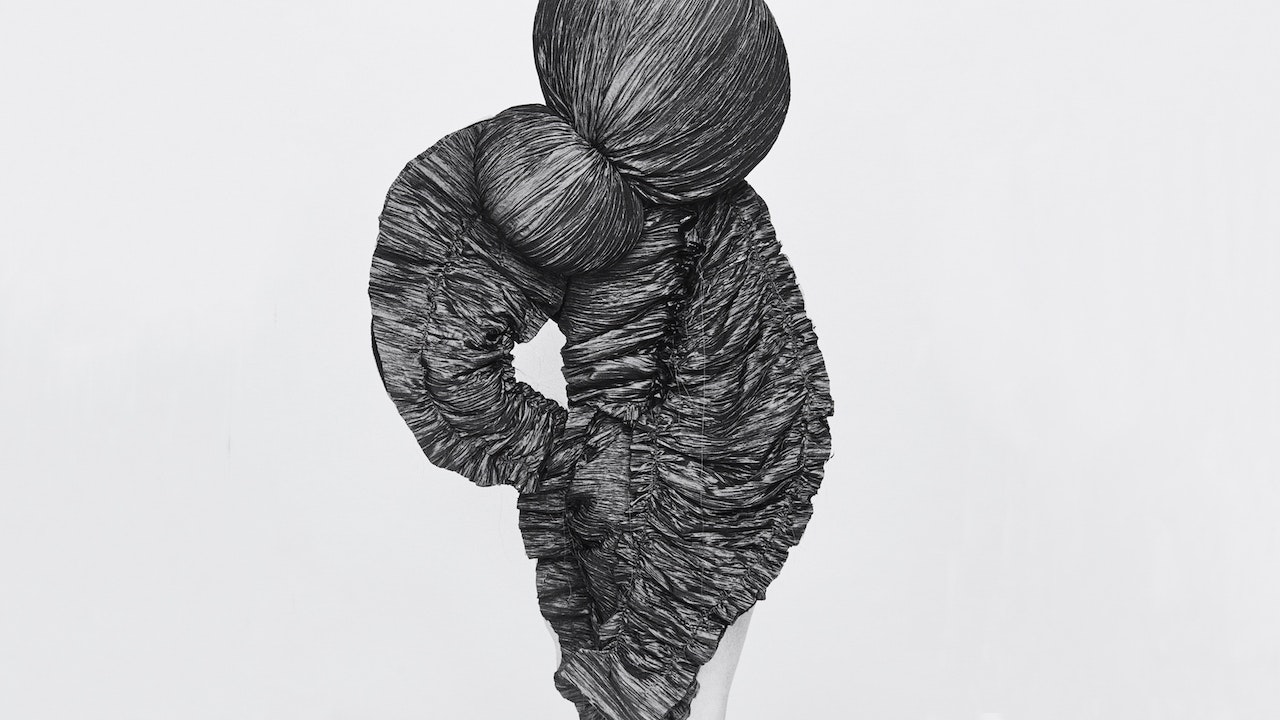 ---
In many regards, Tina Lechner (born in 1981 in St Pölten, lives and works in Vienna) makes recourse to historical photography in her work. She only works in analogue and builds a setting for her models in her studio. The female figure, usually portrayed from behind, is superimposed with bodies and surfaces that are made of paper, cardboard and fabric. The transitions between person and thing, as well as material and skin, become increasingly invisible. Breaking down and physically engaging with human physiognomy using minimalist forms reinterprets the approach of Bauhaus photography and New Objectivity. The artisanal aspect, building up props and using an analogue camera are all decisive in the work process, described by the artist herself as: 'I create a sculptural mode of expression with simple means inspired by abstraction and geometry in order to then associate this language of forms with the physiognomy of corporeal language.' (Text, Art Curator: Dr Lisa Ortner-Kreil) | Image copyright, Galerie Winter, Vienna
---
39th exhibition: Regula Verdet-Fierz and Maritta Winter
---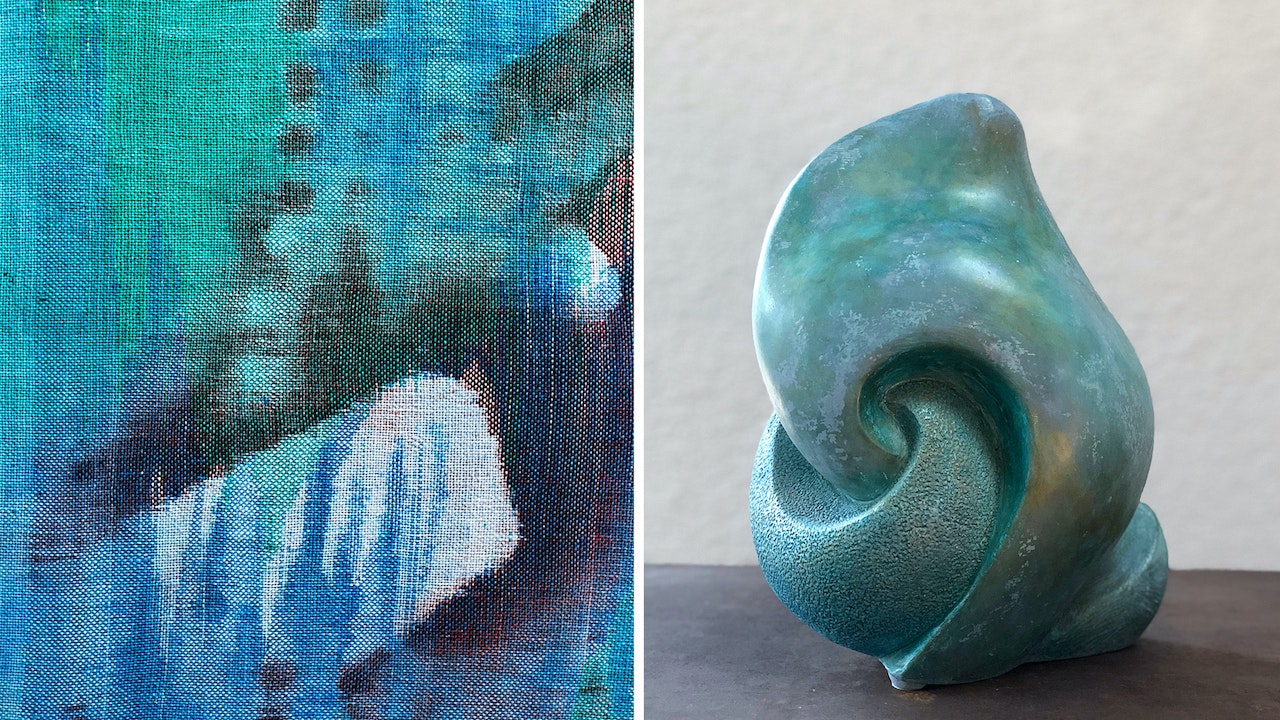 ---
Bronze sculptures and woven pictures: the exhibition offers abundant indications of classical craftsmanship. However, a second glance at the works reveals the extent to which artistic technique has been refined and developed. Although Regula Verdet-Fierz works with a loom, she weaves threads that she has previously painted individually and in sections – thus producing a three-dimensional painting, so to speak. The colour in the canvas (instead of on the canvas) creates a pictorial work that is in a constant state of flux as the spectator moves in front of it. Maritta Winter is also fascinated by the play of light and colour on surfaces. Her abstract sculptures are cast in bronze or aluminium; some are colourfully patinated or highly polished and shimmering. Winter is in search of opulent volumes, and the dynamics of the artistic forms reveal her passion for dance. Both artists are greatly inspired by the power of nature, by the elements of fire and water, and by the growth of plants and animal life – yet they transform these impressions into abstract forms and pure colour effects. (Text: Judith Annaheim, Art Curator: Guido Baumgartner)
---
38th exhibition: Norbert Pümpel
---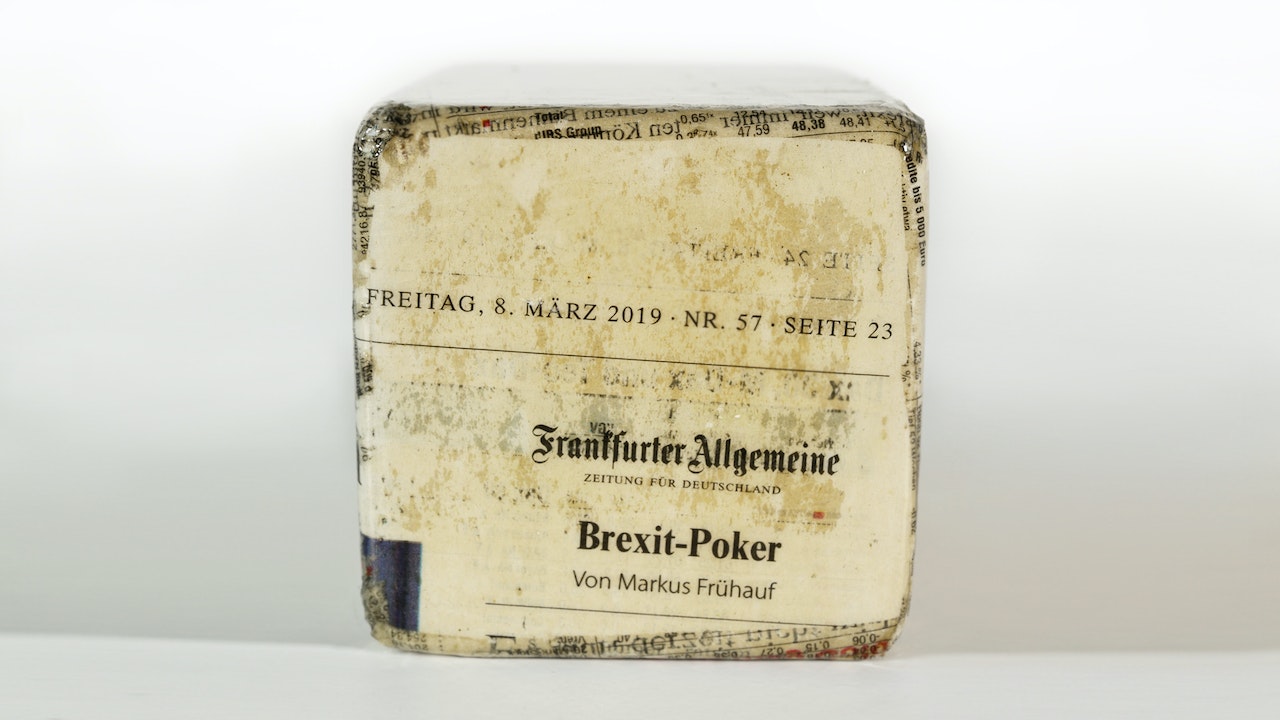 ---
Norbert Pümpel began creating his entropic drawings in the mid 1970s. As a keen researcher in the fundamentals of art and science, he deals with complex scientific issues. Pümpel's works are an expression of the artist's views on current sociopolitical developments – his Scientific Disaster works, in particular, address the question of the ethical responsibility of scientific research. With his large-format work Die Moderne taugt nicht zwingend zur Verbesserung der Welt (Modernity is not necessarily good at making the world a better place), the artist delivers a clear statement against a naive belief in progress and scientific fantasies of omnipotence. The latest photographic works are staged snapshots and subtle interpretations of his sculptures – momentary representations of spatio-temporal scenes. (Text, Art Curator: Georg Peithner-Lichtenfels)
---
37th exhibition: Wolfgang Ganter
---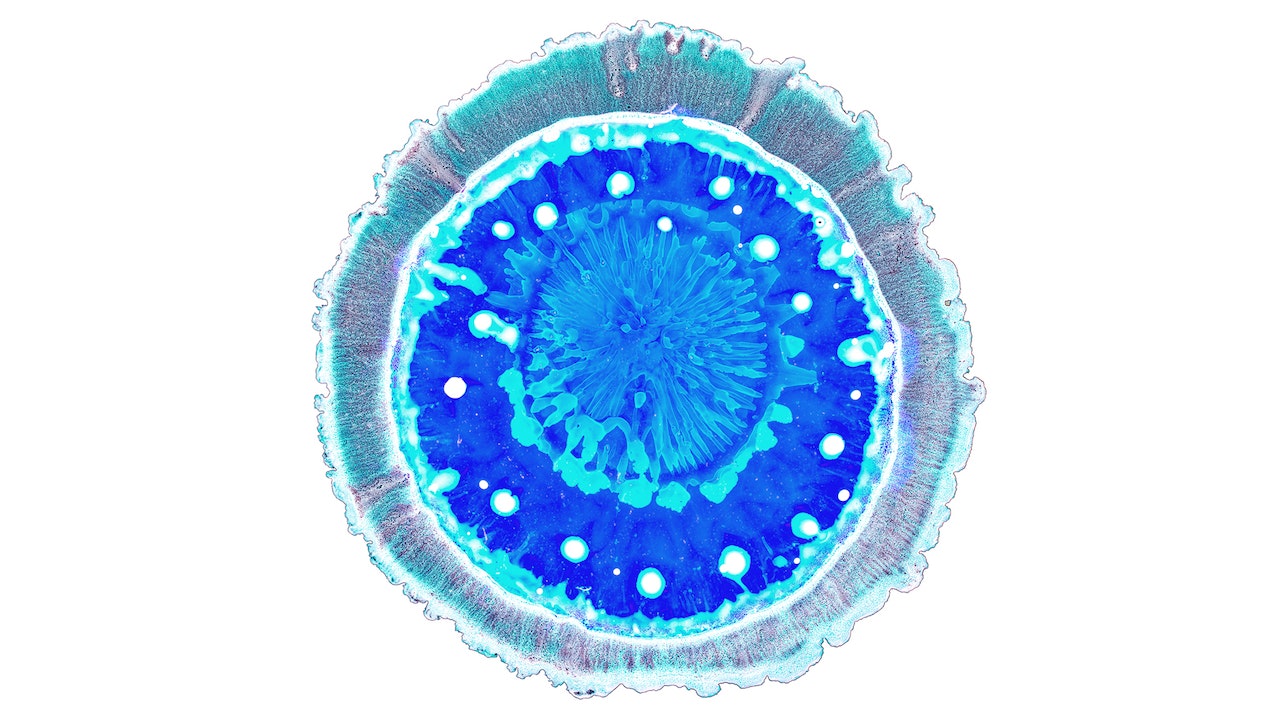 ---
Wolfgang Ganter, born in Stuttgart in 1978, places bacteria cultures on image carriers, for example on slides, and sets chemical reactions in motion on glass slides. From the fraternisation of the spirit of research, scientific precision, the unrestrained play of nature and artistic direction, he thus creates an inexhaustible cosmos of images. With unconventional structures, the finest colour gradients or massive colour explosions. Wolfgang Ganter processes the best finds photographically according to all rules of art. Large format, microscopically detailed, highly aesthetic, provocative, unexpected. The chemical substances are allowed to let off steam freely in the abstract. While bacteria and fungi enter into dialogue with famous motifs from art history to give them a new life of their own. Wolfgang Ganter's numerous scholarships took him to New York, Lisbon, Zurich and Paris, among other places. He lives and works in Berlin. His works can be seen internationally in galleries and art institutions and are represented in many public and private collections. In 2020 he will also present his work in solo exhibitions at the Kunsthalle Mannheim and the Zentralinstitut für Kunstgeschichte in Munich, among others. (Text, Art Curator: Carola Conradt)
---
36th exhibition: Maya Lalive
---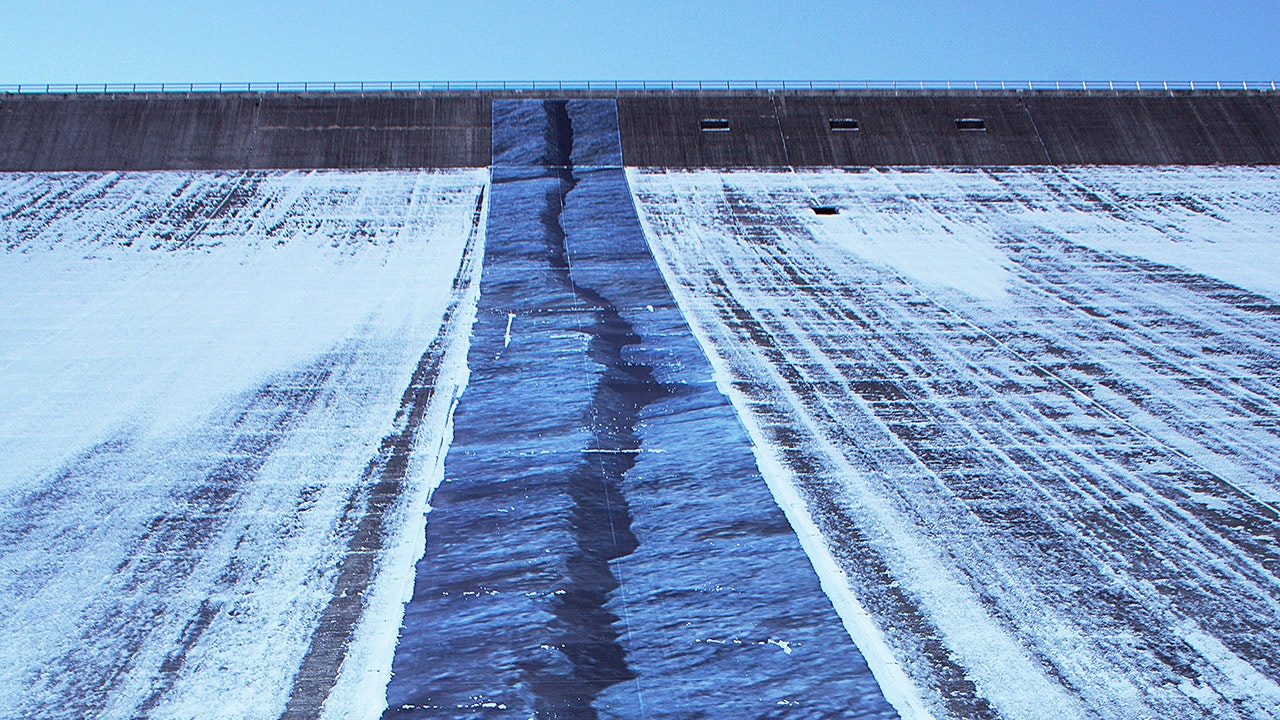 ---
Maya Lalive's work developed from a meditative view of soul landscapes in painting to large-format interventions with photographic image objects in outdoor or indoor spaces. Her monumental installation "Der Riss / La fessura" at the Albigna dam in Bergell, 2016, triggered an international response. This temporary work was captured in the film "Nah am Riss" in an artistic documentary view, which understands the crack as the elemental force of nature on various levels. In several photo series Maya Lalive lets the viewer participate in her extraordinary perspective of high alpine climbing: Under the title "Unknown Landscapes" she shows rock surfaces and lichens as fascinating micro-landscapes between nature and abstraction. At the same time, her pictures, as documents of the times, refer to the sensitive balance and constant change in nature. (Text: Judith Annaheim, Art Curator: Guido Baumgartner)
---
35th exhibition: Sonja Duó-Meyer
---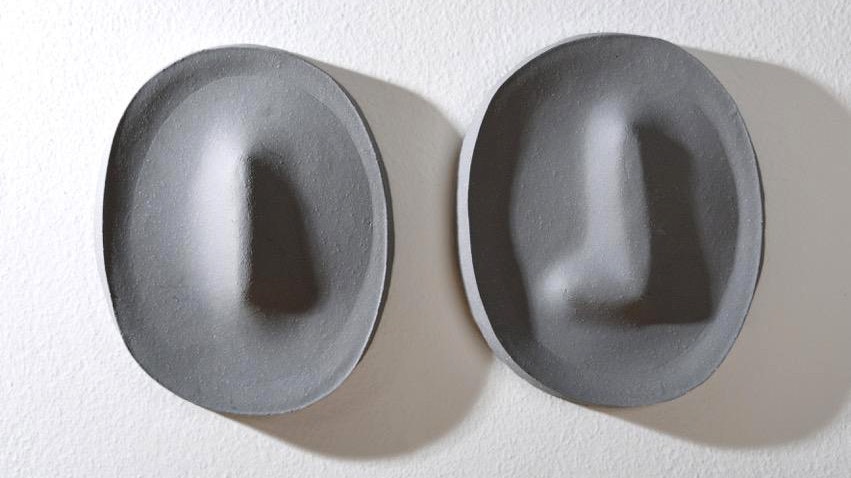 ---
The ceramic artist Sonja Duò-Meyer from Wetzikon, Zurich, has been working with clay for over 40 years. Porcelain is her material. She uses it to create monumental vessel objects as well as tea bowls or pieces of jewellery. Reduced to the essential in her expression, her works speak a subtly sensual language. The deliberately uneven surfaces make the raw white porcelain vibrate in the light, the simple black engobed volumes shine gently. Sonja Duò-Meyer's vessels are more than objects – they have the resonance of a body moved by breath. It is as much about the space that is encompassed as it is about the vessel itself. Wall objects also belong to this extremely focused work, which explores the possibilities of its material. Clusters of clay bulges, speech bubbles and islands – humorous reflections on life and sometimes also a reflection on the working material clay. (Text: Judith Annaheim, Art Curator: Sali Oelhafen)
---
34th exhibition: Jürgen Paas and Peter Schlör 
---
---
In this exhibition, Jürgen Paas and Peter Schlör meet two artists who take the greatest possible distance from each other within the spectrum of contemporary art: Here the multi-colored geometric objects and installations made of prefabricated industrial materials, there the poetic landscape photographs in black and white. Both have been working on the development of their stringent and unmistakable work for over thirty years, and both have had major solo exhibitions at the renowned Mannheimer Kunstverein in recent years. They are thus among the leading artists in their respective fields. 
Paas and Schlör both question the viewer's perception in different ways. For Peter Schlör, the image is triggered by sensual perception, which makes the landscape seen experienceable in a certain form and transforms it in photography into a mirror image of the inner state in which we as viewers can participate. Jürgen Paas deals playfully with geometry, with the laws of color and drawing composition. The viewer has to move with an alert eye in front of the works, to stand in front of them in order to grasp their diversity. (Text, Art Curator: Torsten Obrist)
---
33th exhibition: Zea Fio, Tina Lechner, Sali Oelhafen and Eduard Tauss
---
Sali Oelhafen, Willi Baumeister and Christian Stock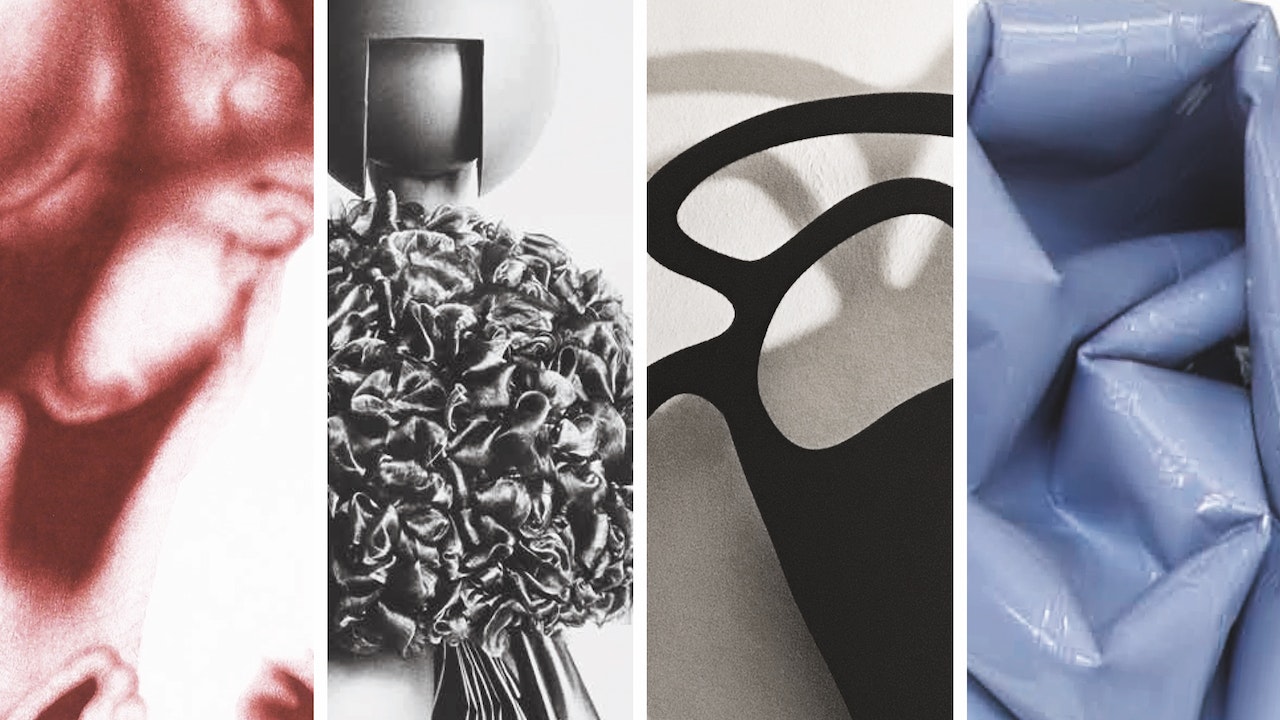 ---
"The malleable body is the central reflective foil of this exhibition," Lisa Ortner-Keil of Kunstforum Wien described the works in her introduction to the vernissage. "For her analogue black-and-white photographs, Tina Lechner wraps female models in elaborate paper sculptures, abstracting body forms and turning them into sci-fi warriors of the self. Sali Oelhafen transfers a round network-like form into paintings, metal and cardboard objects that unfold their simple magic in space. In Eduard Tauss' colour bodies and colour plates, painterly working material becomes a testimony to himself – cast, bent, folded and crumpled. In her meticulously executed drawings, which seem like testimonies from an unconscious, secret world, Zea Fio finally places seemingly organic coloured surfaces in the picture. In the exhibition, painting, drawing, photography and sculpture enter into a pleasurable game of puzzle. The very different works of the artists are united by the consequent reflection on a bodily structure, whose form they constantly redefine." 48 works, distributed over 13 offices and around 300 square metres of space, can be viewed, "known" and experienced in the Vienna Office until May 2020. (Text: Lisa Ortner-Kreil, Art Curator: Sali Oelhafen)
---
32th exhibition: Rouven Dürr
---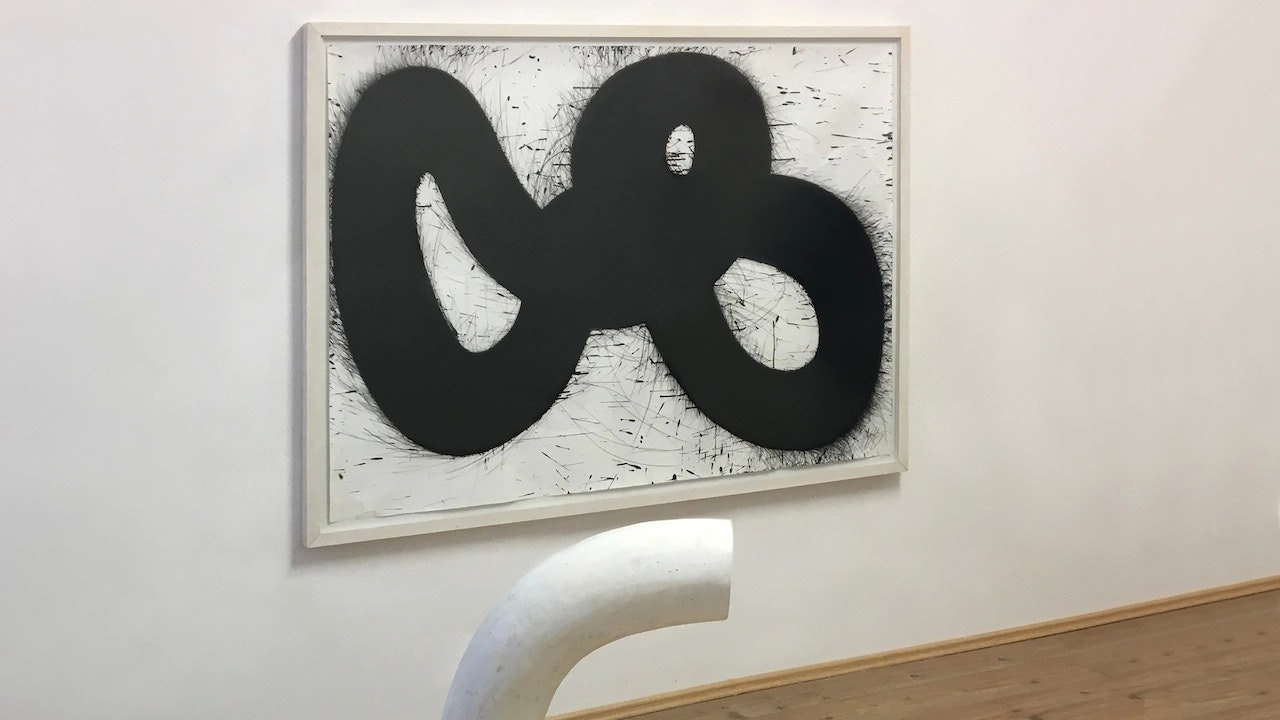 ---
For many years I have accompanied Rouven Dürr and observed his work with joy. While his reduced sculptures were long characterized by corners and edges, they gradually developed into softer forms. He creates ribbons that intertwine into knots or open up into space. It seems as if Rouven Dürr's sculptures are no longer subject to gravity, but rather balance in their lightness on the pedestal or on the wall. White and black concrete forms that enclose the space without contrasting or competing with it. A congenial partnership of space and sculpture. In his drawings – in ink or watercolor – Dürr does not remove the pen or brush until the painting is finished. This can be seen particularly beautifully in his large-format drawings, which seem to have been cast in one piece. (Text, Art Curator: Georg Peithner-Lichtenfels)
---
31th exhibition: Bruno Sutter
---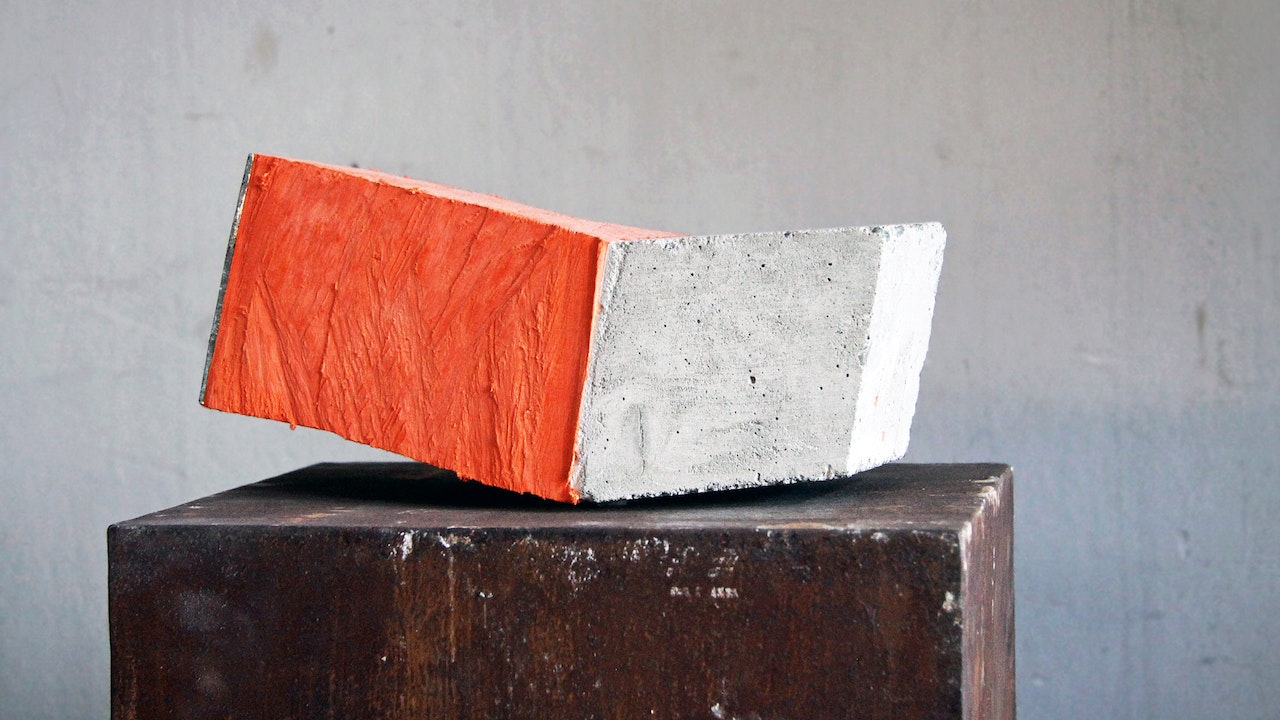 ---
Wood, concrete, metal, jute, paper or PET. The sculptor Bruno Sutter combines building materials, compacting them, casting them, pressing them or layering them together to create sculptures and sculptures that recall both sediment drillings and tree trunk annual rings. Far beyond the subject of recycling, his work refers to the elementary cycles of matter. Topics such as time, change, transience, and even eternity are reminiscent. The objects are of a simple aesthetic, radiating what is compressed in them. Subtle are the gradations of colours and surfaces, caused by rough equipment, conceptual preparatory work and a deliberate measure of chance; there as a small wall object, there large, even accessible as a work of art in public space. (Text: Isabelle Köpfli, Art Curator: Sali Oelhafen)
---
30th exhibition: Michael Schramm
---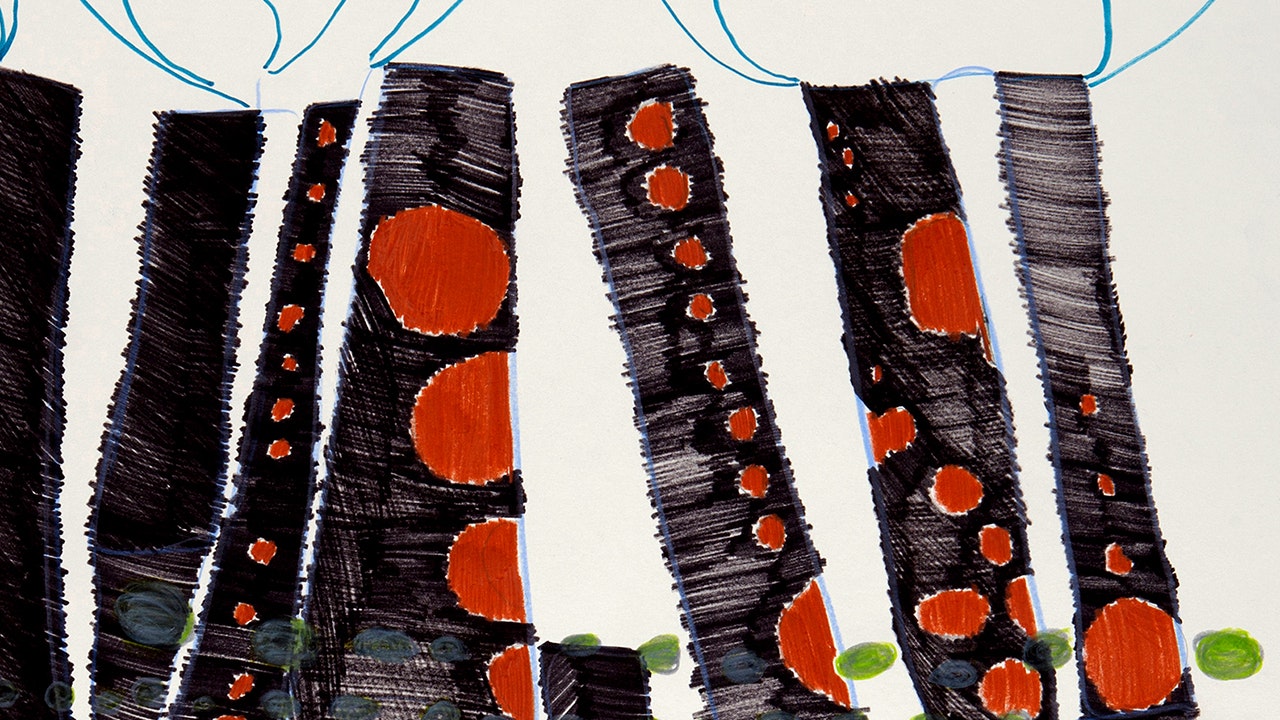 ---
Lines, hatches, directions indicate each other, spaces open up. A living space full of forms and signs spreads out in front of us. "The lines of my drawings do not go for a walk. They run back and forth and up and down," says Michael Schramm about his works. What at first seems like childlike scribbles develops into its own universe of short stories, episodes and graphic poetry on closer inspection. Michael Schramm (born 1992) studied at the Kunstakademie Düsseldorf and at the Staatliche Akademie der Bildenden Künste in Stuttgart. Most recently he was awarded the "Walter Stöhrer Prize for Graphic Design 2018". Michael Schramm lives and works in Stuttgart. (Text, Art Curator: Thomas Weltner)
---
29th exhibition: Franco Kappl 'White Appears'
---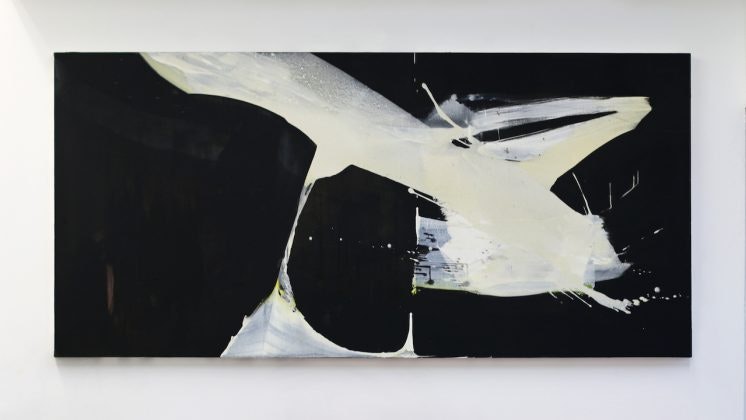 ---
Fanco Kappls Franco Kappl's abstract paintings are stages with intensive performances. Black paint creates space for a moving staging of painting: brightly shining – sometimes glistening, sometimes pensive – breakthroughs occur inside the picture, kidnapping into depths or formations that throw themselves into space, seem to grow out plastically. The white suddenly meets the dark, enjoys a strong appearance: expressive, dynamic, in wide colour swings, and then fades away, with a thin brush, graphic. Like dance, maybe? Music? Yes, and pompously, with fanfares! And just as quietly, in transparent streaks, dripping… And everything remains visible: the working process, the varied brushstroke, contrasts and breaks. Intention and chance. So every screen becomes a new adventure, a new journey.
Franco Kappl (*1962 in Klagenfurt on Lake Woerthersee) lives and works in Vienna and in summer in Klagenfurt. (Text: Carola Conradt, Art Curator: Sali Oelhafen)
---
28th exhibition: Herbert Starek, Tone Fink, Michael Kos, Katharina Fink and Michael Wegerer
---
Katharina Fink, Tone Fink, Michael Kos, Herbert Starek and Michael Wegerer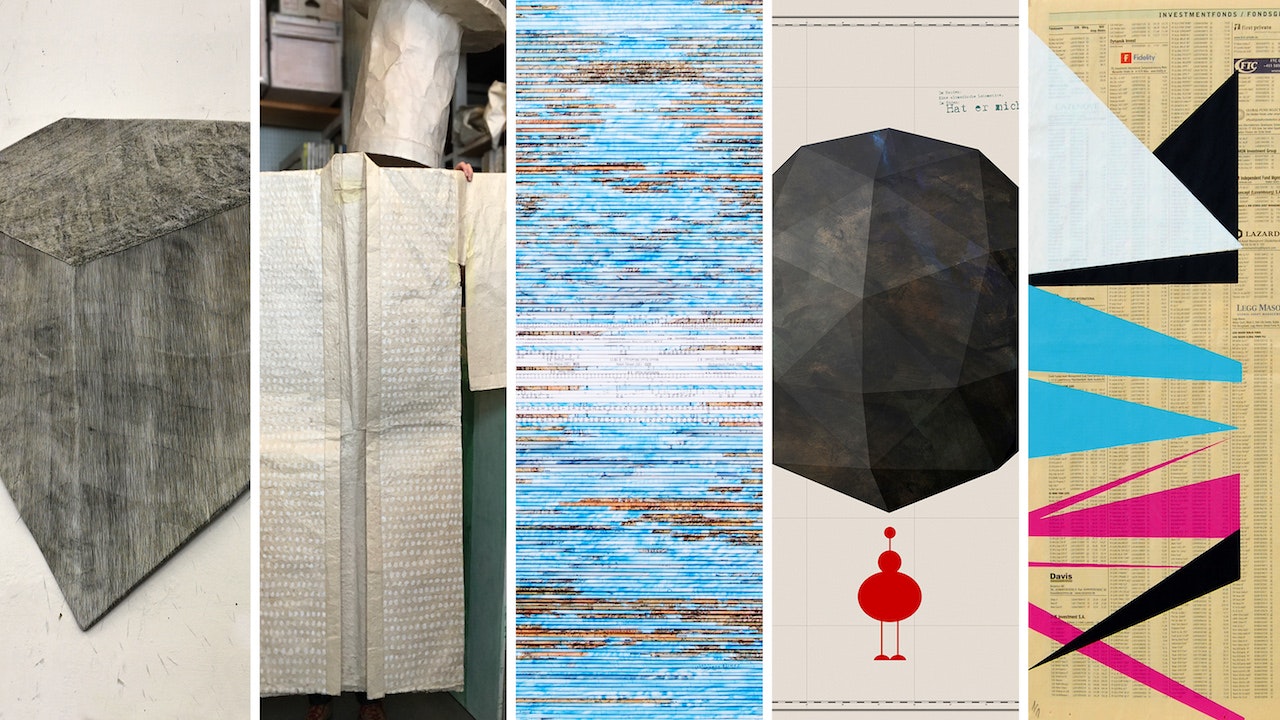 ---
The group exhibition in the premises of foryouandyourcustomers in Vienna deals with codes, i.e. aesthetically condensed and encrypted information. Art is always also a communication system and the translation performance that takes place when looking at it is part of a successful reception. The artists' various approaches range from Herbert Starek's picture-text collages, which are in the tradition of Surrealism, through the works of Tone Fink, who stylizes sign systems as subjective means of expression, to Michael Kos' 'Mappings'. In this series, he undertakes an aesthetic deconstruction of the analog orientation map. In the abstract reliefs made of paper cashmere, Katharina Fink symbolically stages the binary codes that determined the white noise of the information. Last but not least, the screen prints by Michael Wegerer, which visualize statistics from newspapers, form a colorful geometric highlight of this exhibition of interconnectivity. (Text: Angela Stief, Art Curator: Sali Oelhafen)
---
27th exhibition: Sali Oelhafen, Willi Baumeister and Christian Stock
---
---
In the exhibition at the Essen location of foryouandyourcustomers, works by three artists meet, whose starting point is painting in very different ways. Willi Baumeister, one of the most important German artists of modernism, is represented with a lithograph from 1937, created at a time when he was banned from the painting by the Nazis for his path to abstraction. Sali Oelhafen's works show abstract forms whose creation process seeks a balance between chaos and order by means of flowing color. These forms sometimes become independent into the room, detach themselves from the image carrier and become apparently floating objects in front of the wall. With his monochrome works, Christian Stock repeatedly questions the essence of painting. His theme is color itself. In years of painting processes, countless layers of paint superimposed on one another produce color cubes, images with object character. (Text: Bärbel Messing, Art Curator: Sali Oelhafen)
---
26th exhibition: Hubert Lampert
---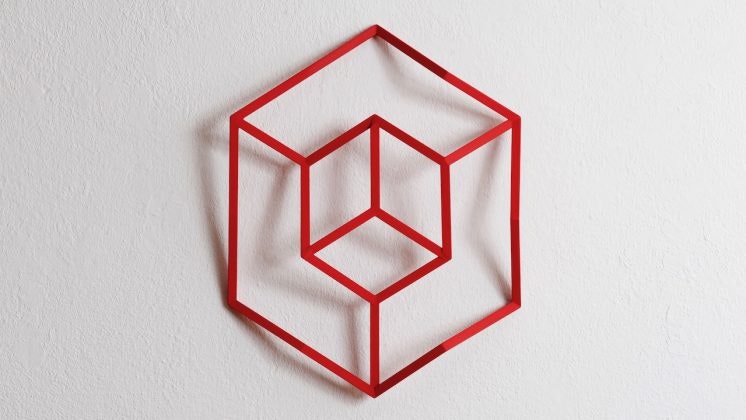 ---
Hubert Lampert's works are preceded by considerations of line, surface, and volume. He is interested in the question of the perception of surfaces and the spatial construction through lines. The objects are experimental arrangements for the experience of real and illusionistic space. Hubert Lampert works in a clear, geometrically defined language of form and uses pure primary colors or their hybrid forms to match. His conceptual approach leads to experimental groups of works. The series Fibonacci Experiment combines works that develop from the proportions of the series of numbers of the same name. The works of the information tapes are based on texts, poems, and quotations selected and coded by the artist. Revolution of Frames illustrates the liberation of the frame from its original function and its transformation into space. The works, which are summarised under the umbrella term of being and appearance, play with the perception of space and time. (Text: Kirsten Helfrich, Art Curator: Sali Oelhafen)
---
25th exhibition: Jurij Kolb 
---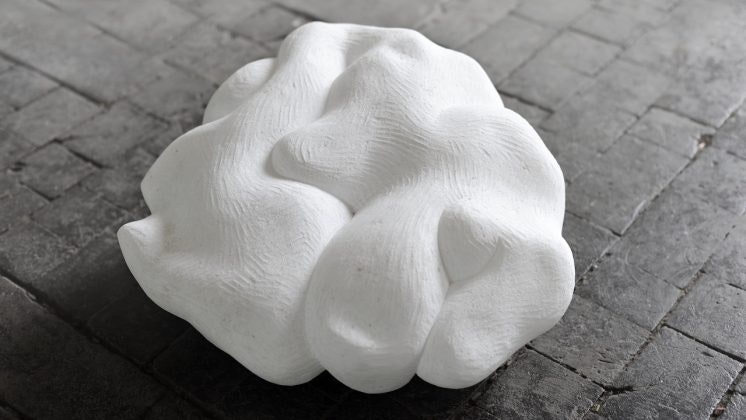 ---
Kolb's artistic work arises from the moment of patient observation. As a trained sculptor it began with the material stone. Textiles, wood, glass, and paper were soon added as contrasts. Everyday inconspicuous human traces are questioned by the artist for their interactive moments, unexpectedly made visibly and put in relation to each other. For the time being, the viewer may be able to guess what is at stake, but with this deepening, the secret of what is presented can be gradually discovered, which has inspired the artist to deal with the object in an open process. Everyone can recognise himself or herself in it and is stimulated to everyday perceptions and experiences. Jurij Kolb lives and works as a sculptor and designer in Uster. For more than 25 years he has shown his works in exhibitions. He was also entrusted with various commissions for Kunst am Bau. www.kolb-3d.ch. (Text: René Anliker, Art Curator: Sali Oelhafen)
---
24th exhibition: Bodo Korsig 
---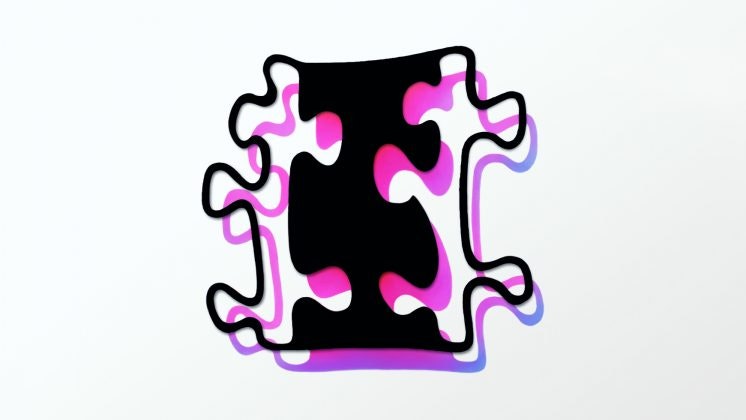 ---
Bodo Korsig's (*1962 in Zwickau) works revolve primarily around the theme of memory and question human behaviour under extreme conditions. His drawings, room installations and objects are characterised by a form language that is as concise as it is reduced. The geometric clear lines, as well as the amorphous proliferations or pictographic appearing structures, have a high recognition value. Again and again, writing and language are also used as artistic means. The exhibition 'Shape of Memories' at foryouandyourcustomers shows drawings and metal objects from the last ten years.

Bodo Korsig has been exhibiting in more than 100 galleries and museums worldwide since 1992 (e. g. ZKM Karlsruhe). He has received 20 international prizes and scholarships (e. g. scholarship Kunstfonds, Berlin) and is represented with his works in numerous international museums (e.g. National Gallery of Art, Washington D. C., USA). (Text: Anna Wondrak, Art Curator: Sali Oelhafen)
---
23rd exhibition: Martin Huidobro 
---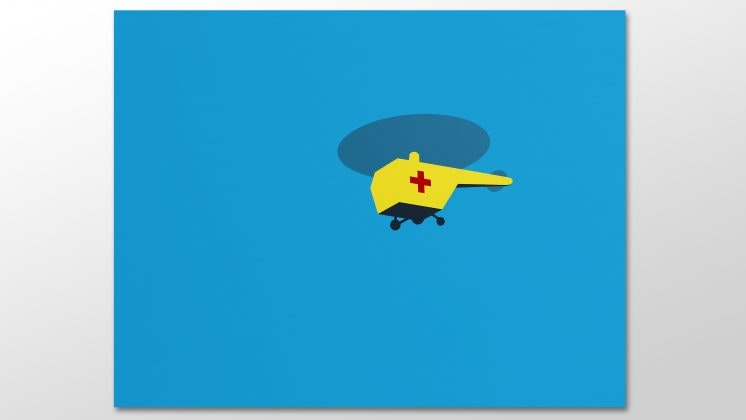 ---
Martin Huidobro cites signs and symbols of everyday life in his colour-intensive pictures. Quite naturally, he blurs the boundaries between painting, design, sculpture and architecture and opens up a world of meanings and references. The central theme in Huidobro's pictures, items and installations is the object with its functional, aesthetic and evocative attributes. He reduces shapes and colours to the essentials and playfully shows us the aesthetic screening of the world with tongue in cheek. Martin Huidobro (born 1972) studied philosophy and psychology in Bonn from 1992 to 1994. He spent the years between 1994 to 2001 completing his studies in visual arts at the Düsseldorf Academy of Art under Konrad Klapheck and Fritz Schwegler, whose master student he became in 2000. Martin Huidobro lives and works in Düsseldorf. (Text, Art Curator: Thomas Weltner)
---
22nd exhibition: Jürgen Paas
---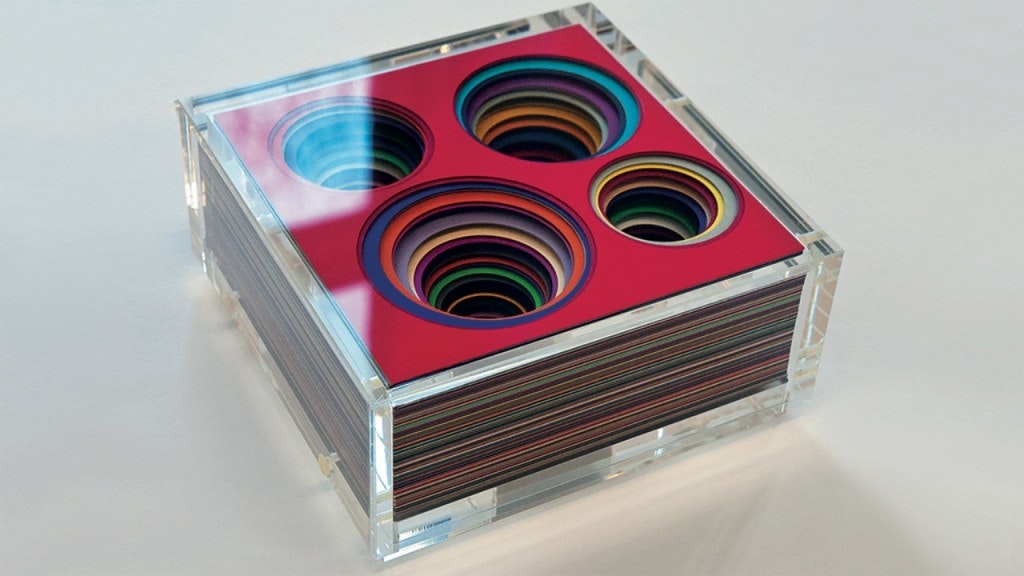 ---
'Under Construction' – The latest works ofJürgen Paas, a contemporary German painter and sculptor, suggest movement and sound, and playfully take on the spectators mind. Jürgen Paas investigates rhythmic aspects using colour, shape, composition and space in the tradition of non-objective abstraction. His works refer to both Constructivism and Pop Art. Included in this presentation is his mounted work 'Target', which seems to have become unfolded, and now ensembles projection film. (Text: Hester Jenkins, Art Curator: Sali Oelhafen)
---
21st exhibition: Barbara Höller
---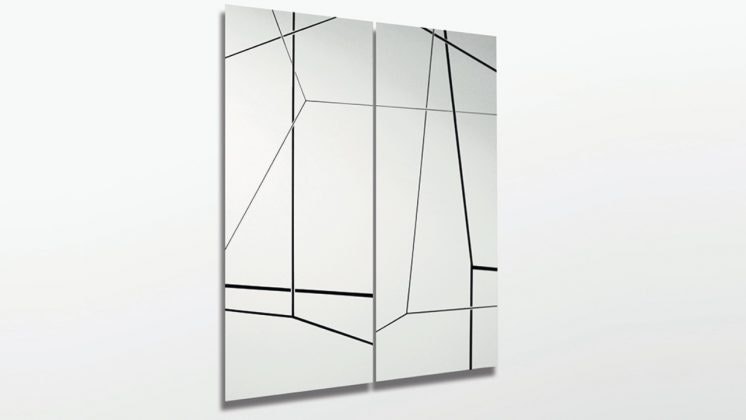 ---
… Ultimately it always comes down to painting. It's about the big questions that, in her previous oeuvre, Barbara Höller has tackled in an almost conceptual way. It was about colour in its shades and material structures, about form and the applicability of formulas, about seriality and variation, about object-ness and reduction to the auratic, about flatness and depth, linearity and plasticity. And there was always one small snag in these rigorous considerations. Whether it was the in-built error or a humorous wink, even as hedge against the painter's own perfectionism. But now it's about space. The coordinates locate the room of a distant chat partner, the edges of the room are taken from the screen and appear now as lines on the picture surface, dividing it into polygonal areas. The delineation of the diptych 'double access 2' is conceived in such a way that the two panels can be arranged in diverse ways with one of the lines continuing onto the opposite image. A line that originally defined the boundary of the room can potentially be continued infinitely over the surface. But this is a secondary thought, because ultimately, for Barbara Höller, it all comes down to painting. (Text: Daniela Gregori, Art Curator: Sali Oelhafen)
20th exhibition: Fotoskulptur, Lorenz Estermann, Hans Glaser, Ilse Haider, Herbert Hofer, Sacha Manówicz, Gertraud Presenhuber
---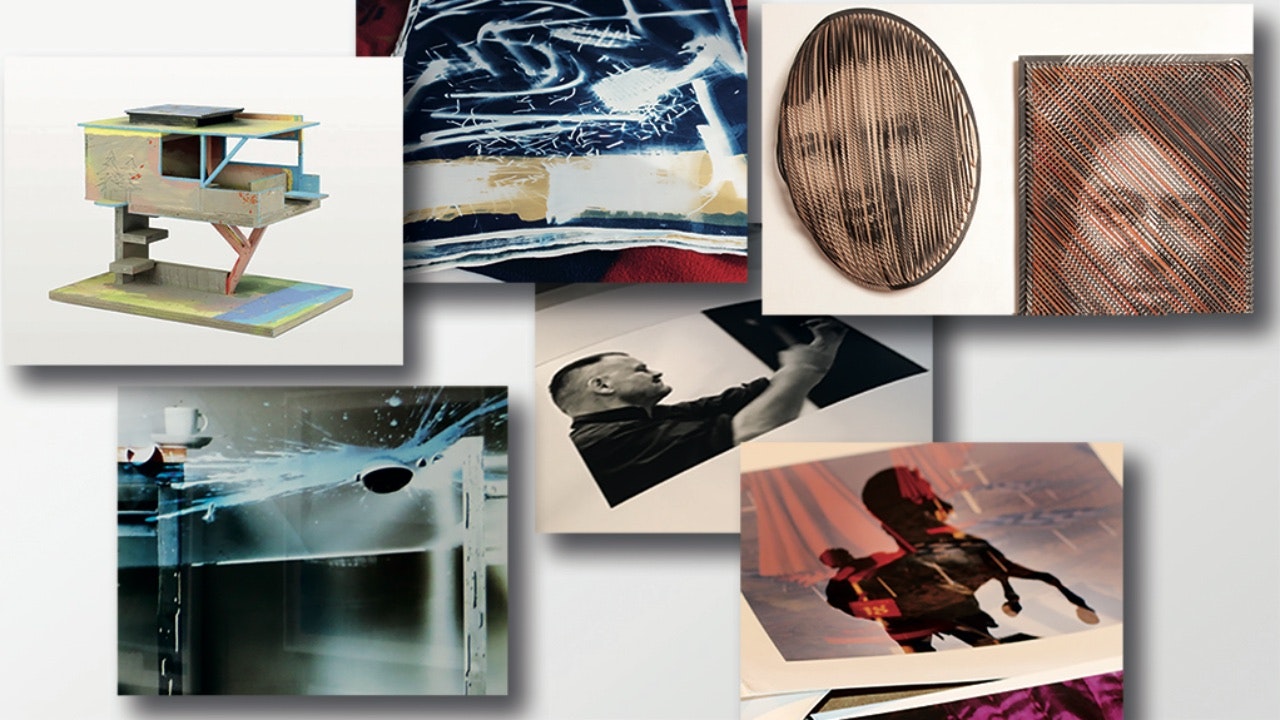 ---
The definitions of sculpture and photography, today artistic media of equal status, could hardly be more different. Sculptures are solid, space-commanding objects with a history dating back to the beginnings of art itself, which exhibit a definite materiality with correspondingly specific weight, and require craft skill and time to produce. Photographs, by contrast, have only been around since the 1830s; they project everything three-dimensional – seldom at life size – onto a flat surface and are virtually weightless, 'written with light'. Responsibility for production is handed over to a technical device and initially only takes a fraction of a second (when releasing the shutter).
The ostensible differences between these two media are, however, matched by the many points of contact, going far beyond the one-sided notion that 'photography illustrates sculpture'. Sali Oelhafen has brought together six artists who use the particular characteristics of photography, such as light and shade, positive and negative, temporality, flatness and double exposure in varied ways to reflect on the relationship between these two media and to look at the artist's own medium from the other's perspective. (Text: Ruth Horak, Art Curator: Sali Oelhafen)
---
19th exhibition: Clea & Cäsar Bitzer
---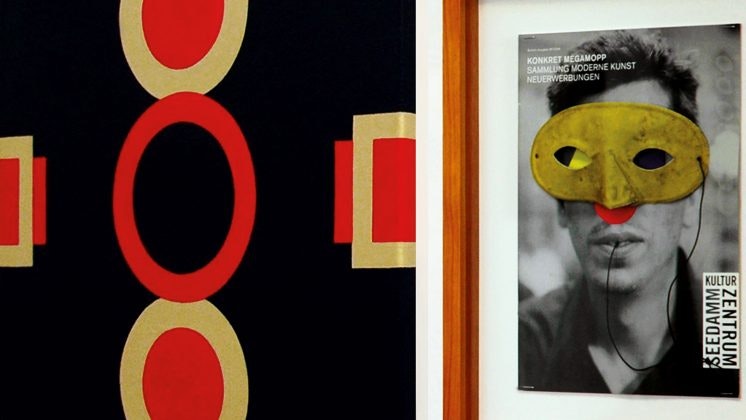 ---
The papercuts, acrylic paintings and objects by Clea Bitzer have a strong presence. They let contrasts of light and dark and individual clean colours do the talking. Geometrical structures both divert and gather the view. Movement and stillness are one and the same. Clea Bitzer has arrived at an art beyond subjective emotionality. The viewer is moved by the patient precision of her engagement with geometry. By its combination of hardness and delicacy. What do the pictures say? Nothing. Only: 'I am beautiful. Do you see?'. Cäsar Bitzer playfully processes found material into delightful objects and assemblages. Two image series provide a glimpse into his neo-Dada laboratory. Refined cuts enable conventional envelopes to reveal their inner life, now turned partly to the outside world, as fantastic architectures. And cover pages of programmes from the Kunsthaus Zürich gallery have been wittily and subtly augmented with found objects. Chance always offers assistance. What does it all mean? Nothing. Only: 'Have fun! Join in the game!'. (Text: Gerhard Piniel, Art Curator: Sali Oelhafen)
---
18th exhibition: Adrian Künzi
---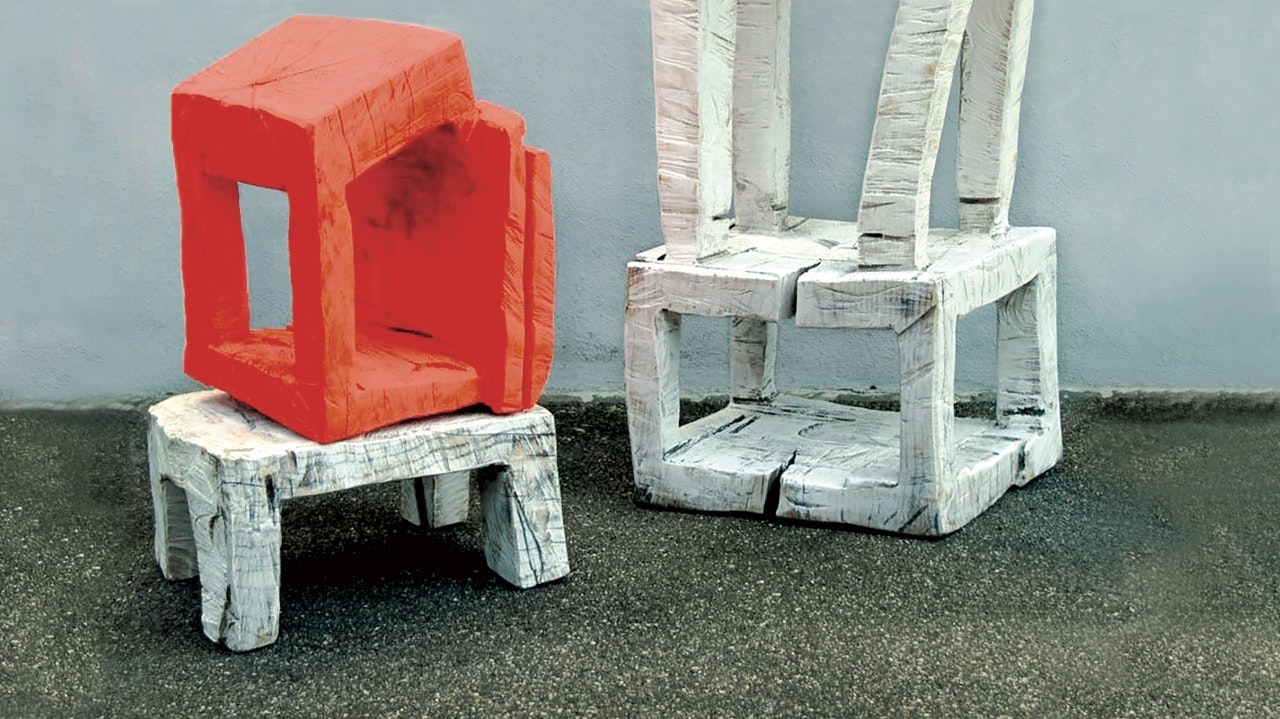 ---
A house, a man, a ship. Adrian Künzi (*1956, Stein am Rhein) is interested in elementary situations. A beef bone, a zip, a machine part. He uses wood to reduce objects into a more precise and simple form. His tool of choice is a chainsaw. This prevents him getting bogged down in details, enabling him to constantly reduce everything to the essential. His sculptures, objects and woodcuts witness to a long experience of working in wood with spirit and precision. The ladder, the stele, the jar – Adrian Künzi creates on a human scale.
We're delighted that the famous Swiss artist  Adrian Künzi has agreed to exhibit with us again. The 'freelance designer', as Adrian Künzi likes to describe himself , is presenting a wide spectrum of his delicate chainsaw art. (Text: Brigit Meier, Art Curator: Sali Oelhafen)
---
17th exhibition: Birgit Zinner 'Saw-cut wall objects'
---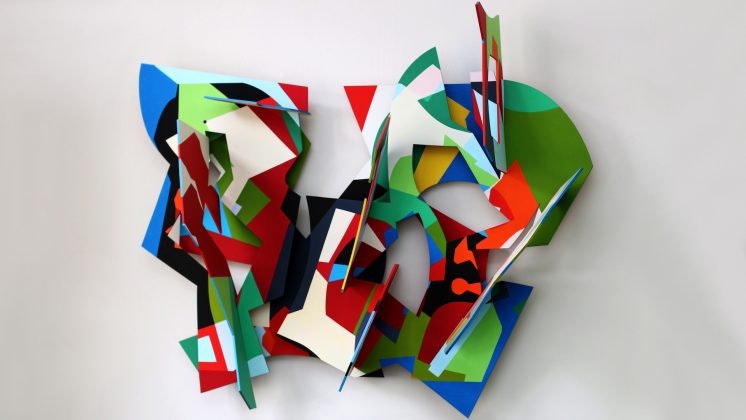 ---
Since 1986, the Viennese artist Birgit Zinner has been creating a diverse cosmos from picture objects. She layers wooden panels, shaped with a jigsaw and painted on all sides, into airy structures that – defying framing – make it possible to experience space. By incorporating left-over materials from earlier works, fixings and many different methods of joining, the individual artworks collectively form a larger, networked whole. Line meets plane, breadth meets focus and change meets continuity. In Birgit Zinner's process, a conceptual approach is combined with spontaneous work with the jigsaw. This leaves scratches and tear-out marks as welcome traces that keep the process alive. (Text: Carola Conradt, Art Curator: Sali Oelhafen)
---
16th exhibition: Peter Kuyper 'Harmonic Aspects'
---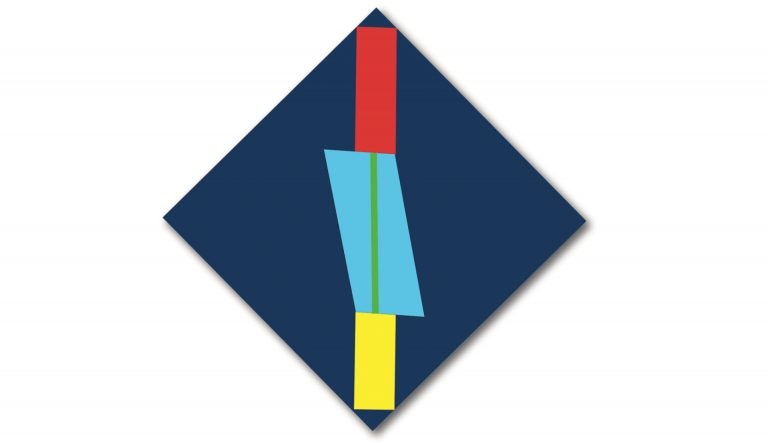 ---
Peter Kuyper was born in 1942 in Utrecht and from 1954 grew up in Switzerland. As a child he was already fascinated by the de Stijl movement, which aimed to depart completely from the representational basis of traditional art and develop a new, completely abstract formal language, based on varying a few elementary principles of pictorial design. In addition to an architecture degree, in his early years the artist attended drawing courses at the École des Beaux Arts in Lausanne. After dropping out of his course, he spent time studying modern jazz and the works of Johannes Itten, Josef Albers and Richard Paul Lohse. This led him to the artistic movement known as concrete art. His later work as an architect in prestigious Zurich offices, for example that of Prof. Walter Custer, ultimately confirmed his affinity and love for design and colour.
For him, painting is a means of realising design ideas optically. Before the work is implemented in material, it exists in full in his consciousness in its conformity with physical laws. The work of Peter Kuyper is a systematic expression of harmonic mass and of laws that structure the design systems and are brought to life with artistic means. (Text: Peter Kuyper, Art Curator: Sali Oelhafen)
---
15th exhibition: Jürgen Paas
---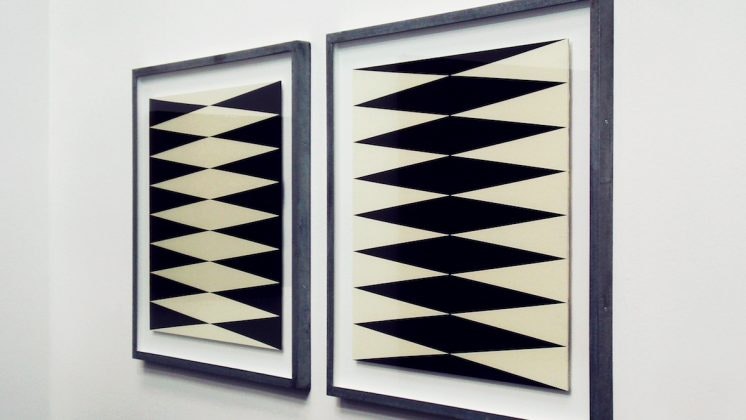 ---
In his art, Jürgen Paas investigates the function of painting, memory and complexity. He always works in a quite specific way on the basis of the object of the picture that he – almost as if in a museum – examines, stores, catalogues, archives and presents, always in relation to the available rooms. In his work, the artist distances himself from the singular picture, preferring to work in series, agglomerations, ensembles, installations, or referencing this diversity in the openness of the individual picture composition. (Text: Dr. Gabriele Uelsberg, Art Curator: Sali Oelhafen)
---
14th exhibition: Norio Kajiura, Shinya Sakurai and Toshiro Yamaguchi
---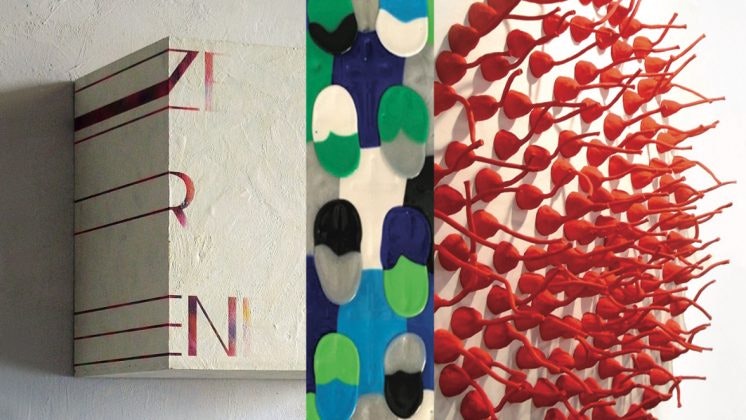 ---
At first glance, the works of the artists Norio Kajiura, Shinya Sakurai and Toshiro Yamaguchi, all from Japan but living in the western cities of Vienna, Turin and Madrid, could hardly be more different: on the one hand, the monochrome white, grey and black works by graphic specialist and adoptive Viennese Kajiura; on the other, the two 'Latin' painters Sakurai and Yamaguchi, whose work is characterised by powerful, unbroken colour and impasto textures.
In the current exhibition, these contrasts are contrapuntally juxtaposed as paintings, wall objects and installations, forming a complex, multi-sense composition that combines far-Eastern traditions from Zen to Gutai with those of the Western avant-garde in an unmistakeable synthesis of contemporary art.  (Text: Maria Christine Holter, Art Curator: Sali Oelhafen)
---
13th exhibition: Franz Türtscher
---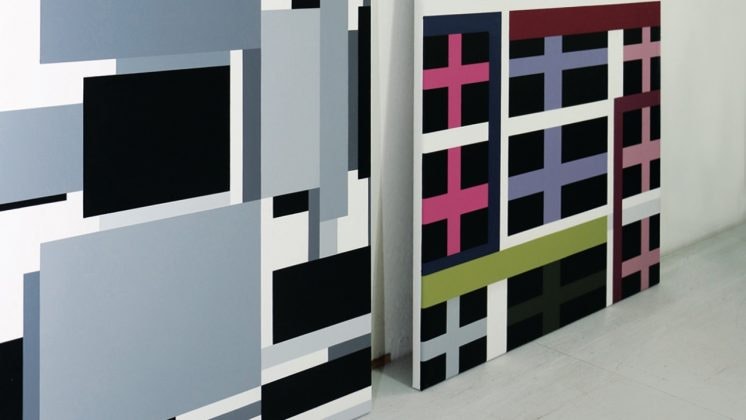 ---
Originally from the Austrian state of Vorarlberg but now living in Vienna, the artist Franz Türtscher creates work based on the two essential orientations in a coordinate system: vertical and horizontal. His works, both paintings and objects, vary within this system – following either the prescribed grid or disrupting it in order to define themselves in a completely new way. The points of reference are the horizontal line of the horizon and vertical orientation of gravity.
Despite their strict, systematic arrangement, Franz Türtscher's works imply a playful, processual movement. Geometrical elements are varied like modules in a building-block system on the picture surface. Türtscher understands the spaces thus produced, with their communicating elements, in the sense of an expansive form of painting that often also refers to the exhibition site. The artist's intention is to create abstract design principles – of rhythm and colour harmony. (Text: Kirsten Helfrich, Art Curator: Sali Oelhafen)
---
12th exhibition: Franco Kappl
---
---
The special thing about these pictures is that, in addition to the developments in painting of recent decades, they contain intensive traces of the artist's closeness to other contemporary cultures. The concise graphical components, such as the expressive rhythms that point to Kappl's alertness to music and everyday visual occurrences, are also part of this. The special density is a result of a carefully created balance between gestural, improvisatory painting techniques and the reflective working processes with which the initial dynamic is translated through alterations, layerings and additions into a total picture that ultimately displays all traces of its own history of creation.
In a new series, Franco Kappl adds the principle of montage to his methodology: two works in the same format, but with contrasting content, are retrospectively connected with each other and revised. Like a jarring two-note chord, the double pictures derive their tension from the contradiction between the impulse to harmonise and a dissonance kept consciously open. (Text: Martin Fritz, Art Curator: Sali Oelhafen)
---
11th exhibition: Sali Oelhafen and Gerhard Himmer 'at the moment'
---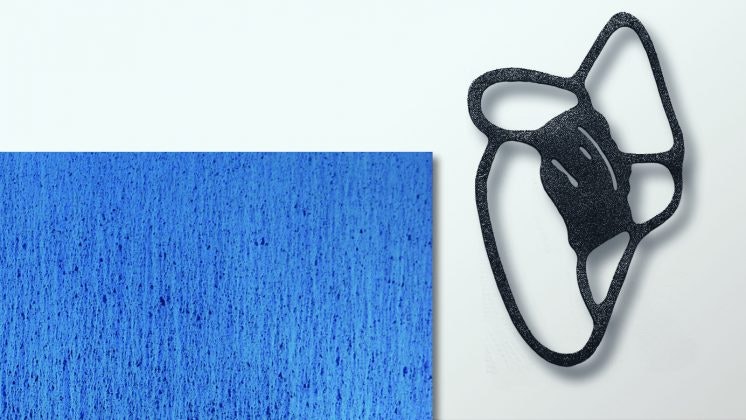 ---
In her painting process, Sali Oelhafen develops an abstract motif, a 'form', as she calls it, and uses variations of it in the picture or even sets it free as a hovering element in the room. In the context of the image, she delivers this motif, at the same time declared to be a sign, allowing freedom for chance to shape the work – whether through being 'informally' under- and over-painted or put onto the picture surface, where only the upper layer of the grid-like relief structure takes up the paint.
Gerhard Himmer works fluidly with the most transparent oil glazes possible, always in a tonality that uses the picture surface as a spatial layer that can be visually intuited. The role of chance in the way the paint runs down the image creates vertical structures that end where the pigment runs out. The colour space that has already – consciously – been placed stratifies underneath and behind this without a definable ending.
In both cases, systematic structures and moments of chance come into contact each other. The artistic decision about the time or place that is definitive 'at the moment' also marks the status of the – also momentary – viewing of the painting. Text: Lucas Gehrmann, curator of the Kunsthalle Wien. (Text: Lucas Gehrmann, Art Curator: Sali Oelhafen)
---
10th Exhibition: Sali Oelhafen and Gerhard Himmer 'Momentarily'
---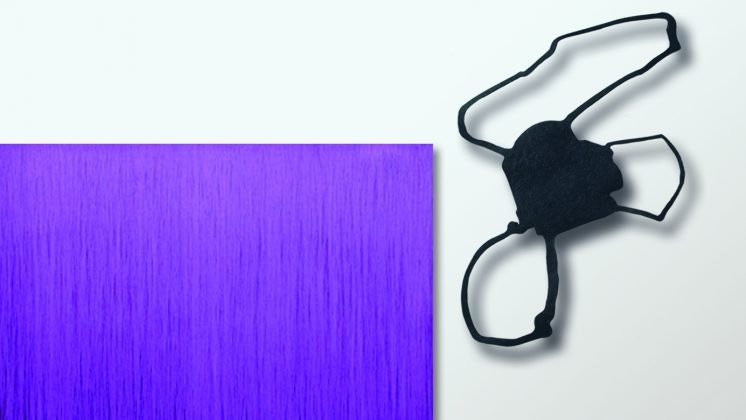 ---
Joint exhibition by Sali Oelhafen and Gerhard Himmer.
At the moment, during a painting process that allows for randomness, structures, forms, far-haired dreams are created that can challenge the work as well as the finalizing of the picture. The current image state is therefore always at the tipping point between volatility and stability. The exhibition 'momentarily' with works by Sali Oelhafen and Gerhard Himmer presents two artistic ways, in which the current is found in different ways. (Text: Lucas Gehrmann, Art Curator: Sali Oelhafen)
---
9th exhibition: Sali Oelhafen and Adrian Künzi 'see further'
---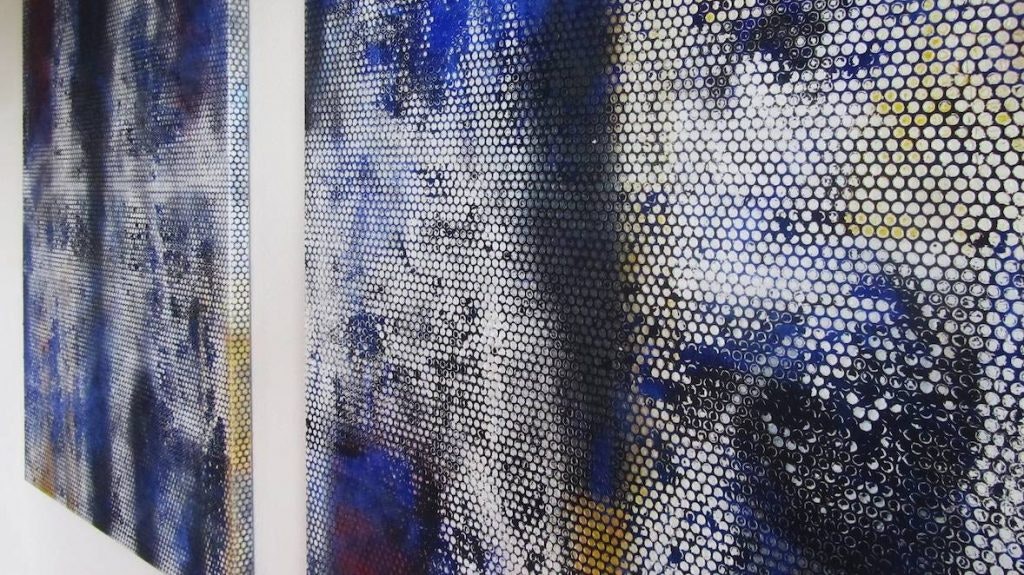 ---
The starting point for Sali Oelhafen's painting is generally a central, abstract form. This is formed with flowing paint as a synthesis of chaos and order.
An additional grid level reinforces the order, but permits gaps to give space to a third level: emptiness, space: to let things happen and let what has happened remain. The artist exhibits in Austria, Switzerland, Italy and Japan. www.salioelhafen.com. 'Drawing with a chainsaw' seems to be one of the central themes of the work by the Zurich artist Adrian Künzi, permeating the individual phases of his oeuvre. He combines subtle power and sensibility. Recent years have seen create expressive, delicate sculptures in a dialogue with the wood and the chainsaw. Adrian Künzi works as a freelance designer and lecturer at the Berufsmaturitätsschule (vocational design school) in Zurich. www.adriankuenzi.ch.  (Text: Lucas Gehrmann, Art Curator: Sali Oelhafen)
---
8th exhibition: Tineke Storteboom 'ghetto 2013'
---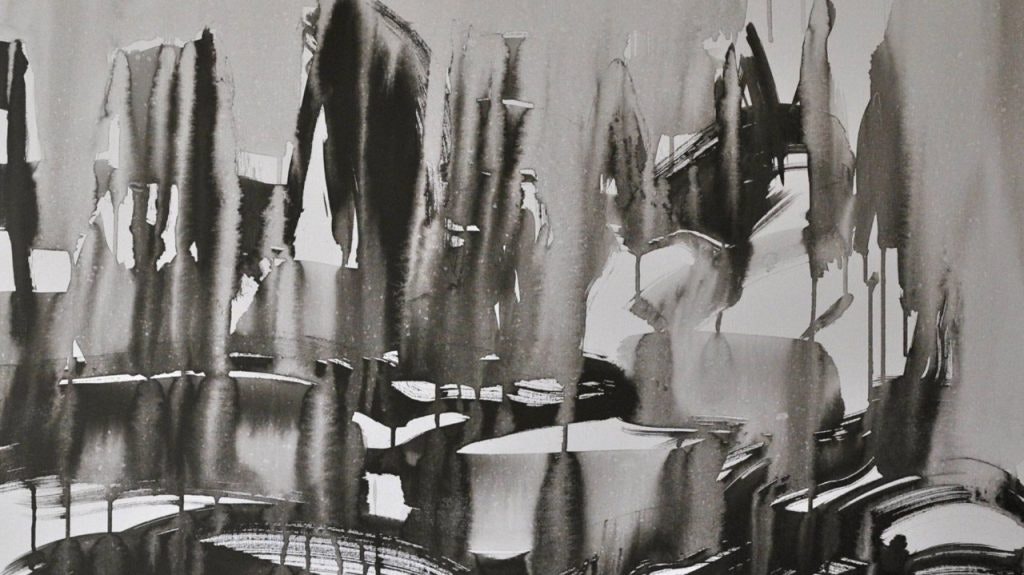 ---
The Dutch artist Tineke Storteboom graduated in painting from the Gerrit Rietveld Academy in Amsterdam in 1992. Numerous galleries have exhibited her work since then, among them Hof und Huyser, Suzanne Biederberg and Raw Gallery in London.
Pieces are also owned by several private and company collections, including Rabobank and the Dutch Ministry of the Interior. Besides painting, Storteboom spends a lot of time writing, her second passion. Recurring themes in Tineke Storteboom's work include: mythology and consciousness, contradictions and the unity underlying duality. From 1992 until today, she has produced series' entitled 'Mysterium Coniunctionis', 'Fourteen Stations', 'Labyrinth' (inspired by the labyrinth in Chartres Cathedral), 'Bulls', 'Hurricanes', 'Ulysses' and 'Inner Landscapes'. (Text: Gary Schwartz, Art Curator: Sali Oelhafen)
---
7th exhibition: Christian Stock 'Cubic Images'
---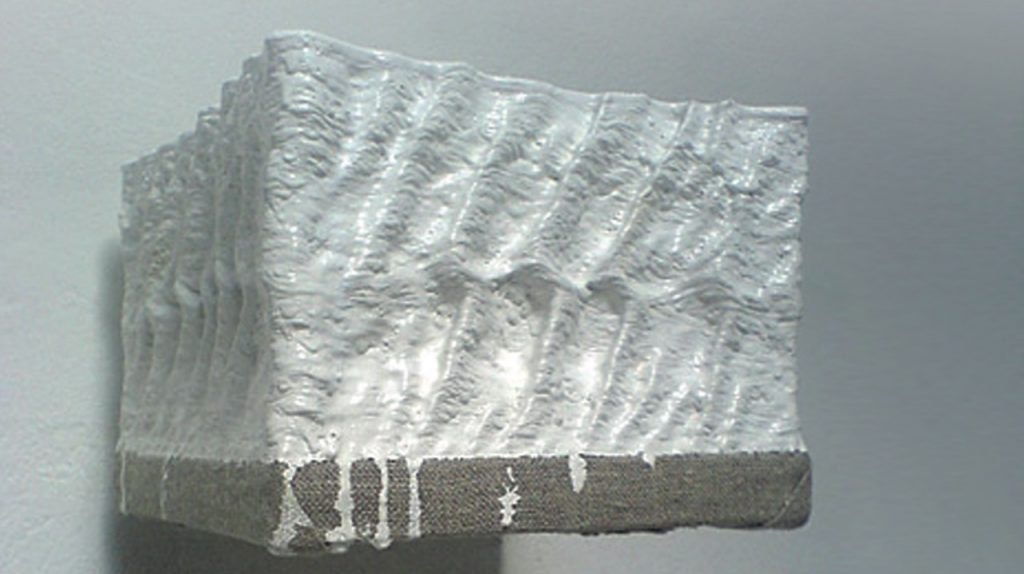 ---
Christian Stock has shown remarkable consistency in his production of monochrome paintings since the 1980s. Expanding the image space – from the illusionary to real space – and a strictly reduced repertoire of tools are particularly important elements in his oeuvre. Canvas, paint and brushes have accompanied him from his early structural experiments onward, and they have since been used to produce groups of works like Cubic Images, X, O or Delete Paintings.
The current exhibition focuses on Stock's Cubic Images. However much one would like to describe them as objects, they remain monochrome paintings, applied carefully, layer for layer, up to 3,000 times onto small-format, square canvases in a process lasting several years. Here, Christian Stock uses the basic colours red, yellow and blue, as well as the shades white and black. The paint contracts during the drying process. The artist has no control over this process. It is precisely in this fine balance between controlling the painting process and giving space for the works to develop their own dynamism that Stock, in painstaking repetition, almost in the style of mantra and with an uncanny resemblance to the 3D printing process, creates his cubic layers of paint, whose four sides immediately call to mind a cross-section of geological strata. (Text: Cornelia Offergeld, Art Curator: Sali Oelhafen)
---
6th exhibition: Barbara Höller
---
---
Barbara Höller has explored the mutability of art for years. A number of series by the artist focus on the variability of her own work. Her current linear pieces are characterised by their openness to different forms of presentation. The colours and motifs of her works can be restructured simply by altering their sequence. This opportunity for continuous change in colour gradients and hence the overall appearance of the work is, at the same time, an invitation by the artist to engage actively with her oeuvre.

Barbara Höller's artworks are largely based around geometric forms like squares, circles or lines, which she describes as the basic building blocks of life.  (Text: Hartwig Knack, Art Curator: Sali Oelhafen)
---
5th exhibition: Kurt Rohrbacher
---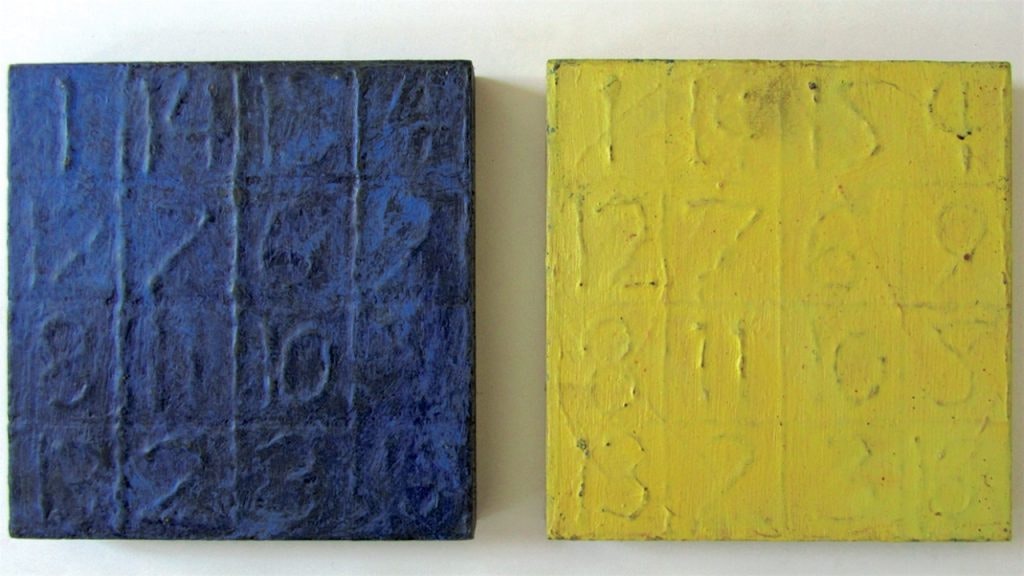 ---
Rohrbacher's oeuvre is symptomatic of the barnstorming comeback that painting enjoyed, defining large parts of the 1980s, and that was characterised by a self-evident blend of stylistic pluralism, figuration and abstraction. The content and formal mannerism of the work are defined by expressive imagery that incorporates poetic and archaic aspects of reality, themes which dominate the art of Kurt Rohrbacher as well. What sets the artist apart from his colleagues, then and now, and what can be considered his trademark, is the use of encaustic painting, a technique in which colour pigments, suspended in hot wax, are applied directly to the painted surface. The technique that Rohrbacher experimented with and developed in his painting has a longer tradition than the use of oil paints. Its golden age was in the Greco-Roman period of antiquity, and it is now used very rarely in contemporary art. The fascinating aspect for Kurt Rohrbacher – and doubtless for viewers of his art as well – is that the embodied thoughts of the artist are scorched indelibly by fire into the painted surface. (Text: Maria Christine Holter, Art Curator: Sali Oelhafen)
---
4th exhibition: Akelei Sell
---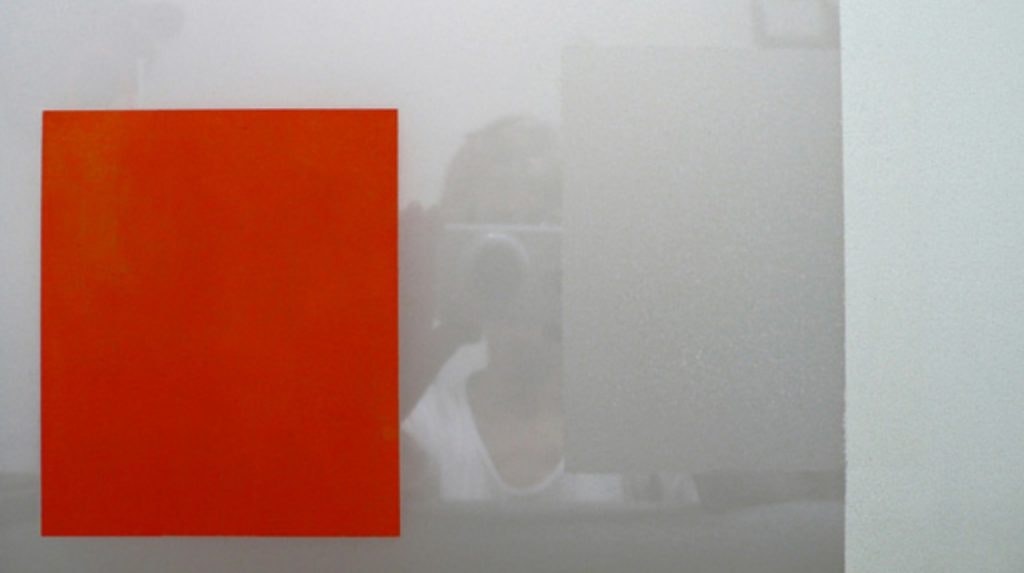 ---
'red square' – the title of a piece by Akelei Sell inevitably conjures up images of the famous painting 'The Red Square' by Kasimir Malewitsch in 1915. A red square is indeed contained in Sell's piece from her series 'Diaphanous picture objects', produced between 2007 and 2012. Of course, though, the subtle – though big – difference is that around 100 years after the emergence of Suprematism, it can no longer be a question of 'experiencing unadulterated abstractness' (Werner Haftmann), although a redefinition of 'pure sensation in fine arts' (Malewitsch) is certainly possible.
Akelei Sell has been working on this 'sensation' for 30 years by allowing extremely delicate, two to three-layer colours and shapes to correlate within an overall context that is stripped down to a emblematic/gestural and scriptural level. Her work blends photo-'realistic' perspectives of substantiveness with their own 'abstractions', which – in keeping with Malewitsch – become essential due to their sensation – 'as they are, as such, released entirely from the environment in which they were formed'. (Text: Lucas Gehrmann, Art Curator: Sali Oelhafen)
---
3rd exhibition: Norio Kajiura
---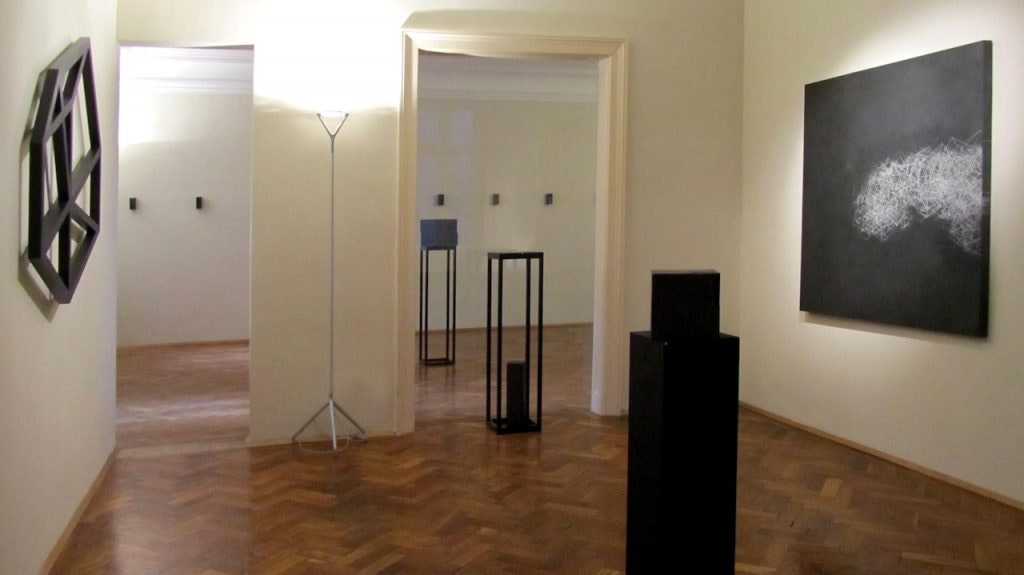 ---
Kajiura's main point of orientation is the Japanese term MA. MA is used in everyday Japanese vernacular to speak of a 'thing', without specifying what it is exactly. Instead, the thing is placed in a verbal relationship with its environment and its correlation to material or temporal situations.
'It means that our thoughts do not define the characteristics of an object until we have determined the relationship with its environment.'

— Norio Kajiura

In Kajiura's philosophy, space and housing, the main themes of his wooden sculptures, graphite pictures and prints, are typical phenomena that are best described by MA – as they only function in an immediate relation to their contextuality, in the interdependency between 'within' and 'without', through the life that unfolds and time spent inside them. (Text: Maria Christine Holter, Art Curator: Sali Oelhafen)
---
2nd exhibition: Sali Oelhafen 'Staging Coincidence'
---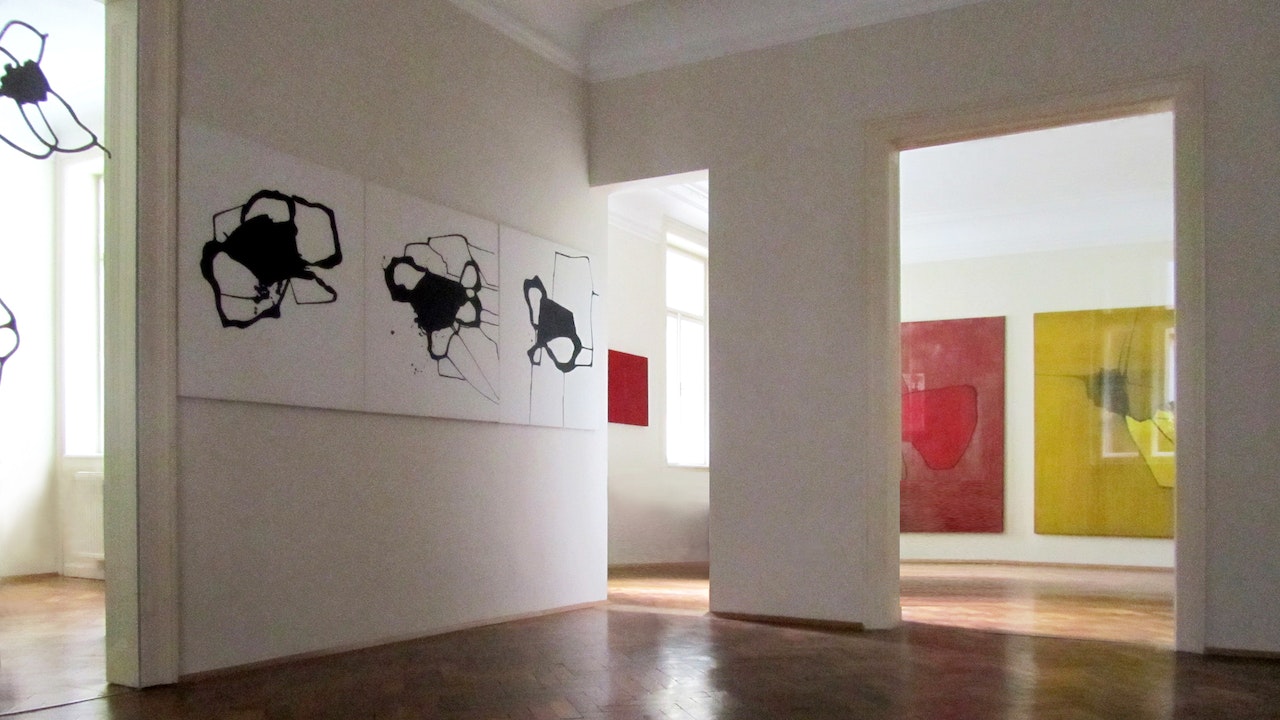 ---
Born in Innsbruck, educated in Vienna and a resident of Pfäffikon ZH and Vienna since 2006, Sali Oelhafen has spent 25 years focused on one theme that she has developed and refined in countless versions and groups of works. The incipient point of her painting is a central, abstract motif, positioned on a surface and over or underlaid with various layers. They anchor the gossamer threads of paint rivulets in an idiosyncratic system that lends stability. Sali Oelhafen uses bubble wrap as the medium for her most recent works, thus largely dematerialising the protective substrate. On the one hand, this provides a fixed grid, while on the other expanding the image space infinitely due to the transparency of the underlying material. The application of paint on both sides of the smooth, i.e. burled, surface creates intricately subtle effects. (Text: Vitus H. Weh, Art Curator: Sali Oelhafen)
---
1st exhibition: Joint CWBSP exhibition
---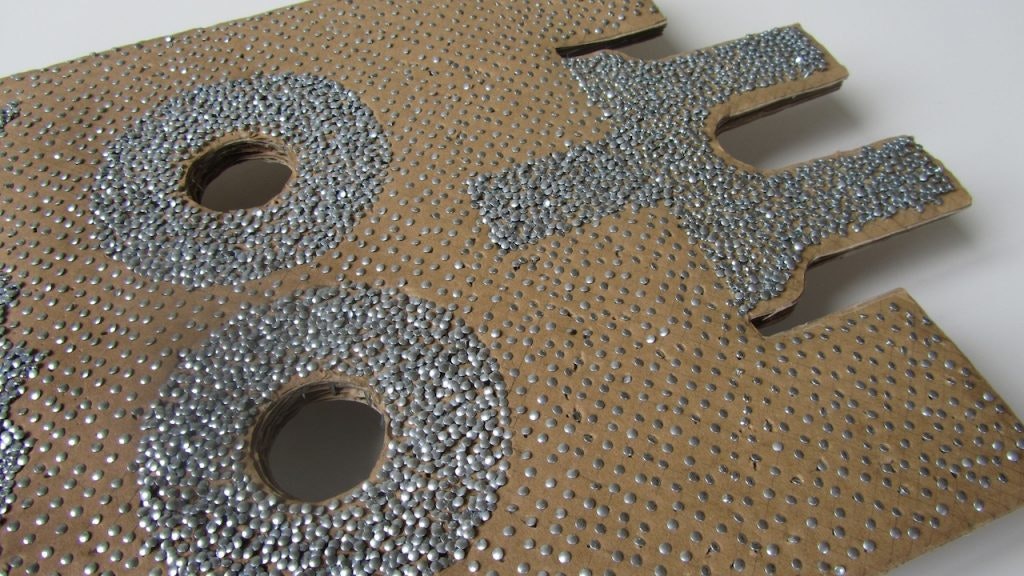 ---
CWBSP is the acronym for 'cardboard wine box spacer pieces'. They are really quite unprepossessing bits of cardboard. Made to measure, they have indents, round holes and folded ends. They fill the space between the wine bottle and the box, remaining almost entirely unnoticed. But their function is important. They create a space between the bottles to make sure they remain undamaged during transport. Figuratively speaking, culture can be viewed as a similar 'in-betweener', perhaps even as the art of being human. This intermediate layer is what surrounds the wine. If one follows these thoughts, it is hardly surprising that Robert Josef Stadler decided to kiss these Sleeping Beauties awake. CWBSPs became his constant companions. He created a Facebook page for them and eventually (most likely over a glass of wine) came up with the idea of asking his artist friends to turn them into something special. The theme was clear and open. Make something out of them! Nine artists followed his call (Astrid Graf-Noha). (Text: Astrid Graf-Noha, Art Curator: Sali Oelhafen)