How the Exploded View model helps you optimise your system landscape
2023-01-13 ・ Eric Vanderfeesten
Different companies have elaborate system landscapes, struggle with limited in-house system knowledge and are being confronted with rising IT costs. The Exploded View model of for​you​and​your​cus​tom​ers helps you save time by optimising the system landscape of your digital organisation.
As your business grows, so does your system landscape. Step by step, your teams add various tools to accommodate variations in data or to enable new integrations between existing systems. In time, this will create an extensive network of intertwined services. 
Optimising the system landscape benefits the entire organisation
Thinking about how to optimise your platform architecture is not easy and change does not happen overnight. It is a challenge to manage a diverse IT services landscape, which includes product information systems, marketing suites, order management or profile and loyalty systems. Often these systems are not only used out-of-the-box. Additional pre- and post-processing services prepare, enhance, or convert data to facilitate integrations with other third-party tools or platforms.
You can increase quality and save both time and money by better organising and simplifying the services and applications in the digital landscape.
Running different systems significantly impacts your budget; think about licensing costs for the products in question, operating costs of the environments and maintenance costs for necessary updates and improvements. Less and optimised use of systems also means less licensing and operational costs.
Another challenge is data quality and knowledge management. Data processed by different systems can cause challenges in quality and accuracy. Different systems can process information in distinct ways, translations of information can vary, rounding or mapping variances can occur, or services do not process pieces of information altogether. In addition, the implementation of new features is more complex and time consuming as each system has its own specific challenges and implementation requirements.
There is also knowledge to maintain, both about automated systems and data integration and about systems used by your teams daily. This often leads to knowledge silos and knowledge gaps. Knowledge can be centralised by merging functionality and reducing the number of systems. This reduces time spent and helps teams to learn, understand, maintain, and use fewer systems.
The Exploded View model offers guidance
Optimising the system landscape provides clear benefits for your organisation. But which area benefits the most? How much impact is needed? And how can you even get started?
---
The illustration demonstrates an example of how the Exploded View model can be used from different perspectives.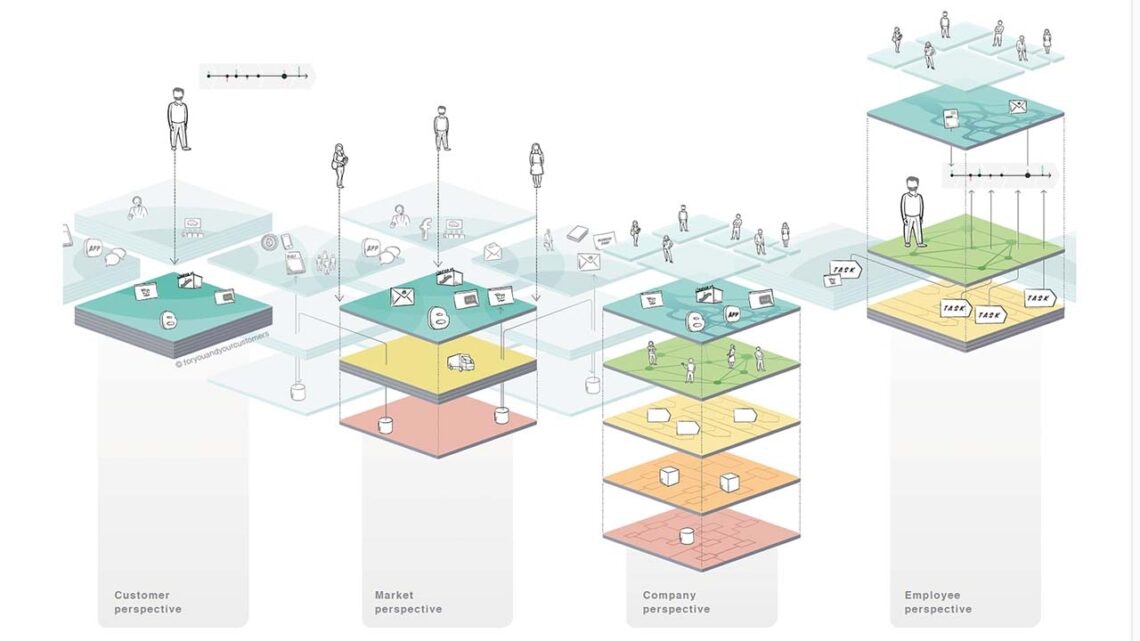 ---
There is a way to identify the opportunities and form a clear path forward on how to address change: Creating an Exploded View of your organisation.
The Exploded View is a model developed by foryouandyourcustomers. It provides a means for smooth collaboration when you consider change or for general reflection on a particular situation.
The Exploded View model helps you visualise the different layers in your organisation impacted in a particular use-case. It gives insight into how people interact with all the different systems, the company's processes and resources, and the data and information resources.
It maps relationships and connections by working closely together, helps you identify where change is beneficial and provides advice on how to deal with those changes. The Exploded View brings everything together in an integral way so that you and your organisation can identify opportunity areas.
How does the Exploded View model work?
It starts by mapping out various aspects of the organisation together with those directly involved. This is done based on the six layers of the Exploded View: customers, experiences, organisation, processes, assets, and data.
Combining information from all layers of the Exploded View creates an integral view of the entire ecosystem of the related problem space.
The first layer concerns all users of the different systems. This includes all users who purchase products and how they purchase them, suppliers who provide required source information, and those users who use customer data or order information. In addition, it analyses the channels that end users use to connect with your organisation, from social apps, your online store or website, to other system interfaces that process information. Various processes are described, such as those responsible for transferring product, order, and user information. And finally, it looks at how and where all this data is stored and processed by the various actions performed by systems.
Bringing this information together creates a clear integral view of the entire ecosystem of the organisation involved in the related problem space. From there a potential future image is drawn up, using the same layers. This provides insight into the areas that are already working well and identifies the areas where improvement is possible. As a next step, the various components are detailed out even further, using various design tools and models. The people involved are interviewed, existing documentation is processed, and software is analysed.
The Exploded View creates awareness and facilitates dialogue to look at the desired solution space together. All the information and gathered insights are combined into one comprehensive whole. The last step is the development of a well-considered approach to realise your application.
Summary
The Exploded View model helps our customers at foryouandyourcustomers in a variety of use cases, from system landscape optimisation, data integration challenges, creating scope requirements for large scale system replacement to preparing tenders, understanding end user behaviour, or improving customer support systems. We support you throughout the lifecycle of your digital information supply chain, helping you identify key areas for improvement and make decisions about how to move forward.
In this article I have talked about why it is beneficial to optimise the system landscape and how the Exploded View model can help you in this.
If you would like to learn more about how foryouandyourcustomers can help your organisation, consider this an invitation to reach out and contact Eric Vanderfeesten or one of my colleagues in Amsterdam.
If you would like to know more about the Exploded View, feel free to download the The Exploded View, for a better overview of digitalisation.
---
PS: We also provide expert training for managers, enterprise architects, product owners and other interested parties to thoroughly understand the basics of the model, learn how to use it in your day-to-day activities and how it has already helped other customers in a variety of practical use cases.