How the new Sofia office of foryouandyourcustomers became an atelier and a gallery
2022-02-28 ・ Ivan Kolarov
Shortly after changing office spaces, our team in Sofia invited an abstract artist from the younger art generation of Bulgaria. This gave all of us at Sofia office the chance to meet in person with Maria Nalbantova and her abstract artworks. Not only she turned the office into a gallery but also used one of the office spaces as an atelier and this is how the 44th exhibition of foryouandyourcustomers came to being.
Art holds a special place in the philosophy of foryouandyourcustomers which is described in detail in Robert Josef Stadler's new book "Corporate Philosophy and Art". That is why shortly after changing office spaces, the team in Sofia invited an abstract artist from the younger art generation of Bulgaria.
---
Robert Josef Stadler's new book "Corporate Philosophy and Art".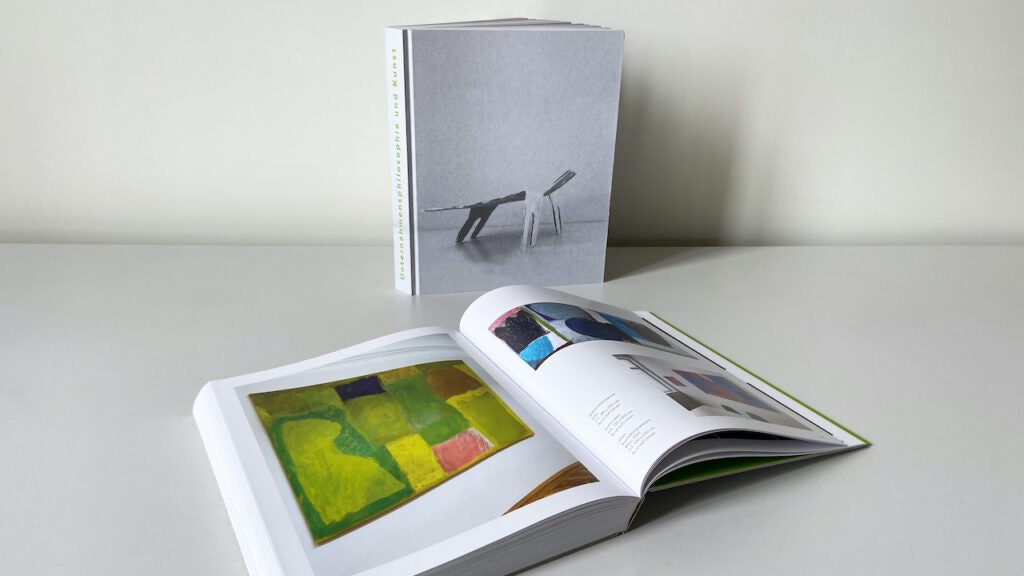 ---
If you haven't met Maria Nalbantova yet
Who is Maria Nalbantova? – you might ask. There is no short answer to that for as young she may be, she possesses quite an experience of art and art projects. And dare to say, she is "upgrading" her technique with each art exhibition she takes part in. Maria Nalbantova is a painter and a visual artist. She received her Bachelor's degree in 2013 and Master's degree in 2015 from National Academy of Arts in Sofia. During her university she participated in the Erasmus program and specialised in the Faculty of Art of Universidad de Granada. Ever since graduating Maria took part in different events – both joint and solo art exhibitions as well as seminars in Bulgaria and abroad.

Her art is very distinctive and that is so because, just as a master smith, she tends to make a thorough research before stepping to the crafting. This research covers everything from the topic, to the materials and even what forms might come up, and, finally, combining all of this in a genuine design. For me, someone not so familiar with Art it was very enlightening to witness this process closely.

Did you know that some of Maria's first projects were related to literature? That's right. In the beginning of her career she was designing book covers, alternative print products and book-objects, mostly editions in the fiction genre. She had partnered with several Bulgarian publishing houses and the most prominent newspaper for literature critique in Bulgaria. Now she is working with different natural materials – wood, metal, dry plants, – and is making complex art installations related to various problems of the modern world.
---
The artist Maria Nalbantova (on the left) and Viktoria Draganova, the curator.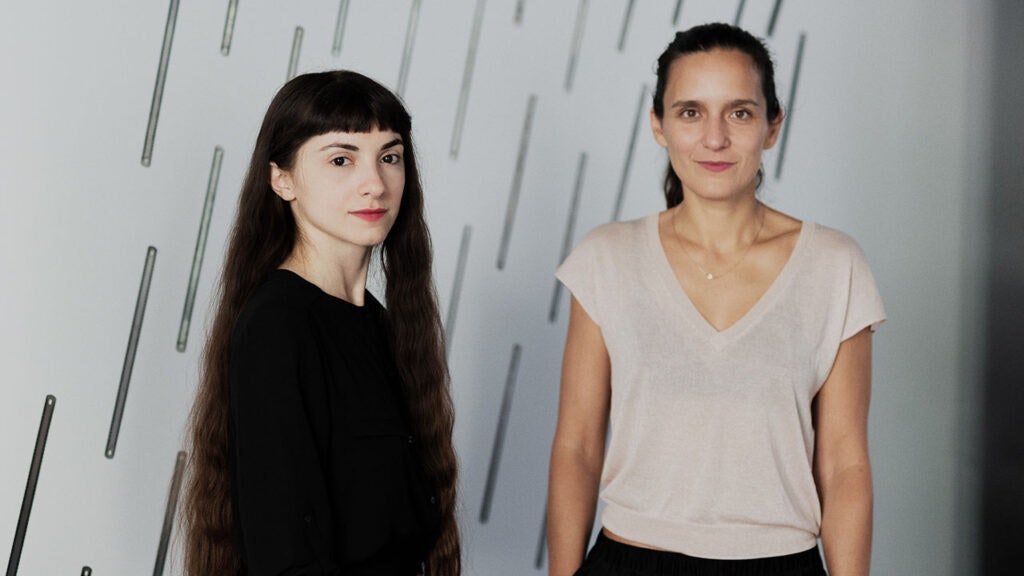 ---
How the new office of foryouandyourcustomers Sofia became an atelier and a gallery
You can read about how and why Maria Nalbantova turned out to be the artist chosen to rearrange the office space of foryouandyourcustomers Sofia in the interview we had with her and the curator Viktoria Draganova. At some point in the beginning of summer 2021 Maria started visiting the office and transformed one of the conference rooms into an atelier for her operations. She met the team of foryouandyourcustomers Sofia, had some conversations in order to understand better the work in the IT field, then started her work of the main idea the art pieces had to carry. These past two years we all had to deal with working from home and mostly digital communication. Of course, we had some opportunities to meet live throughout the year, but after every such an occasion the Covid progressed, and we had to stay apart again. With all these restrictions the corporate philosophy was rather elusive for the newcomers, like me. I can say that in the way the team invited Maria in every activity we had and tried to make her feel as a part of the team, made me realise how we live the values of the company. And how much, not just the cultural, but the social aspect lied in its heart. This is something nice to see, especially in critical times like the pandemic.
---
Employees in the offices in Sofia, surrounded by art.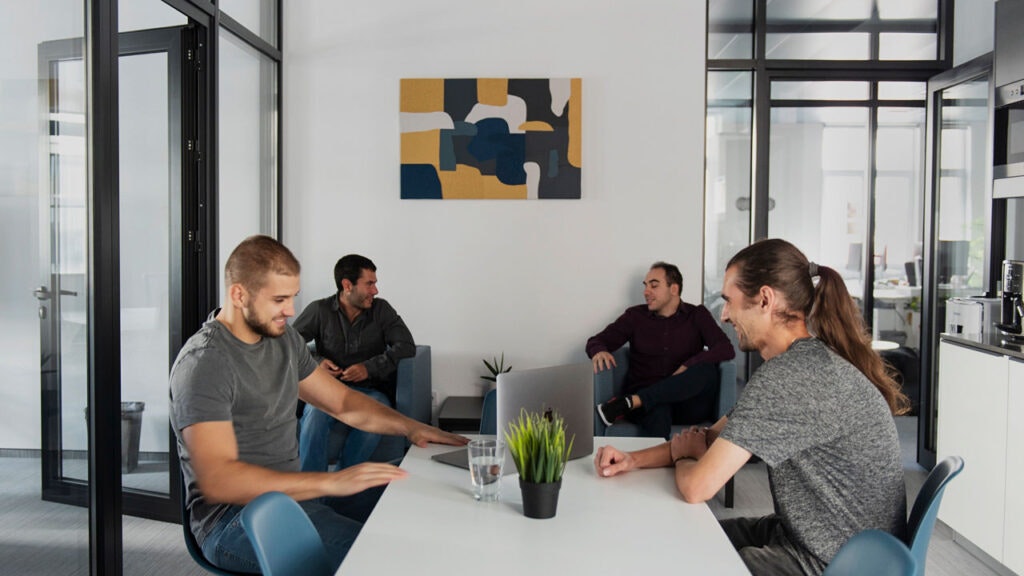 ---
What was intriguing in turning one of the office spaces into an atelier was the reactions of the colleagues. Almost each week this happened – we would go to work and, while waiting for the coffee to get ready, we would take a peek into Maria's atelier. We could see all the materials laying on the table, that would later end into her 3-D collages and sculptures, and talk about how we thought the final art piece would look like. Then a few weeks later we would see the art piece on a wall and someone would say "I would never have guessed it would look like this."

The 44th vernissage containing the art pieces of the collection "Post-Tools" was postponed not once, but twice due to the Covid situation. We had the opportunity to have a private vernissage, just for the team. In contrast with the usual art openings, which I have visited, and which were rather boring in my opinion, the event in the office was very vivid, interesting and what I liked the most – there was a dialogue. We received a private tour and Maria told us about her idea behind every piece of art. Her approach was to ask us what we think of each piece of art and then she would describe what her idea about the same piece was. As you may guess, sometimes our views were colliding and others – not so much, but there was never a wrong answer. I guess that's the charm about contemporary art, but there will be more about it in the next section of the article.

The official vernissage of the 44th exhibition of foryouandyourcustomers was held virtually on October 21st – a month later than what was originally planned. We are hoping that the world situation will get better for us to hold an exhibition in person so everyone from Bulgaria and abroad will have the chance to come and visit the beautiful artwork of Maria and meet her in person. We are planning to hold it in May 2022. Additional Information about the event will be posted on foryouandyourcustomers' website.
---
"Abstract pattern of a tree stump" by Maskim Sokolov, Editing (Image cropped). License https://creativecommons.org/licenses/by-sa/4.0/deed.de.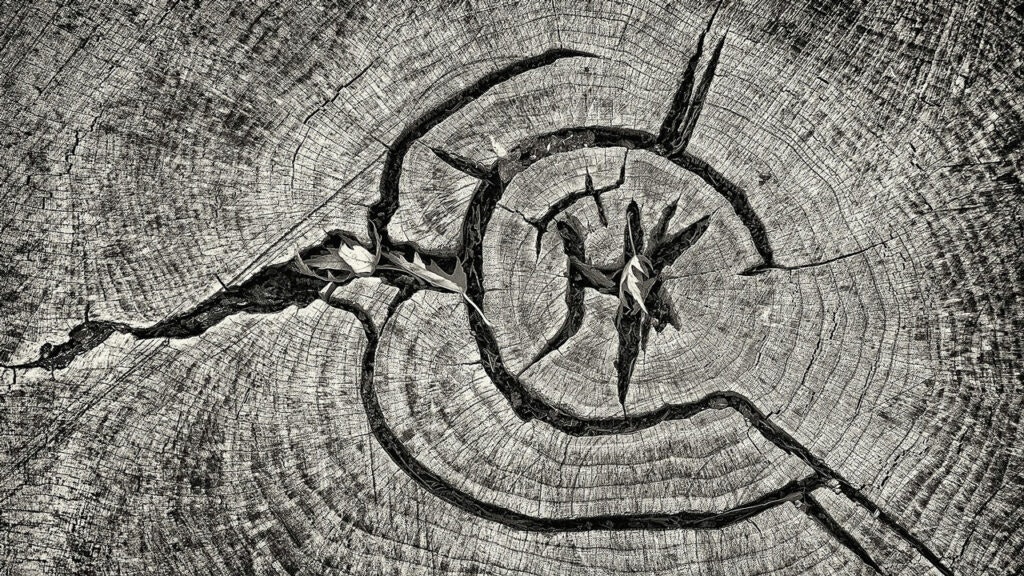 ---
The key to perceive abstract art
Abstract art. Sometimes one would think they might need a map in order to understand it. Many of us, who don't consider ourselves art experts, have doubts about one's own comprehension abilities for abstraction. And I think that is normal because with classic art we know what we see – a sculpture of a human figure, a painting of a field, a portrait or something else that is defined and represented exactly as it was/is in life. There are no surprises, almost nothing is left to our imagination except colours and maybe background story of the art subject/object. With abstract art it's the other way around. We are not supposed to be able to define right away what the purpose or meaning of the piece of art is. Everything is left to our imagination, to our perceptions and it can't be explained adequately in words due to the personal aspect of its interpretation. Every viewer may see or interpret the art differently. Therefore, I believe that abstract art can be seen more as an experience for the viewer.

Abstract art has been around for over a century, although, according to some the cave paintings are also a form of abstract art and we know they are thousands of years old. What is notable about this form of art is that not only it is a preposition for cultural debates but it also proved to be a lasting tradition of creativity, one that is constantly changing and self-renewing. Nonfigurative art, as it can be seen in Maria Nalbantova's exhibition, can appear in many forms.
Everyone wants to understand art. Why not try to understand the song of a bird? …people who try to explain pictures are usually barking up the wrong tree.

— Pablo Picasso
It can be extensive or small. It can be made from many materials, sometimes many small artworks may unite into a bigger artwork. This is what was quite interesting – how each small piece of art may be seen for its sole qualities but when put together – it creates a bigger and more complete idea, just like a puzzle. The artists often selected visual qualities when creating their works. This may be colour, form, texture or more.

From all what was said above about abstract art, and the experience from our art exhibition in Sofia, I came to believe that there is no wrong way to understand it – some basic meaning is set by the artist and from there the interpretations are left to us, the viewers. As for the art exhibitions supported by foryouandyourcustomers – keep an eye on our website. We know there will be more abstract artwork presented in 2022.
---