Haberkorn takes carefully considered action, including with foryouandyourcustomers
2020-05-12 ・ Claus Stachl
---

A new version of the webshop of Haberkorn GmbH went live in December 2019.
A new version of the webshop of Haberkorn GmbH went live in December 2019. The newly redesigned B2B shop, which has been adapted to the company's further developed brand style and contains 200,000 items, was devised and set up in collaboration with foryouandyourcustomers – one of a number of projects arising from the digitalisation initiatives Haberkorn GmbH has been implementing with help from foryouandyourcustomers Feldkirch.
If you were to come by the foryouandyourcustomers office in Feldkirch, you would find people dedicated to their work and, much more than that, committed to user experience design and management around digital products and services. You would find people who love collaboration. And you would find people who appreciate it when the result is not just pretty but also combines technology, sales targets and the brand to create a noticeably better customer experience. Close collaboration with friends in nearby foryouandyourcustomers cells in Switzerland and Munich add to these core competencies to make the Feldkirch cell a powerful local service provider for discerning clients such as Haberkorn. 
Actual project work with Haberkorn began as early as 2015 with an on-site search analysis. What followed was an intensive collaboration in many areas, including developing a concept for the webshop and digital selection aids, working on a dashboard solution for logistics systems, employing SEO and tracking, implementing various design measures as part of communicating Haberkorn's identity digitally, and currently, working on solutions for an even more simple ordering process for special services or in a mobile context.
Sustainability through value and appreciation
A highlight of our involvement was when we conducted ChannelOPERA workshops with 80 customers in Wolfurt and Leonding. In the course of two evening events, we were able to collect 120 specific suggestions for improvement, rank these and then present them in an attractive visual package to company management.
---
ChannelOPERA makes it possible to see your company through your customers' eyes.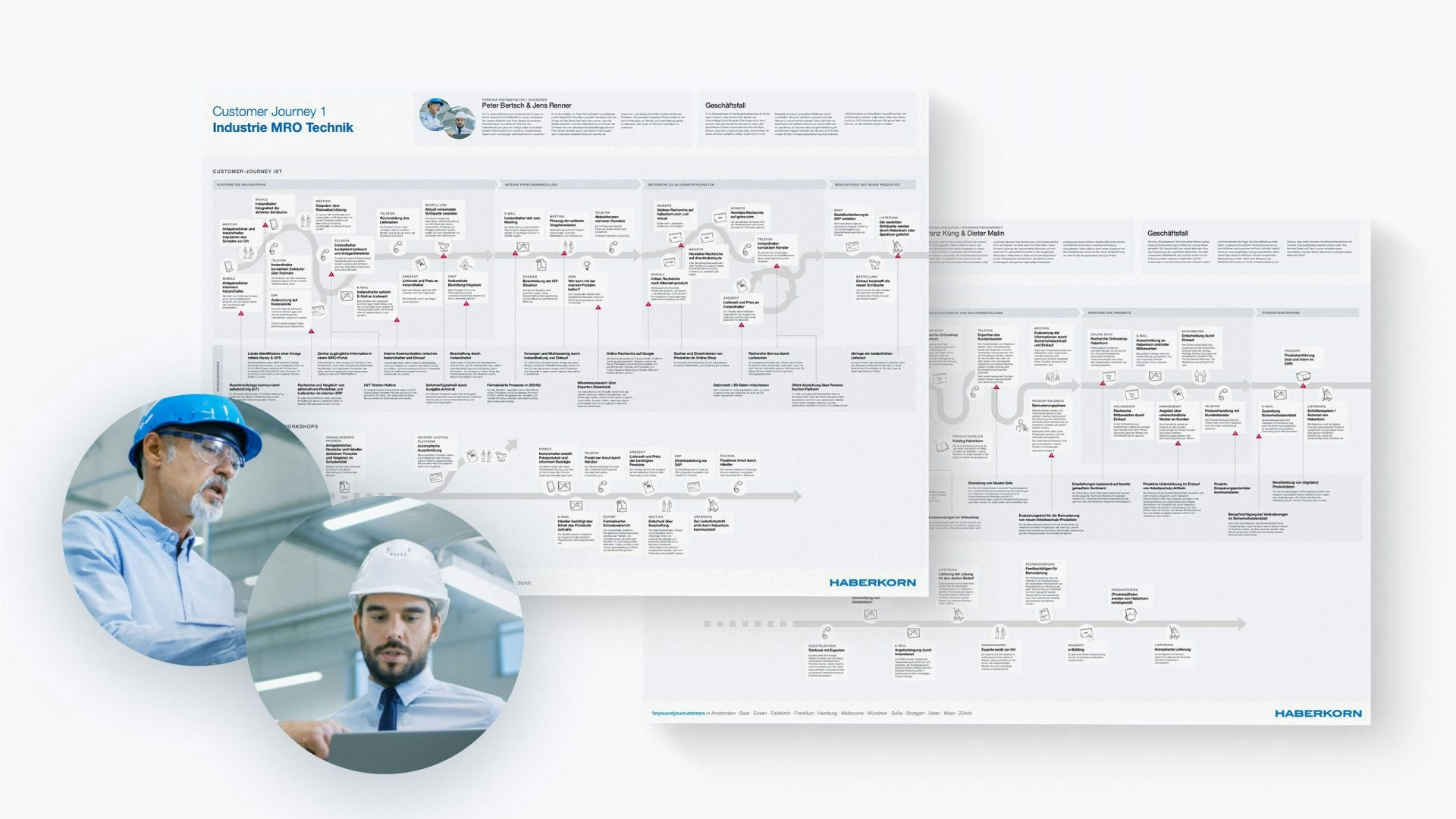 ---
It was through this approach that insights into Haberkorn's customers' needs and concerns were able to be investigated more thoroughly and presented with confidence to the company. The results of this customer insights initiative have since helped provide an overview and support specific measures in the company's strategic further development. 
Over these past years, a relationship shaped by trust and reliable collaboration has developed between Austria's largest technical retailer and foryouandyourcustomers. The corporate culture cultivated by the Vorarlberg-based model company and the people working there makes Haberkorn a client that is tailor-made for us in many ways. It's a mutual appreciation, as Oskar Rauch, Head of Marketing at Haberkorn GmbH, confirms: "In projects with foryouandyourcustomers, I can always be certain that we will get a top result and that our collaboration will be straightforward and friendly at all times."
In projects with foryouandyourcustomers, I can always be certain that we will get a top result and that our collaboration will be straightforward and friendly at all times.

— Oskar Rauch, Head of Marketing at Haberkorn GmbH
It's a cooperation where the focus is not on superficial vanity projects. Much more, all measures are consistently aimed at maintaining and expanding a tried-and-tested, already well-functioning sales system. In the process, very intentional steps are taken to ensure that any developments can be built on stable foundations and can be successful in a sustainable and transferable way across all company levels. But at Haberkorn they also have the courage and the necessary willingness to make changes, break up established processes and organisational structures in terms of company success and strike out on new paths. Further developing Haberkorn's core business on digital platforms means first and foremost always questioning the status quo and constantly considering the customers, new business models, and also the company's own strengths and weaknesses. Or as Günther Kapfer, Head of Digitalisation and E-commerce at Haberkorn, himself puts it: "Haberkorn needs to become more digital personally, and more personal digitally."
---
Haberkorn's sortiment at a glance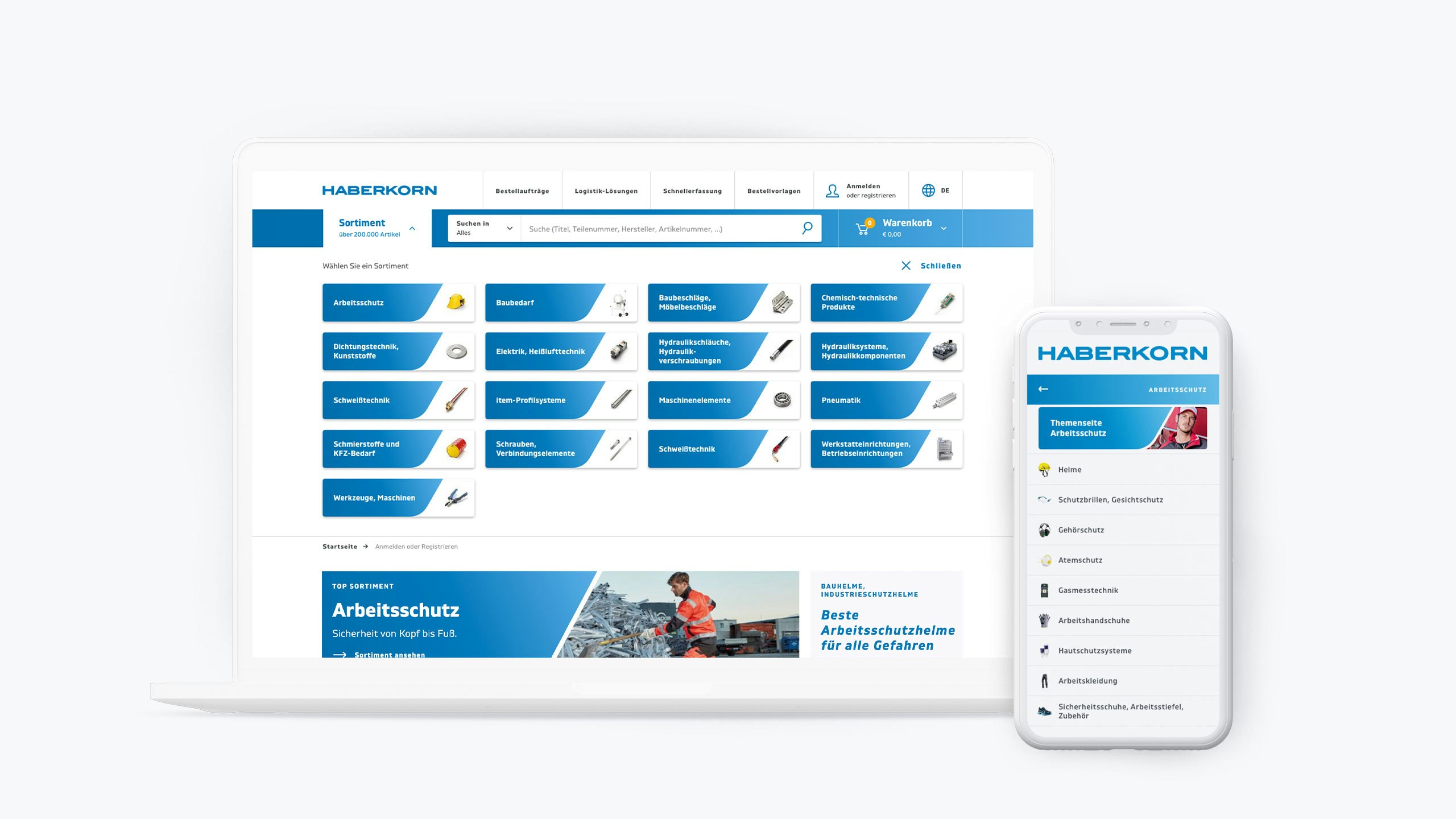 ---
Success has many faces
When we entered the company headquarters of Haberkorn GmbH in Wolfurt for the first time at the end of 2015 in order to present the analysis of the on-site search for the Haberkorn webshop, we realised why the company is one of the most successful in Austria. Compromises were rare when it came to an understanding its own business better and expanding its customer base. But never in a reckless, let alone greedy way. Rather, we met value-conscious people, people who were meaningfully, sustainably and conscientiously dedicated every day to their personal growth and that of the company – they helped and supported each other and then in turn did the same for thousands of customers, with full commitment. It is the same attitude to day-to-day work that we at foryouandyourcustomers also value and embody.
That shared understanding has translated into continuous exchange for meeting various digitalisation challenges. In the process, valuable perspectives deliver inspiration and insights from customers and employees from the different technical areas and product ranges. This important back-channel is being further cultivated most recently with the passionate cooperation of Evelyne Berlinger and Daniel Vetter: A culture of trial and exploration at Haberkorn aims for an even better understanding of the needs that customers have in 17 different product ranges and how to make it even easier for them to shop.
---
Haberkorns neue Shop-Homepage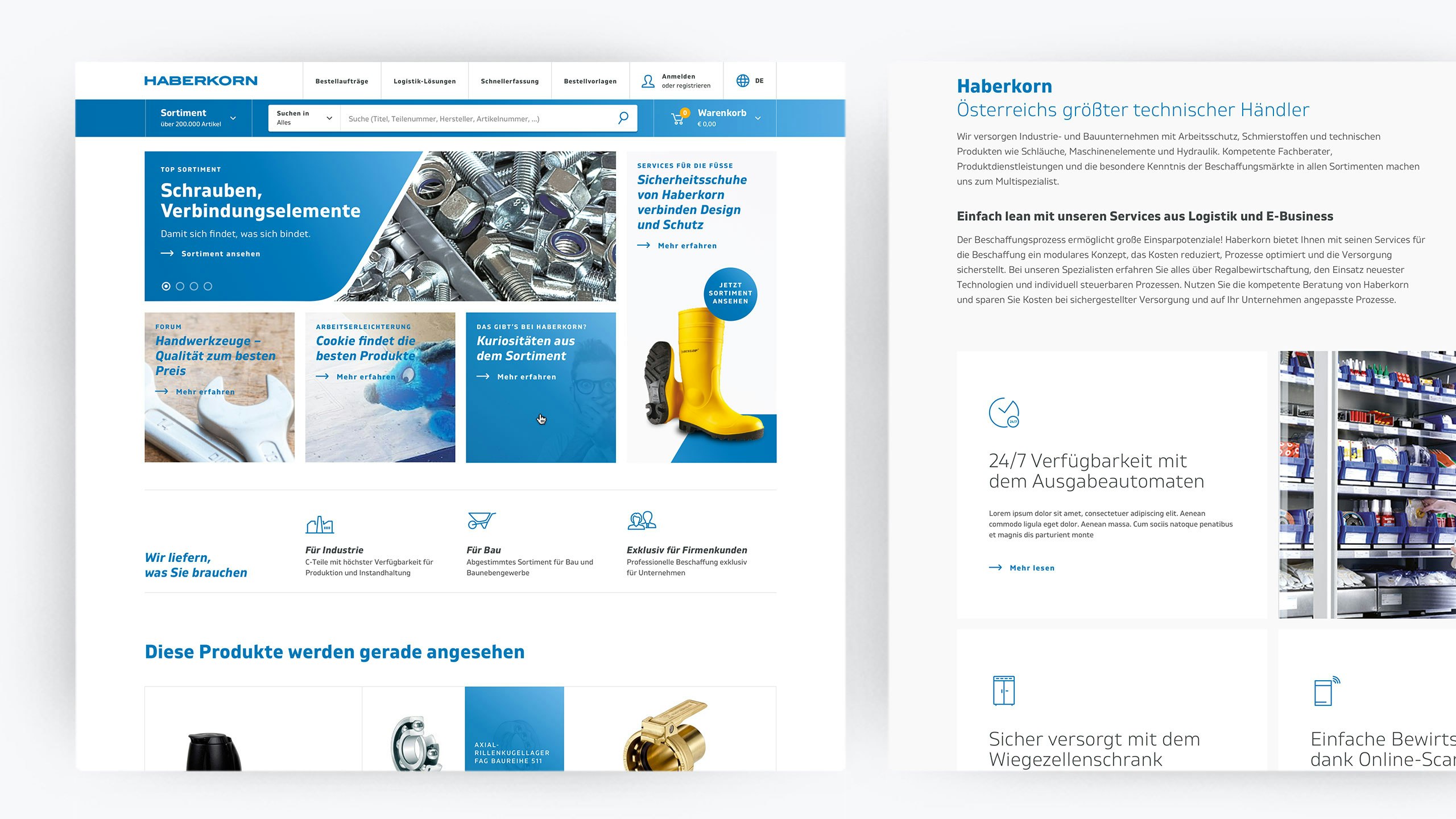 ---
"A number of projects with foryouandyourcustomers from Feldkirch over the past four years have revealed lots of positives: enthusiasm, dedication, expertise, creativity, openness, reliability and so much more. More to the point: we simply like working with them." Positive feedback from Günther Kapfer only serves to motivate further everyone involved at foryouandyourcustomers in their work for and with Haberkorn.
---
A product detail page of a ball bearing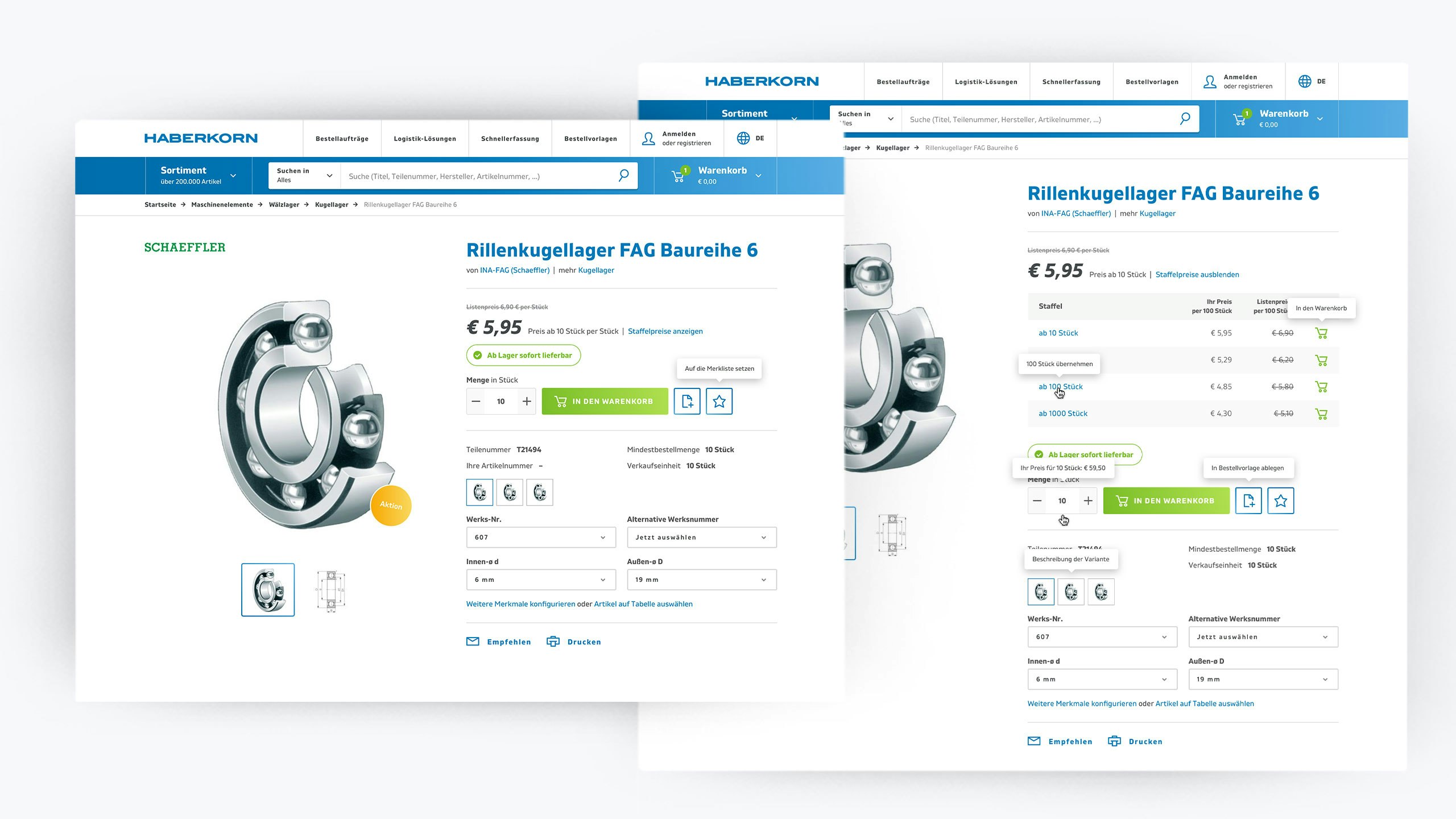 ---
Surprisingly simple long-term results
As our client Haberkorn and we have seen and experienced, the company's digital maturity has noticeably grown. For one, the expansion of the webshop team significantly helps to ensure sufficient operational capacity for all of the beneficial measures being implemented. For another, the pleasure of seeing results and the growing expertise in the digital environment inject each project with positive momentum.
For emotional as well as professional reasons, we here in Feldkirch appreciate Haberkorn not just as the first client but also as a very special client with which we would be very pleased to continue collaborating in future to create noticeable benefits for all Haberkorn customers. We extend our heartful gratitude to Günther, Oskar, Thomas and everyone involved: Evelyne, Sabine, Katharina, Sarah, Sandra, Mirjam, Verena, Belinda, Christian, Daniel, Manuel, Markus, Daniel, Rene, Roland, as well as many other excellent people!