National Australia Bank and Zuercher Kantonalbank shared insights about Omnichannel Management at the 45th Business Breakfast in Melbourne

2018-12-18 ・ Bernhard Mueller
How can banks improve their customer experience? A Swiss and an Australian Bank shared their insights at our Business Breakfast on Tuesday, 18th December. foryouandyourcustomers organised the event to give Financial Services community in Melbourne the opportunity to discuss the digital challenges in banking services and share ideas and initiatives to resolve them. The dialogue between the attendees was very lively and insightful.
Just 103 days after the inaugural event of foryouandyourcustomers in Melbourne, Bernhard Mueller, CEO, again welcomed our guests. He seized the opportunity to announce the opening of the latest foryouandyourcustomers office: Following our successful launch in Melbourne, customers are asking for our services in Sydney as well. Hence, we decided to expand our footprint further.
'We are delighted to have two of the most innovative banks, NAB and Zuercher Kantonalbank, here today to share their experiences in Omnichannel'. Bernhard introduced the two speakers.
---
The participants exchanged their experiences and opinions with each other.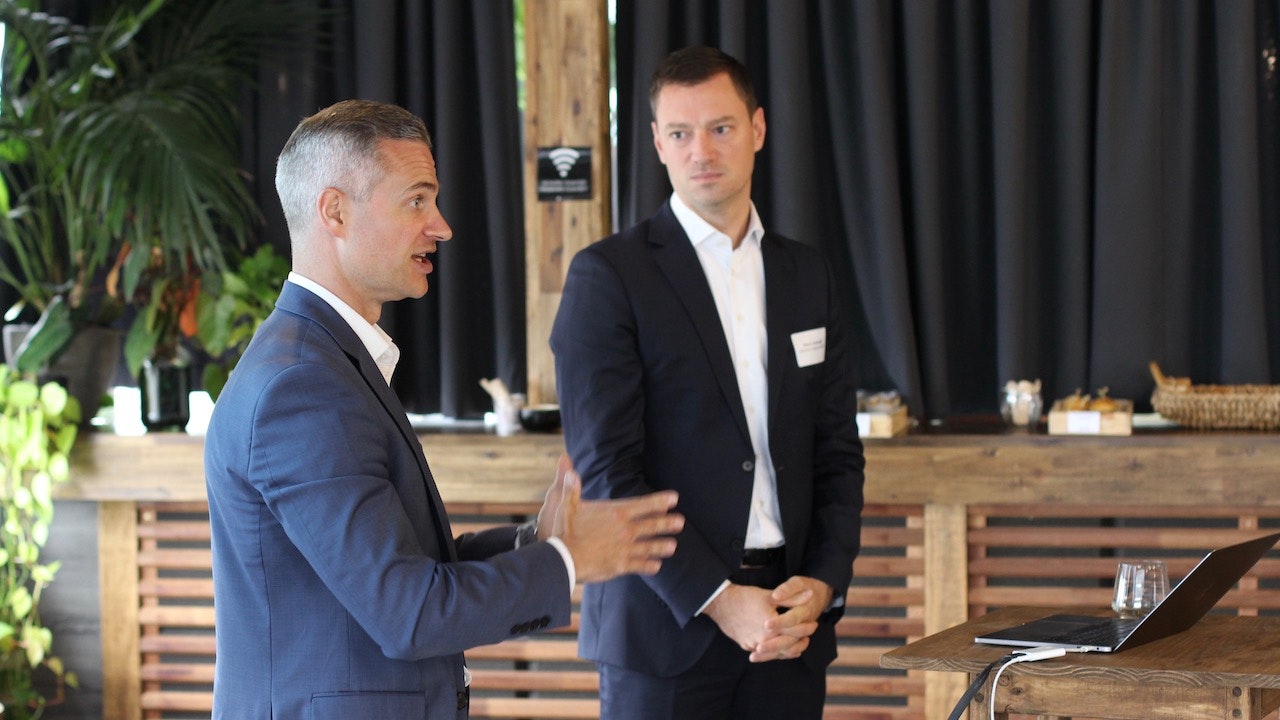 ---
Simon Mescher, Head of Digital for Business, Corporate and Institutional at National Australia Bank, explained how NAB re-imagined the digital proposition for customers. 'We are building a highly flexible, resilient and modular application architecture that seamlessly exposes our banking services to our customers', Simon explained. These apps can be managed and improved independently, which increases velocity for providing new features and services. A powerful, cloud based infrastructure and shared services such as a common identity platform underpin that strategy, and provide the right foundation for innovation. To further create value for its customers, NAB also partners with Fintech startups through their NAB ventures program and its Open Banking implementation.
Remo Schmidli, the Head of Multichannel Management at Zuercher Kantonalbank which is one of the largest banks in Switzerland, followed with his presentation about customer centricity. Remo has end-to-end Omnichannel accountability for his bank, including strategy and execution across all physical and digital channels, and for all customer segments. Having built an Omnichannel team from 0 to 170 people to date, Remo knows this space very well.
Remo explained that research about customer touch points is critical when developing new digital interfaces for customers. 'We ran consumer research using totally new and innovative ways. Like at the Sandbox Event at Zurich main station, which gives digital makers the opportunity to test their unfinished products in the form of prototypes. We met hundreds of real customers and talked to them. We discovered that the customer experience had far more touch points than we thought. Our understanding how to improve our services for different customer groups grew immensely from this' he said.
The participants exchanged their experiences and opinions with each other.
What have been the main takeaway messages for the audience?
There is no right or wrong – decide and do it.

In digital, people are the key for success.

Take many small steps and celebrate them.
'It is a privilege to host senior leaders from two major banks, NAB and ZKB, who have embarked on a digital strategy to improve their customer experience and loyalty', Bernhard concluded.
---
If you would like to receive the presentations, please contact Bernhard Mueller: bem@foryouandyourcustomers.com.
Know more
If you would like to receive the presentations, please contact Bernhard
---
More Info
Other events we've hosted