Recognisable and ever-evolving: for you and your cus to mers has a new office in the heart of Sofia
2021-11-17 ・ Albena Mancheva ・ Hannes Benjamin Weikert
The Vittorio Positano Business Centre is a state-of-the-art office building with a rich history, situated in the centre of Sofia, Bulgaria – and has recently become the new home of foryouandyourcustomers Sofia. "We found the right space for us on the first floor to grow as a team and further develop our customers' business," says Albena Mancheva. The head of the Sofia office and her colleagues can now be found at 1 Positano Square, 1st floor, 1000 Sofia.
"From day one in the new rooms, we have felt truly at home here as people, as employees and as a team," describes Albena Mancheva, speaking of the open, spacious office flooded with light, which radiates feel-good charm from the moment you step through the door.
---
Seating area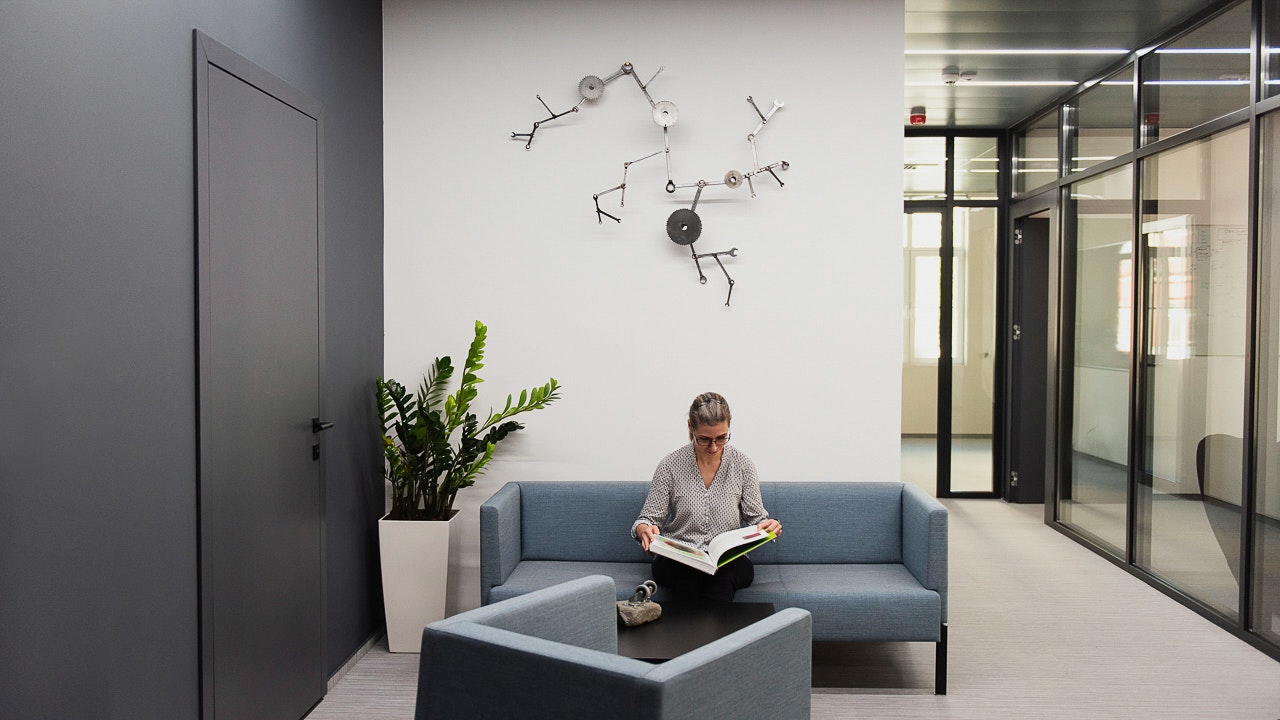 ---
Mancheva took her time to carefully select the right location in Bulgaria's capital city, consulting her colleagues in the "intensive search for a new home for our team that meets our requirements and expectations," says Mancheva. "We took our time because we believe that the office and the building housing it have a big influence on all employees, on the success and failure of our work for our customers and on the further development of us as people and as an organisation. Our old office also offered a very lovely and inspiring environment, but even as we moved in we knew that it would only be a temporary solution because there was only enough space for ten employees. We hit this limit sooner than we thought, so it was time to start looking for a long-term alternative: a new office that would provide us with the space and time to implement our ideas, further hone and shape our expertise, and last but not least, further develop as a team for our customers."
---
Spacious office flooded with light
---
Life is full of suprises. Twists, turns and most of all – new opportunities. foryouandyourcustomers is proof of this, as the company is constantly developing, both in providing innovative business solutions to clients and on its own path of growth. When the office in Sofia was established back in 2017 the team was quite small and consisting of just 3 employees. Now, 4 years later, the team had increased 4 times, and the management is still looking for developers to join the team. The management sees this as a good sign, showing that the values of the firm are well accepted among the employess, many of whom are onboard almost from the beginning. Building relationships that last is one of the motos of the firm.
330-square-metre – space for 24 employees
In June 2021, Albena Mancheva's team ultimately found itself just a few minutes' walk from the old office, in the new 330-square-metre premises with space for 24 employees – close to the top limit set for a foryouandyourcustomers cell, which is 25 full-time employees.
The new office guarantees enough space for team meetings, customer meetings, exhibition openings and events, as well as a quiet yet collaborative working environment. It was not just chosen because of its spaciousness and modern equipment, however, which "allow for a smooth workflow in an appealing space". The company's philosophy concerning the building's central location and excellent public transport connections was also a strong consideration, not to mention the building's history.
The Vittorio Positano building has a rich history that closely follows the city's history of change. Built in 1910, the building was a printing house during communist rule. It was declared an architectural monument by the National Institute of Immovable Cultural Heritage in 1977. In 2017, the Bulgarian Ministry of Culture granted permission to convert the building into a prestigious business centre. In preserving the building's cultural heritage, the property developer made sure to retain the authentic neoclassical architecture while combining it with modern interior design, as Albena Mancheva reports, "and they clearly did an excellent job."
The result was a unique office complex that fits in excellently with the green-office initiative of foryouandyourcustomers. The foryouandyourcustomers Group and every single cell has been committed for some time now to successively reducing CO2 emissions at the locations in many different ways. Vittorio Positano Business Centre is a LEED candidate (Leadership in Energy and Environmental Design) – the most widely used green-building rating system in the world, а globally recognised symbol of achievements in sustainability. LEED provides a framework for creating a healthy, highly efficient and cost-saving green buildings.
---
330-square-metre – space for 24 employees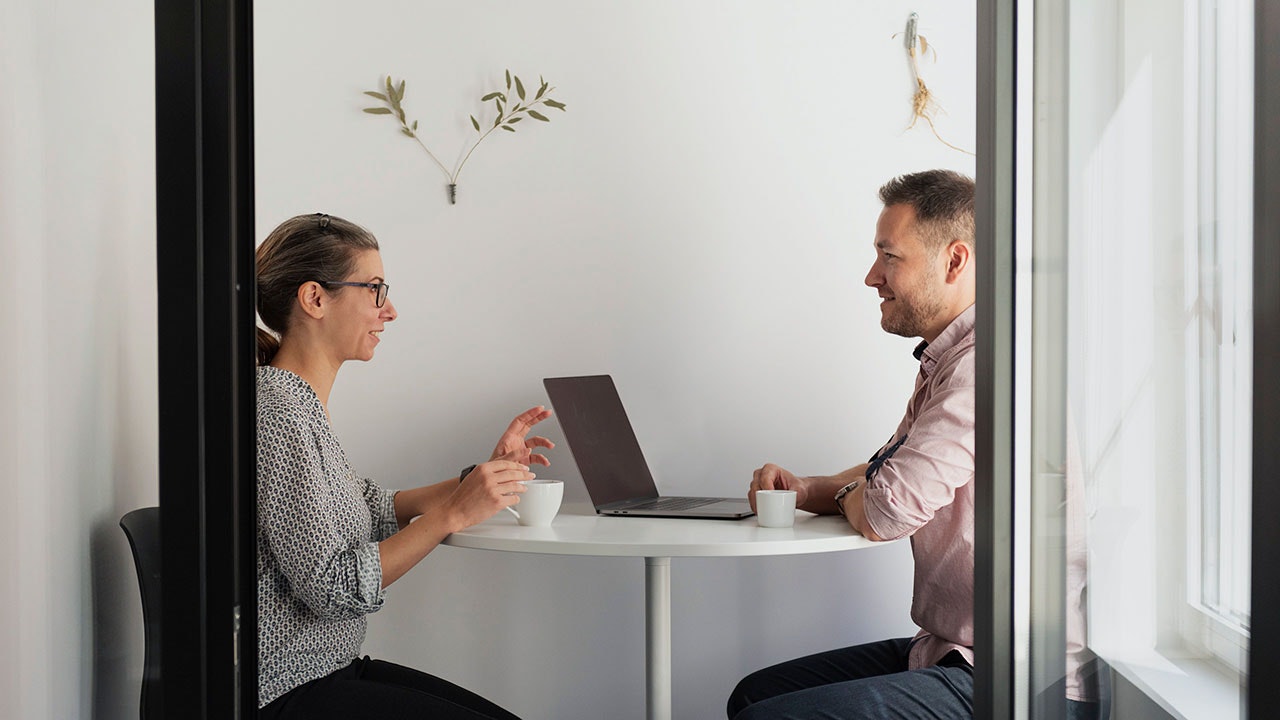 ---
And by mentioning the cultural dignity of Business center Vitorio Pozitano it should be noted that shortly after opening the new office of foryouandyourcustomers Sofia the very same place hosted an art exhibition. The artist who created the exhibition is Maria Nalbantova and you can read the interview about the 44th art opening for the company on our website. /
"We would be very pleased to receive you in person as a guest in our new office, and show you the space, the team and our expertise."

— Albena Mancheva, CEO foryouandyourcustomers Sofia
"Due to the coronavirus pandemic, the Sofia team's move to the new office was delayed at first and then took place gradually in June 2021. We are therefore extremely pleased to now fill the rooms with all of our employees," says Albena Mancheva. "We support our customers throughout the entire software development journey and delivery life cycle – this includes technical consulting, requirements engineering, architecture, implementation, integration and continued support. The 13 experts in our team are experienced in back-end and front-end development, with a focus on Java- and React-based technologies and frameworks. Using our vast experience, we focus strongly on implementation based on commercetools. We have not yet done any work for local customers, but we work very closely with other foryouandyourcustomers locations, supporting them in the implementation of software development projects. We would be very pleased to receive you in person as a guest in our new office, and show you the space, the team and our expertise."