Fissler's international business is critically supported by the Exploded View
2018-03-14 ・ Kevin Krifter ・ Hannes Benjamin Weikert
---

Fissler GmbH, a premium cookware brand, is pushing its international advancement forward with a new e-commerce solution as part of its digitalisation strategy.
Fissler GmbH, a premium cookware brand, is pushing its international advancement forward with a new e-commerce solution as part of its digitalisation strategy. The aim is to utilise the synergy of centralised control from Germany in order to provide product information consistently as needed and across all company channels in the rapidly growing Asian market and in the USA. To achieve this, a new direction was needed that would ultimately involve all levels of the company.
"Our objective is to design an international solution that meets our requirements and those of our Fissler subsidiaries and customers in terms of Group-wide transparency, based on a single shared truth of efficiency and quality," Wolf Drexel, Head of IT VESTA GmbH said at the start of the project in January 2017. As part of this project, foryouandyourcustomers was first in charge of consolidation product information and now also acts as a partner and trusted advisor in achieving the company's global business objectives.
A decisive factor in this was the use of the Exploded View, specially developed for you and your customers. "Even in the first meetings with the decision-makers it was clear to us that we would be able to provide long-term support and successfully assist Fissler GmbH with our holistic perspective and our model," says Werner Spengler, Managing Director of foryouandyourcustomers Frankfurt. "The need to consolidate product data for international e-commerce and get the desired results was important, but ultimately just part of what was necessary to achieve our aim," explains Drexel. "Fissler wants to reach its target groups via all necessary channels and deliver tailored information to them, quickly and in high quality. That way markets, customers and suppliers can connect more quickly and easily through product information and a multichannel presence that is specific to the market," says Fissler project manager Daniela Berrang.
It's a project with implications for different yet dependent levels within the organisation. In its approach, foryouandyourcustomers differentiates roughly between business, solutions, systems and data/data structures. "Each of these levels, and their smooth interdependent functioning, plays an important role in the quality of the products experienced by the customer and above all, in the operational efficiency of the company, be they e-commerce, marketing, product management or sales – all of these contribute to achieving Fissler's business objectives," says Spengler.
---
The channel layer places the customer at the centre.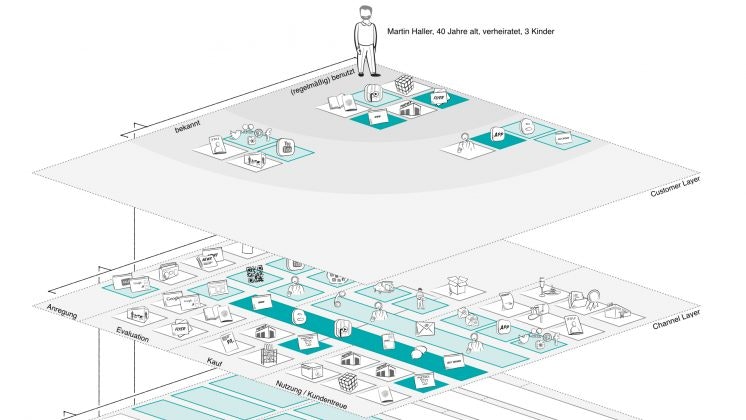 ---
In an initial phase based on the model, each of these layers is analysed from the customer's point of view and the necessary questions are answered, such as which objective groups use, which channels via which solutions, and whether the required structures, systems and data already exist in the company or first need to be created. "The advantage of the Exploded View as I see it is that seemingly complex questions can be easily and clearly mapped out and the decision-makers at all levels develop an understanding of their requirements, dependencies and synergies," says Spengler.
From January to July 2017 Fissler then worked with foryouandyourcustomers to implement the essential required PIM platform on the STEP MDM solution from Stibo Systems. "In many companies, different departments get data from an ERP system and process it manually. This type of approach is always prone to errors and makes it almost impossible to integrate other countries. With Fissler, processes like the product development process were mapped out in STEP in order to connect the organisational level with the system level," says Spengler. "STEP is therefore a process-oriented, company-wide data hub," adds Daniela Berrang. "The fact that all data is now managed and updated in STEP is an important step toward international multichannel operations." From the start, a central master data team was established in Germany under the leadership of Daniela Berrang, and has since been expanded to an international team. Fissler and foryouandyourcustomers used a train-the-trainer approach to group and train their employees. "The team members should be able to handle data entry independently from the start on and in future," Berrang says of the process.
---
The systems get their data from the data layer on which they are founded.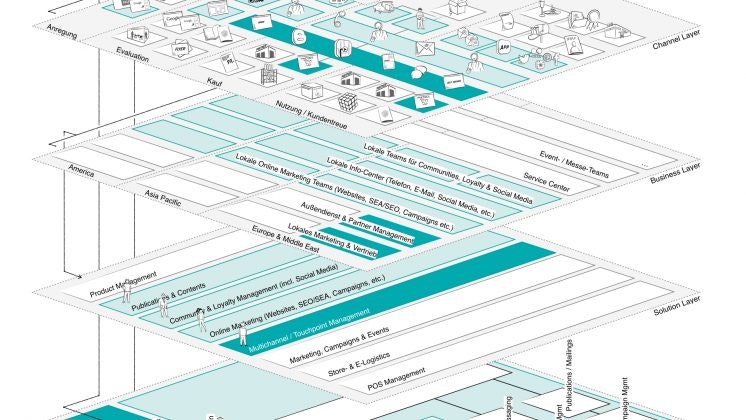 ---
Exploded View offers overview, structure and guidance
The international rollout of the new e-commerce solution started in March. The aim is for the central processes, which are based on the database, to go into effect internationally so that individual countries no longer have to create their own in future. "Our customer was already established internationally and was very successful. The aim for foryouandyourcustomers now is to formulate their objectives in individual and required steps at the relevant level of responsibility. The implementation phase is shaped by penetration through the individual layers of our model." In other words: "we analyse the current state of each national subsidiary and then go through every layer from the data layer up and adapt these – including in their scope – to the needs and local changing requirements of the desired business model," explains Werner Spengler. "So we start assigning the data to the individual channels and ensuring the functionality of the company in the respective regional organisations. The model will help us communicate more easily, more quickly and more precisely in future." The international rollout is scheduled for completion in most national subsidiaries in 2018 "and we will meet that deadline," Wolf Drexel asserts.
---
The known organisational levels are mapped out in the business layer and solution layer.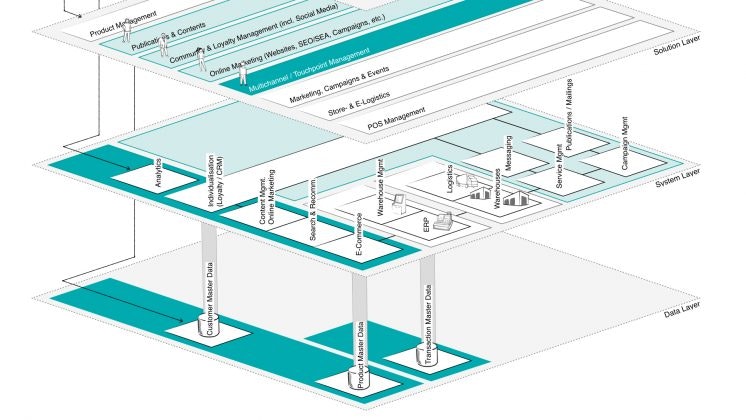 ---
"Fissler and foryouandyourcustomers formed a close, trust-based partnership right from the start," Spengler says of the project. "Our experts for the individual company levels continue to help their respective teams build up internal knowledge and pass it on to the national subsidiaries, so they can overcome new challenges and meet requirements independently thanks to workshops and training." Daniela Berrang adds: "In foryouandyourcustomers we have found a partner with specialist expertise and experience that we are happy to rely on."