Key takeaways from the Australian Manufacturing Week
2023-05-15 ・ Tobias Felbecker ・ Kunal Lohia ・ Steve Wilson
The Melbourne Convention and Exhibition Centre hosted the Australian Manufacturing Week (AMW) from May 9th to 12th. At this event, the top Australian manufacturers displayed their innovative technologies and latest machinery. Our teams from foryouandyourcustomers Melbourne and Sydney were excited to exhibit our industry knowledge and expertise at this highly anticipated event.
Attending the Australian Manufacturing Week was another valuable opportunity to exchange with top product manufacturing companies and industry experts. The event featured a display of large machinery, intelligent automation, robotics, 3D printing, and numerous other tools and solutions for the manufacturing industry.
Digital sales channels are on their way
The discussion with Australian manufacturers has again shown, the continuous need for digital change in this industry. When we asked about the preferred mode of receiving orders, «fax and phone» was a commonly cited response. As millennials and Generation Z become the new B2B buyers, relying solely on these sales channels may not be sustainable in the long run.
---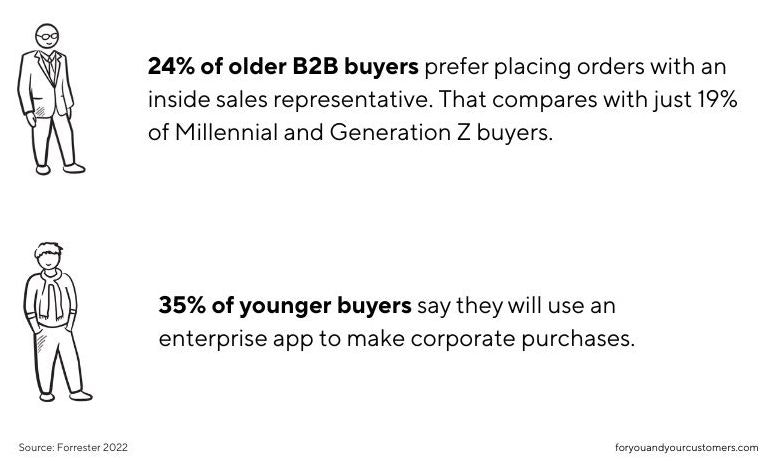 ---
According to Forrester, 24% of older B2B buyers prefer placing orders with a sales representative. With Millennials and Generation Z buyers, on the other hand, it is only 19%.
Read more about Omnichannel Sales for Manufacturers
We specialise in crafting digital sales solutions that ensure seamless omnichannel experiences and drive success in the ever-evolving digital landscape. Please read our AMW Handout and see our case studies for further insights on this topic.
Product Information Management
Another popular topic for discussion was Product Information Management (PIM). It has been demonstrated once more, that many businesses still rely on a combination of ERP systems and Excel to handle their product information. This approach might have been effective for companies that primarily used printed catalogues and only updated their information once a year. However, as B2B buyers want to have access to up-to-date product information via digital channels such as B2B portals, manufacturers should consider investing in what is known as the Digital Information Supply Chain (DISC).
Similar to the process of transforming raw materials into finished products through manufacturing and distribution, product information also follows a Digital Information Supply Chain. This encompasses the processes of onboarding, creating, enhancing, quality-assuring, and publishing product information across the organisation.
Read more about the Digital Information Supply Chain (DISC)
At foryouandyourcustomers, we consider DISC a differentiator for manufacturers. Please have a look at our AMW handout and see our case studies for further insights.
Further takeaways
At the Australian Manufacturing Week, we've covered some crucial digital topics. Alongside the need to establish fresh digital sales avenues and efficient product information management, we have discussed further important topics:
Industry 4.0 and IoT Integration: The event emphasised the increasing integration of Internet of Things (IoT) devices and Industry 4.0 technologies in the manufacturing sector. This integration enables real-time monitoring of production processes, predictive maintenance, and enhanced connectivity across the entire supply chain. To facilitate this integration, manufacturers need robust data integration and API management solutions.

Digital Twin Implementation: The concept of digital twins was a significant focus at the event. Manufacturers recognise the value of creating virtual replicas of physical assets, enabling them to simulate and optimise various scenarios, improve operational efficiency, and enhance product development and maintenance processes.

Data Syndication Challenges: Manufacturers face the complex task of sharing data with multiple retailers, vendors, partners, and distributors. Each of these partners has unique data requirements, including attributes, packaging hierarchies, product classification, and protocols. Data syndication was a key topic of discussion, emphasising the need for efficient and tailored content delivery to meet diverse partner needs.

Cybersecurity and Data Protection: With the growing digitisation of manufacturing processes, cybersecurity and data protection have become paramount concerns. The event shed light on the importance of implementing robust cybersecurity measures to safeguard sensitive data, intellectual property, and critical operational systems from potential cyber threats.

Skills Development and Training: The advent of new digital sales channels and technologies in manufacturing has increased the demand for a highly skilled workforce. The event highlighted the importance of investing in skills development and training programs to ensure employees can adapt to new manufacturing processes and technologies effectively.
foryouandyourcustomers in the manufacturing industry
At foryouandyourcustomers, we are dedicated to assisting manufacturers in overcoming the obstacles of implementing the Digital Information Supply Chain. Our goal is to facilitate the creation of digital sales channels, including D2C commerce solutions and B2B portals. Take a look at our case studies from the manufacturing industry for further insights. 
---
Video: Manufacturing Case Studies
---
---
Video: Australian Manufacturing Week | Melbourne | foryouandyourcustomers
---
Schedule your consultation
Get in contact with our experts today to learn more about how we can help you implement new sales channels and master your Digital Information Supply Chain.