An emerging perspective on product information to drive competitive advantage: DISC
2019-12-09 ・ Bree Johnstone
In the same way that we understand how raw materials are turned into products using extraction, manufacturing and distribution as part of a supply chain, product information has its own supply chain – a Digital Information Supply Chain (DISC). At for​you​and​your​cus​tom​ers we see this as a key differentiator for leading customer centric organisations.
High performing organisations acknowledge that the needs of their customers are continually evolving and the number of touch points or channels to interact with them is exponentially growing. Critically, these organisations have also recognised that in every interaction there is data that can be transformed into information to provide insights into the customer and enrich products and services being offered. Several of those data creation points organisations govern and others such as User Generated Data and Competitor Data are outside of their control. Yet all must be considered. How can you be truly customer centric if you aren't continually understanding and improving your product or service based on the way customers exchange their data and interact with it?
"I believe that competitive advantage has moved beyond just having good data. It's how you leverage and harness product information to achieve a differentiated customer experience that leads to success." 

— Bree Johnstone
Thus where leading customer centric organisations are truly differentiating themselves is understanding how and where all these data points are created, managing this data and enriching it such that it is transformed into vital information to further the organisation, it's products and services. In the same way that we understand how raw materials are turned into products using extraction, manufacturing and distribution as part of a supply chain, product information has its own supply chain – a Digital Information Supply Chain. This forms a key foundation that differentiates leading customer centric organisations.
---
There are a growing number of channels requiring more than just product data – they need other types of data such as supplier data, user generated data, IoT etc.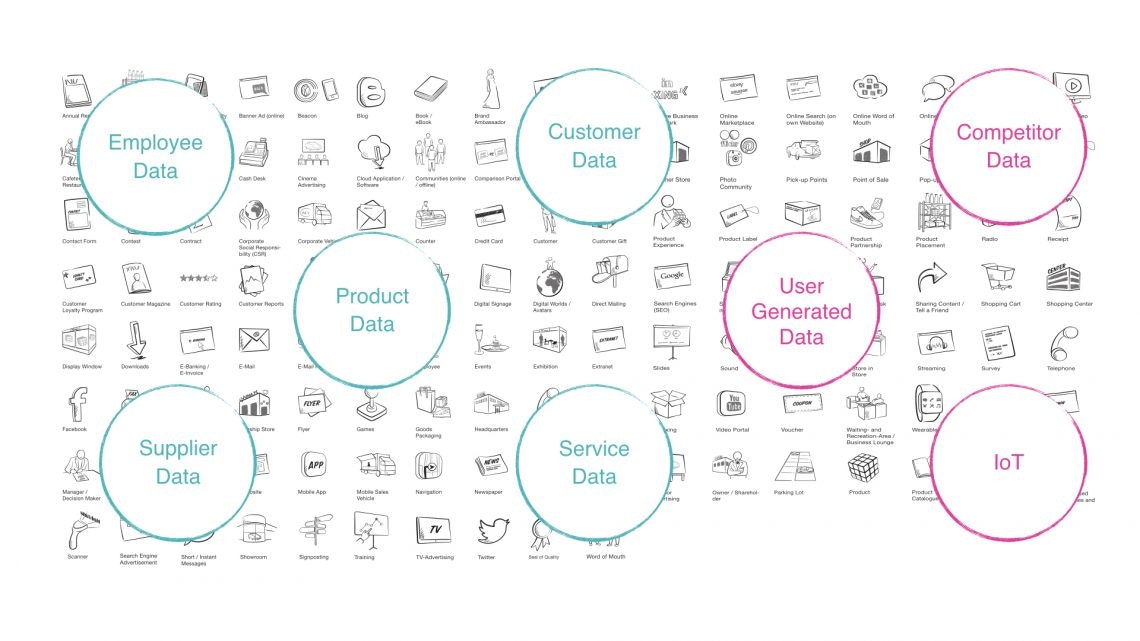 ---
Take Australia's largest wholesaler for industrial safety goods. Working B2B with a significant number of products from the world's best brands they knew there had to be a better way to manage product information. Product information was key to enhancing their online experience for their customers. With data from manufacturers being slow to source and lacking depth they implemented their own photo studio in-house to shoot their product images which were then mastered centrally in the Product Information Management (PIM) system and published from a single source for print and online channels. This gave them more control as well as making publishing to channels more efficient – with no chance that product information would be out of sync across channels.
---
Linking the physical supply chain with Digital Information Supply Chain via channels.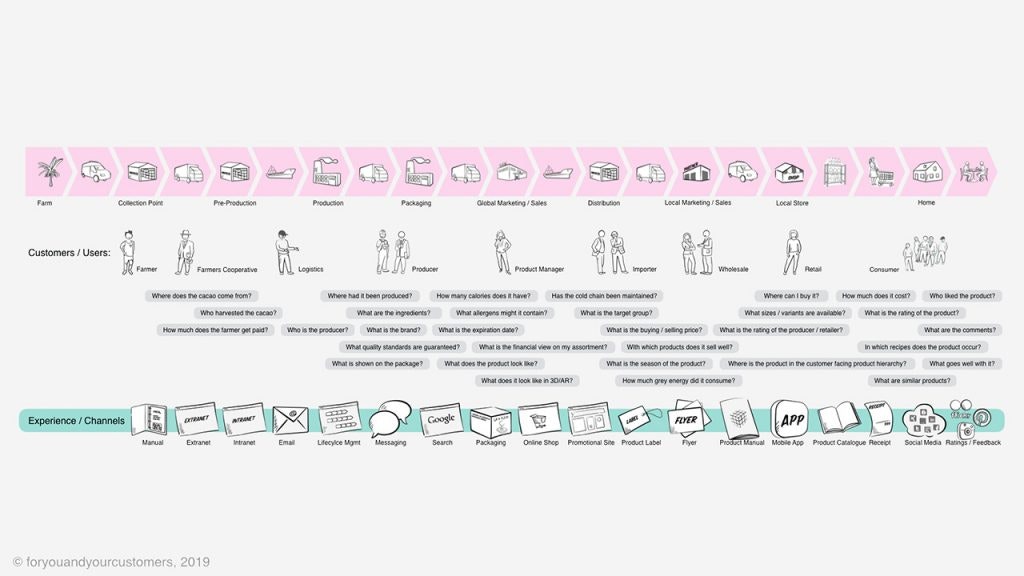 ---
Critically they began to understand how the structure of product information impacted their user online experience. Searching for a single item and returning over 300 results was not what their customers wanted. Through in depth understanding their product information they were able to further categorise it leading to more targeted search results which increased sales and improved the customer experience. Conversely we see organisations who sell products with many technical features and options, for an increasing number of countries, in up to 20 languages, where they manually maintain, organise and products across a variety of channels. They hold product information for their e-commerce store, print catalogues and stores as separate data points, requiring them to be maintained separately yet somehow synchronised.
---
How can we use the richness of data and information to further improve our products and organisation?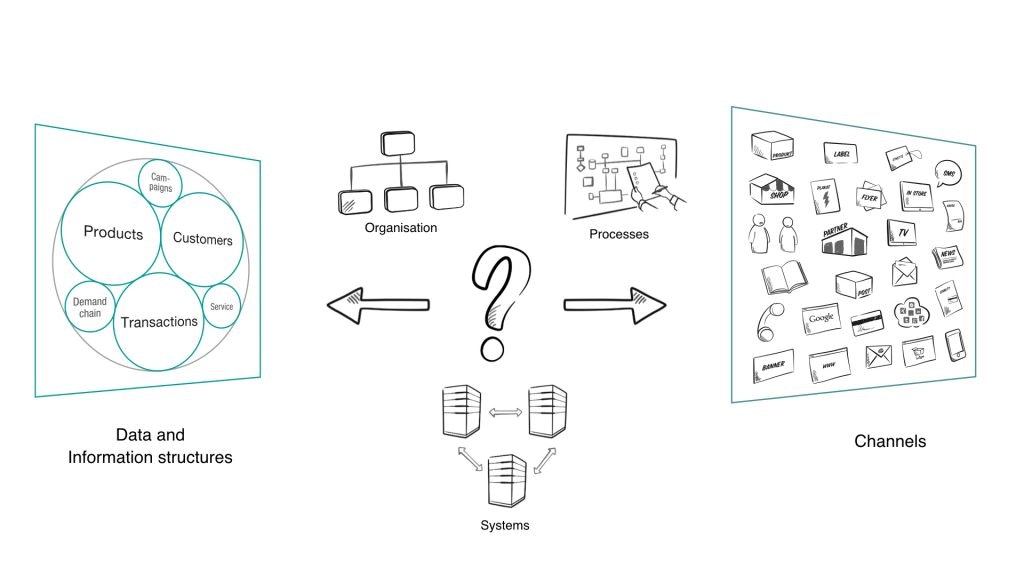 ---
Another example where you can see the inefficiency of product data management is from an Australian retailer who sold out of new products in their store before being able to actually bring them online, due to the cumbersome manual processes they applied to source, update, and publish product information in their online catalogue.
Why wouldn't you structure your product information to make the processes more efficient? For example, the implementation of a Product Information Management (PIM) system helps orchestrate the combining of disparate data sources to create a Digital Information Supply Chain as well as managing the chain itself. The creation of products can be administered via the PIM. Data from inside and outside the organisation can enrich the product information, and maintenance can be governed and automated through rules and workflows. Crucially the publishing of the product information to various channels such as e-commerce & print is also executed via the PIM. This creates a central view of all products across any channel, thus significantly reducing the overheads of maintaining multiple product instances – one for each channel. It also allows organisations to improve time to market when adding new products, or even new channels.
Another key advantage of recognising and leveraging a Digital Information Supply Chain is to strive to have data extracted as close to the source as possible. That improves the accuracy of data and reduces unnecessary overheads and possible degrading of quality.  Just like we mine iron ore from the ground many products are created by suppliers who hold the most pure version of the base product itself and any information surrounding it. Through enabling a Supplier Portal as part of your PIM you are able to have suppliers upload their detailed product information. That increases their ability to rapidly get their new products to the market, and also better control how their products are marketed and distinguished from the competition. However, just like in the example, you need the right data at the right time – if at the source it's not fast enough or reliable you need to create your own source.
---
How to obtain a 360° view of the product and create a digital twin.
---
Nevertheless the implementation of a Digital Information Supply Chain can be challenging and requires well thought out strategies to be formulated in order to incrementally mature it. In Australia, the concept of Digital Information Supply Chain isn't yet as ubiquitous as it is in Europe. That may be because here it hasn't been seen as a big problem in the past, unlike in Europe where countries had to deal with product information in multiple languages, a variety of countries, different legislations and compliance requirements already for a long time. However, as more and more channels are being serviced, organisations expand internationally, and companies realise how the current error-prone handling of digital product information is limiting them, this concept is also quickly becoming very relevant in Australia.
Therefore, the benefits of implementing a Digital Information Supply Chain is really to be able to collaborate easily, efficiently, and with high quality, both within your company as well as with your customers, suppliers and other parties. The data is clearly understood from all departments because there is one single source of truth for the whole company which is implemented, managed, and governed. This facilitates the everyday requirements of digital change as it happens –  the company is forward looking, ready and fast in implementing new innovations and it becomes easier to implement changes. Above all it increases sales, reduces overheads and decreases time and energy while never loosing sight of customer centricity.
---