How the desire for a new website initiated a profound digitalisation process 1/3
2023-05-01 ・ Sebastian Horat ・ Annegret Bönemann
---

Komax is a global leader in automated wire processing, currently on a journey of digitalisation.
Efficiently and smoothly, foryouandyourcustomers worked with Komax to create the necessary technical and functional infrastructure for an exceptional customer experience. As a result, Komax's online presence has been visibly transformed. This remarkable achievement is the result of extensive work behind the scenes. Welcome to the first part of our case study.
Sebastian Horat remains pleasantly surprised by the swift launch of Komax's new online presence, featuring its intricate technical infrastructure. The team of experts accomplished this remarkable feat in a mere ten months, a truly impressive achievement given the magnitude of the task. Nevertheless, as the Senior Consultant at foryouandyourcustomers, Horat is keenly aware of his team's exceptional abilities.
Let's begin from the outset. Komax, a renowned player in wire processing, excels in manufacturing highly specialised machines and boasts a global workforce of over 3,000 employees. Historically grown, each department operates its own digital systems and maintains its own online presence. Recognising substantial growth opportunities in the digital landscape, Komax aims to establish a robust online footprint that facilitates a seamless customer experience across all channels and business sectors.
Initiating the Digital Information Supply Chain
So, what was required to accomplish this? In 2018, two analyses were conducted to illuminate the matter, marking the initiation of foryouandyourcustomers' involvement. Alongside assessing the actual customer experience and its associated journeys, a thorough examination of the Digital Information Supply Chain (DISC) took place. Sebastian Horat explains, "We delved into Komax's digital 'engine room,' the critical component underlying a seamless digital customer journey."
The analysis findings were crystal clear: the engine room necessitates decluttering and streamlining. This sparked an internal digitalisation process at Komax, set to yield far more than a mere website revamp. But let's delve deeper into that as we progress.
Step by step towards Master Data Management
Over the course of several years, foryouandyourcustomers has been effectively assisting Komax in its digitalisation journey, offering a blend of technical expertise and unwavering dedication, as expressed by Horat. Step by step, various facets have been developed, encompassing the establishment of master data management. Additionally, the introduction of middleware, a steadfast emphasis on cloud technologies, and creating company-wide information models were diligently pursued. These puzzle pieces form the foundation of an efficient and sustainable experience architecture. Throughout this process, a close partnership with Salvatore Ruggiero, the Lead Digital Transformation Programs at Komax, ensured seamless collaboration.
"This high speed was only possible because the employees were given the necessary decision-making authority, and the top management supported the activities from day one."

— Salvatore Ruggiero, Lead Digital Transformation Programs bei Komax
Fit enough for a decisive design sprint
By the summer of 2021, the engine room was primed to enhance the digital customer experience. The objective was to achieve a "seamless" and "unified" experience, forming the bedrock for new digital business models. Through a design sprint, a concise high-level roadmap and a prototype of the forthcoming Komax Unified Customer Experience (KUDEX) were crafted. To deliver the optimal solution for Komax, Horat assumed the role of the interim Product Owner. This strategic decision stems from the earlier analysis: "We identify the necessary roles within a company and, if necessary, temporarily undertake them," he elaborates.
From there, progress unfolded rapidly: A team of twelve experts specialising in areas such as frontend development, content creation, and service design, worked intensively on shaping KUDEX. The teams exercised autonomy in making system choices, ensuring efficient decision-making processes.
---
Design Sprint at Komax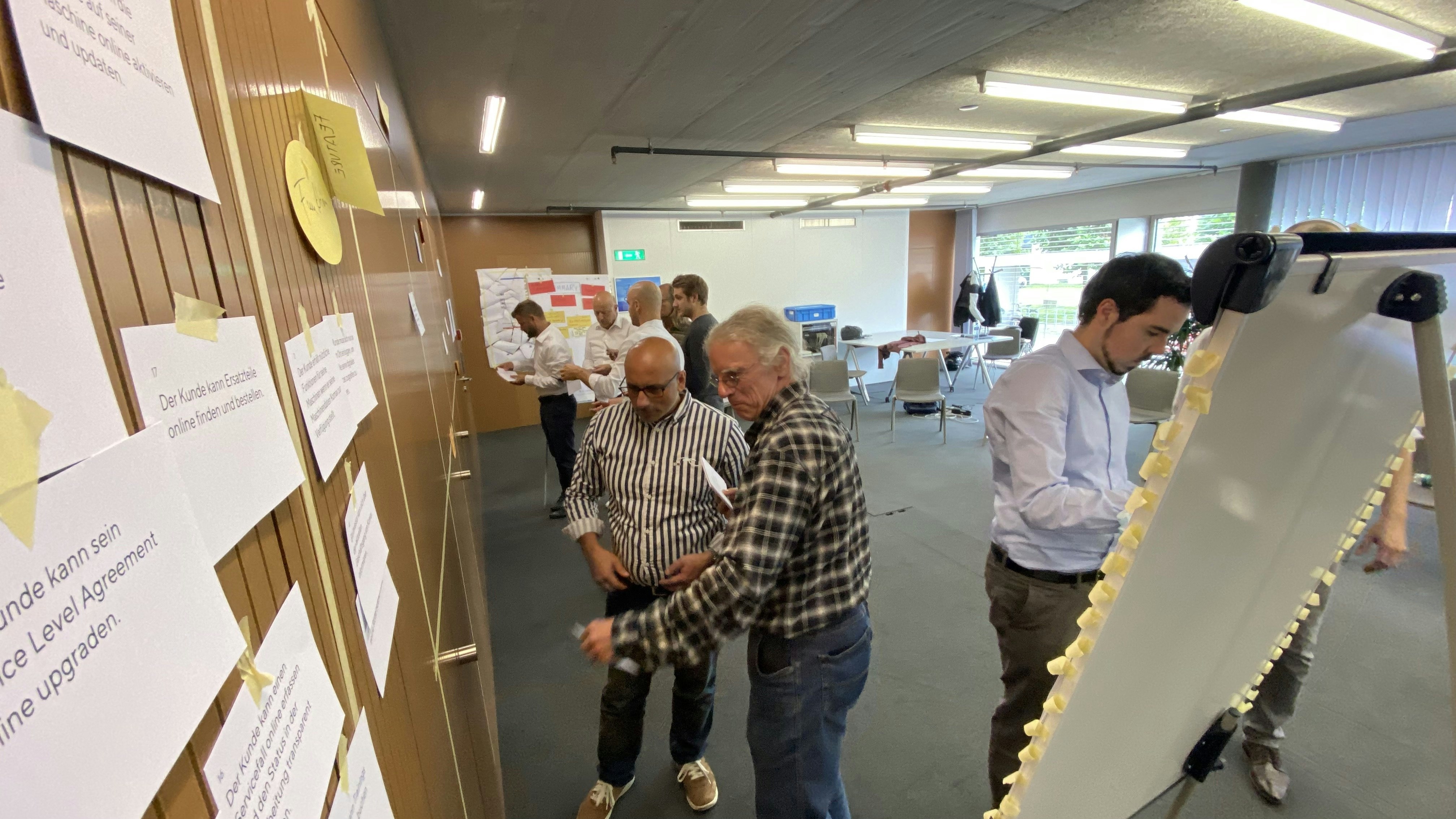 ---
After only 10 months, the new web presence is now live.
And there it is: After a span of ten months, the objective has been accomplished. On October 19, 2022, the initial channel of the Komax Unified Digital Experience went live as a brand-new website. Horat enthusiastically reflects, "With a seasoned, interdisciplinary team, self-directed contributors, and a suitable budget, we have achieved far beyond what some sceptical onlookers might have initially anticipated." His contentment shines through his words, highlighting the success of the endeavour.
The record time of 10 months in Experience Management was only possible thanks to the clean and well-founded groundwork of the past years.

— Salvatore Ruggiero, Lead Digital Transformation Programs bei Komax
However, the website represents merely the initial stride in Komax's transformative digital journey. This accomplishment has sparked enthusiasm among many individuals and ignited further digital initiatives within Komax.
Continue reading
Explore the second part of our case study ­to delve into how a design sprint expedited the development of significant projects.
2/3 Explore the second part of our case study to delve into the ongoing journey, the pivotal role played by the design sprint, and the seamless integration of all internationally relevant languages. Witness how a design sprint expedites the development of significant projects multiple-fold.
3/3 The third part delves deeper into Sebastian Horat's role as a Product Owner, establishing essential roles by foryouandyourcustomers, and creating a Digital Factory for Komax. Uncover how the team crafted a framework that aligns with Komax's digital transformation objectives.
---