A Recap of for you and your cus to mers' Experience at Australian Healthcare Week
2023-03-22 ・ Tobias Felbecker
Last week, our team from foryouandyourcustomers Sydney attended the Australian Healthcare Week (AHW) in Sydney. It was a fantastic opportunity for us to engage in meaningful conversations about digital healthcare with fellow professionals in the industry.
Alongside my colleague, Steve Wilson, and our supporter Malcolm Ingram, we showcased how our Exploded View Model, Patient Journey approach, Master Data Management, and Healthcare Information Modelling can help create better patient experiences and improve healthcare delivery.
Australian Healthcare Week: An Overview
The event took place from March 15-16 at the ICC Sydney and attracted a large gathering of healthcare professionals. As the largest healthcare event in the Southern Hemisphere, AHW featured more than 150 speakers, 150 exhibitors, a start-up village, and over 100 case studies. This offered participants an excellent opportunity to stay informed about the latest trends and developments in the sector.
Digital Healthcare at the Forefront
AHW focused on the digital change of healthcare, emphasising:
patient-centric care, 

interoperability, 

and innovation. 
Key discussions revolved around enhancing patient engagement, empowering clinicians through digital health tools, and navigating the transition to virtual care models. The event showcased successful case studies, strategies for fostering an innovation culture, and solutions for rural clinician workforce challenges.
---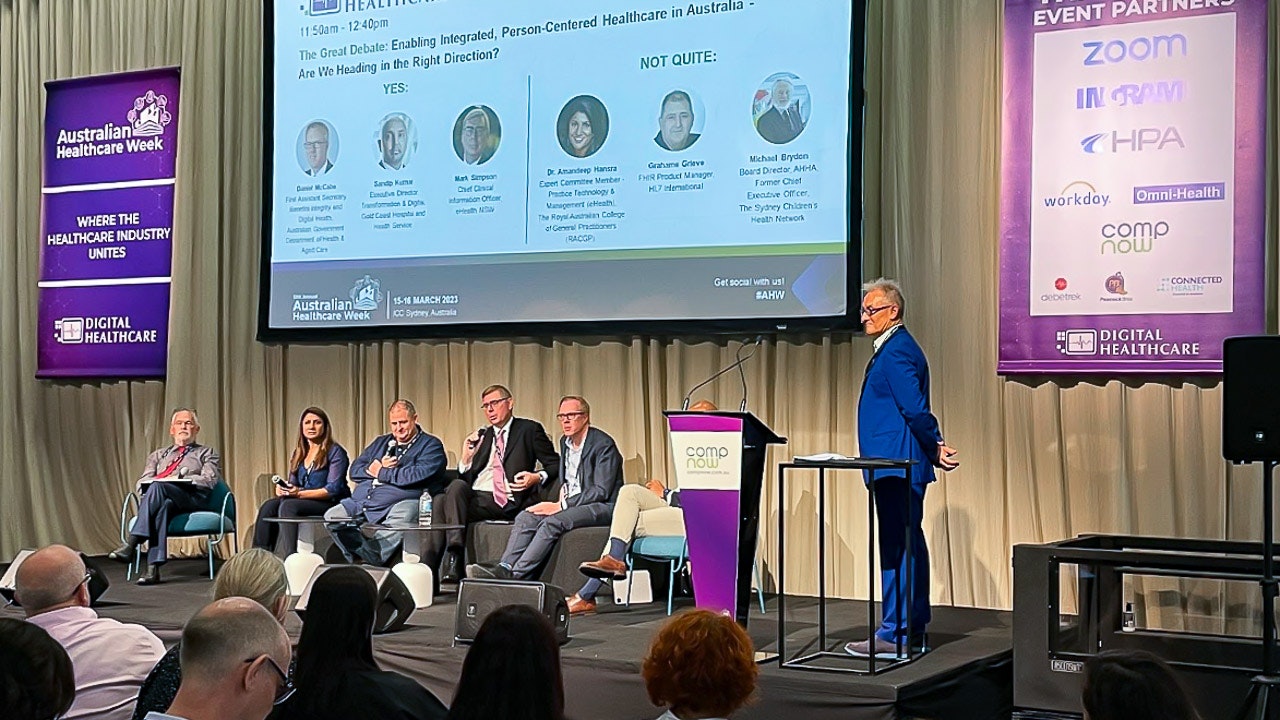 ---
As we interacted with visitors at our booth, we discovered that our offerings aligned well with the key topics discussed at the event. 
Our solutions, such as the Exploded View Model, patient journey mapping, and master data management and information modeling, provide healthcare organisations with the tools they need to excel in the digital healthcare landscape. In the following sections, we highlight some key takeaways from these discussions and the handouts we shared with attendees, illustrating how our solutions contribute to the broader conversation at Australian Healthcare Week.
The Exploded View Model in Healthcare
Our Exploded View Model is a six-layer framework that assists healthcare companies in visualising their organisation for better collaboration and tackling challenges more effectively.
---
Preview of the Exploded View handout.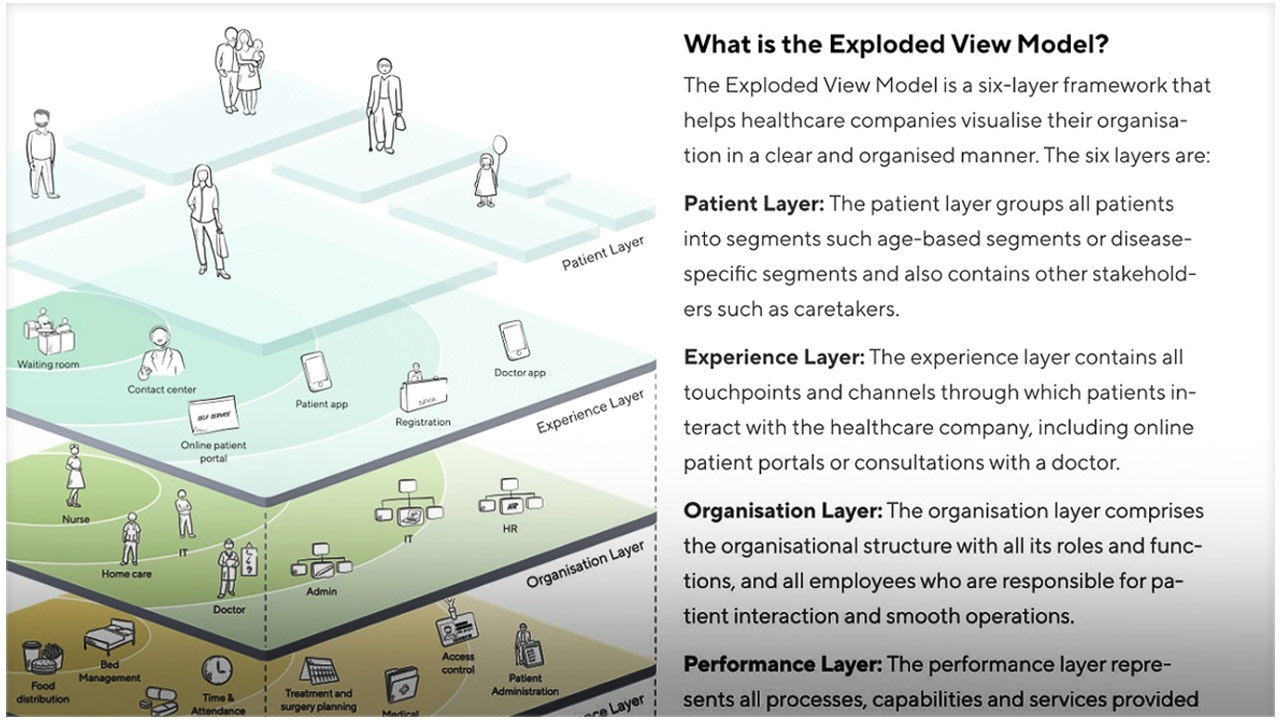 ---
By employing this model, healthcare companies can create a seamless patient experience, identify gaps, understand requirements for digital initiatives, visualise interdependencies, determine the best system architecture, and define data strategies.
This holistic approach can help healthcare companies improve digital initiatives and enhance patient experiences.
See the Exploded View handout: https://www.linkedin.com/smart-links/AQEe6yD0uB8eoA 
Patient Journey Mapping
foryouandyourcustomers offers a patient journey mapping approach that helps healthcare providers improve patient experiences. This comprehensive approach includes mapping the as-is patient and employee journeys, conducting gap analysis, and developing a to-be patient journey linked to a digital roadmap. 

By adopting this methodology, healthcare providers can gain a deeper understanding of patient experiences, identify pain points, enhance patient satisfaction and outcomes, and foster a patient-centered approach to healthcare.
---
Preview of the patient journey handout.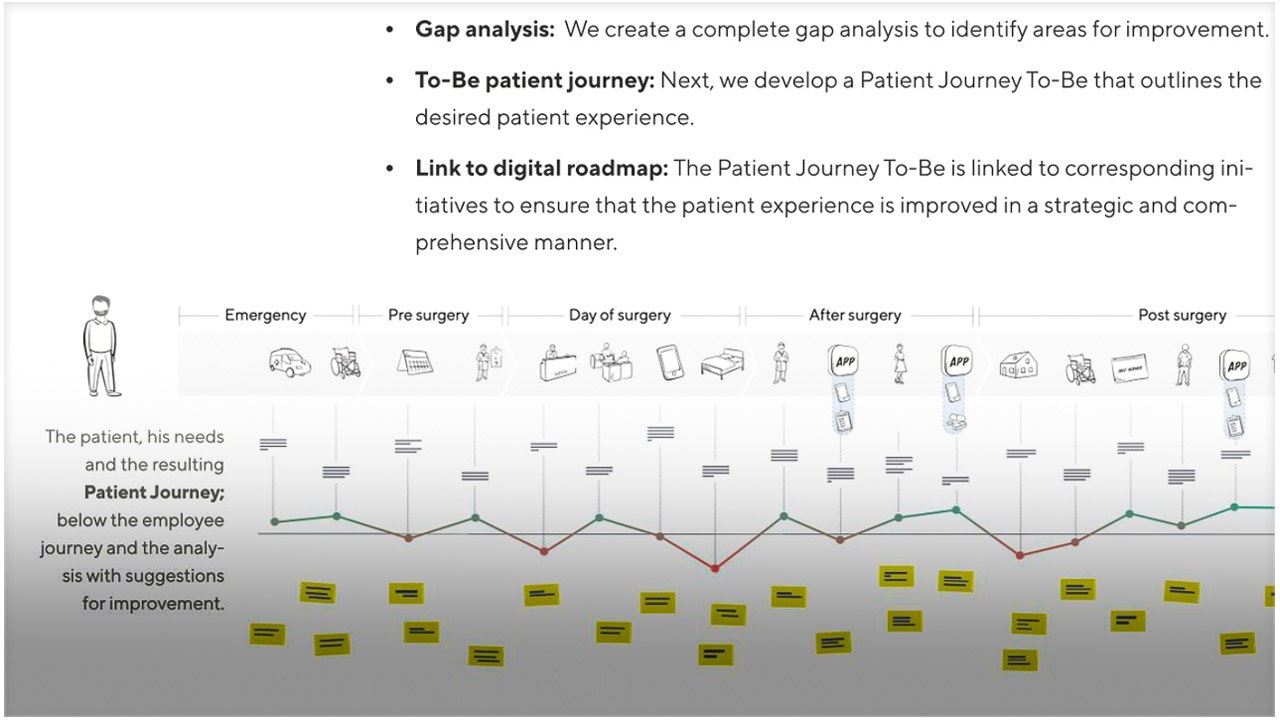 ---
Find the patient journey handout: https://www.linkedin.com/smart-links/AQGGGSKPX4tSbg
Master Data Management in Healthcare
Master Data Management (MDM) is essential for addressing challenges in the Australian healthcare industry, such as increasing demands for transparency, personalisation, and compliance. 
---
Preview of the MDM handout.
---
MDM enables healthcare providers to gain deeper customer insights, enhance business analytics, and ensure compliance with regulations. In collaboration with Stibo Systems, foryouandyourcustomers offers comprehensive MDM solutions to help healthcare companies improve patient safety, efficiency, and business performance while supporting regulatory compliance and informed decision-making. 
Check out the MDM in healthcare handout: https://www.linkedin.com/smart-links/AQGNUqGOJpxRZQ
Healthcare Information Modelling
Healthcare Information Modelling helps organise and structure healthcare data, enabling better communication and decision-making among providers. 
Partnering with foryouandyourcustomers, this approach offers personalised medicine, predictive analytics, and other solutions like Clinical Decision Support Systems and Healthcare Data Integration. 
Implementing Information Modelling and a Secure Digital Patient Record (SDPR) can improve healthcare delivery, patient outcomes, and data security. 
See the Information Modelling handout: https://www.linkedin.com/smart-links/AQHlXMehU2LyJQ
---
Preview of the Information Modelling handout.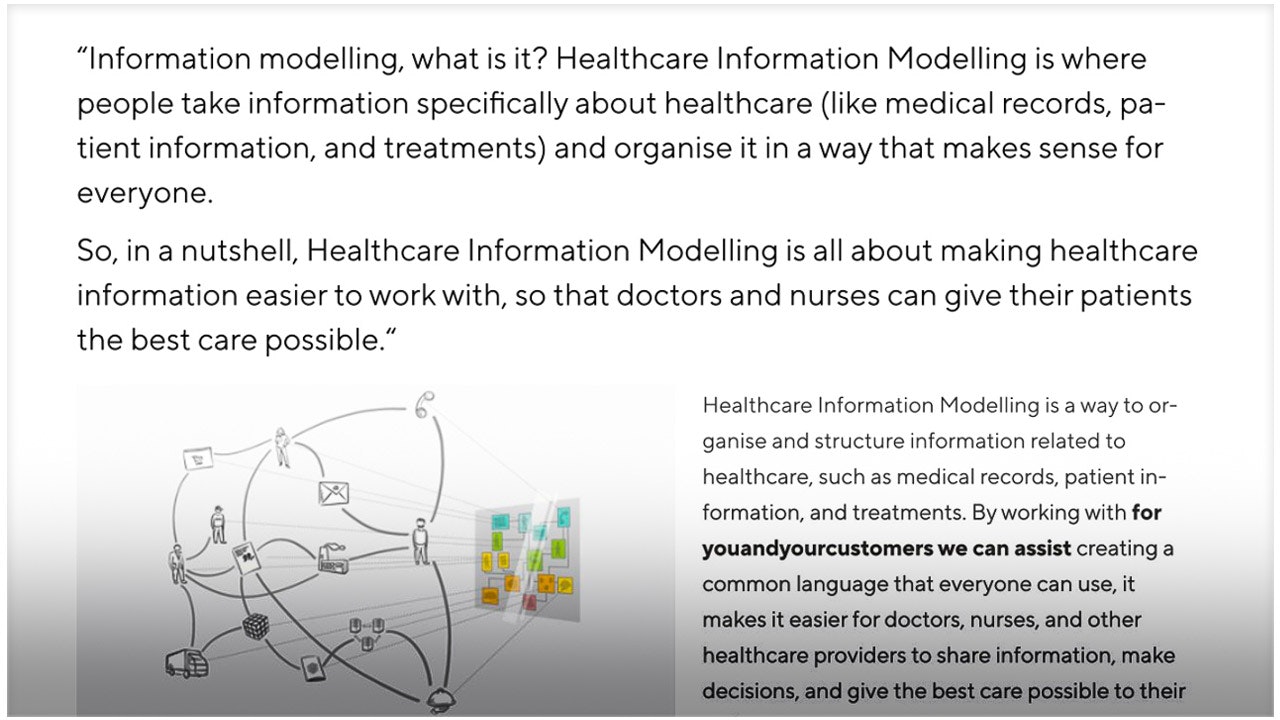 ---
In conclusion, our visit to the Australian Healthcare Week was an incredible opportunity to connect with industry professionals and share our expertise in digital healthcare. We look forward to continuing these conversations and helping healthcare providers adopt innovative solutions for improved patient experiences and outcomes.
As a next step, we'd like to offer you a free consultation with our Digital team to discuss how our solutions can be tailored to your Healthcare organisation's needs.

To schedule your consultation, please contact:
We look forward to continuing our conversation and helping your organisation excel in the digital healthcare landscape.
---