Officeworks and foryouandyourcustomers upgrade online Print, Copy & Create experience
2022-03-01 ・ Kunal Lohia ・ Bernhard Mueller
---
Officeworks is part of Wesfarmers Group and Australia's home for office supplies, furniture, technology, and printing services.
Officeworks modernised its digital Print, Copy & Create offering to provide customers with improved, customisable, and modern solutions for their printing needs. In this multi-vendor program, foryouandyourcustomers applied deep experience in Stibo's STEP product MDM platform to design structures, workflows, and integrations to create and manage highly configurable products digitally.
Stefan Conrad, Product Owner at Officeworks, explains the impact to the Print, Copy & Create platform: "With foryouandyourcustomers' support, we managed to upgrade the significant front-end and back-end of our technology stack. It has helped to standardise our product onboarding process, as well as our product management processes and most importantly improves our customers' journey to help them easily find our products and services online." 
Stefan Conrad has a long history with product information management (PIM) systems at Officeworks. In 2013, he was involved with the initial introduction of Stibo's PIM platform called "STEP" at Officeworks. When he made the decision to further expand the use of STEP for their Print, Copy & Create (PC&C) program, he was well aware that PC&C-products require to be extremely configurable, and thus are much more difficult to manage than regular trade products at Officeworks. But he understood the power of the STEP platform and was convinced that there must be a way to use it for the management of this kind of products. The goal was to align the management of customisable "PC&C" products with the remaining Officeworks' products.
---
View of the business card guidelines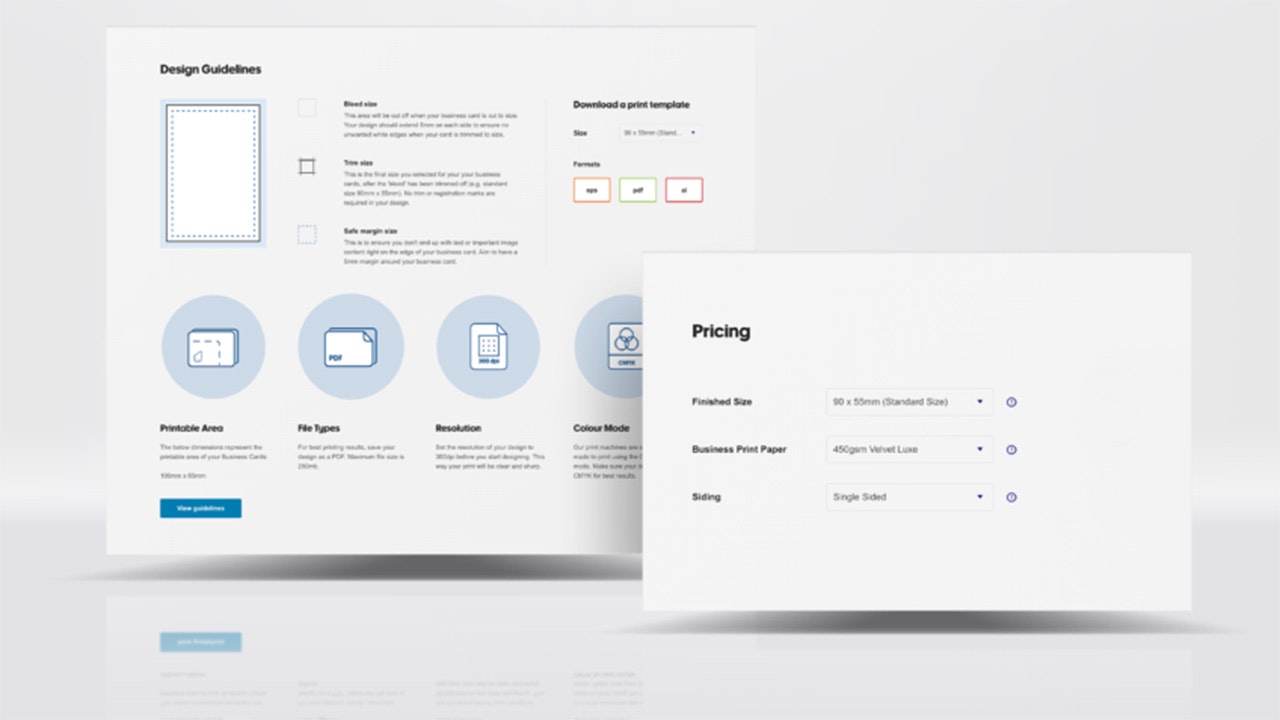 ---
Configurable products – how to manage thousands of product variations
The main challenge was to find an easy, user-friendly way to onboard and manage PC&C products. To explain how demanding these products are, let's take the example of printing business cards via Officeworks.com. The user can decide on several options:
Choose from a business card template, or create a new one

Print front and/or back, 

Paper material to use, 

Lamination in matte or gloss, and finally 

Which pack size should be ordered.
The main difference to other Officeworks' products is that the selection of PC&C products are dependent on each other, e.g. not every material may be compatible with every lamination type. Traditional products would only have a set of "attributes" – e.g. a text marker will only have to choose from a set of colours and the pack size. This shows how crucial it is to understand the actual products when designing a data model in the Product Information Management system. 
To implement a robust and scalable solution for Officeworks, the program team, consisting of seven experts from foryouandyourcustomers and Stibo Systems, focused on information modelling, business process analysis, and solution architecture design. The team worked closely together and utilised the knowledge and experience from foryouandyourcustomers' European teams.
Technology, agile methodologies, and relationships – the pillars of success for the program
By using foryouandyourcustomers' methodologies, like Information Modelling and the Digital Information Supply Chain concepts, the project was able to deliver a best-of-breed solution that optimally supports Officeworks' new Print, Copy & Create offering. As part of the project, Officeworks embraced agile delivery methodologies. This approach, championed by foryouandyourcustomers, focuses on integrating all involved business stakeholders, subject matter experts, and Officeworks' IT team to define and realise the required outcomes, something that had not been done at that scale before at Officeworks.
I really enjoyed working with foryouandyourcustomers – a company that puts their and our customers first and foremost – it's in their name. Meeting Jonathan Moeller – the founder – has confirmed this as a shared value and it is a key differentiator for me!

— Stefan Conrad, Product Owner of Officeworks
Heading towards the digital future with flexible solutions and strong relationships
Asked about an outlook for Officeworks for the next three to five years, Stefan Conrad explained: "Officeworks prides itself on truly being an omnichannel business. This is heavily driven by technology and digitisation. I see Officeworks continuing on the digitisation journey for the foreseeable future – continuing to invest heavily in both our customer-facing and backend applications."
In response to that, Bernhard Mueller, CEO at foryouandyourcustomers in Melbourne, added "What we value most at foryouandyourcustomers is to engage in trusted, lasting and mutually beneficial relationships with our customers. With Officeworks, we were able to form that trust across business and IT teams. Nurturing these relationships gives us the opportunity to continuously support our customers with further improvements even after the initial project completes."
---
About Officeworks
Australia wide they currently have 167 stores and more than 40'000 products. The division of Print, Copy & Create delivers all services around customised products like posters, flyers, photo albums, corporate products, and much more. 
About foryouandyourcustomers
foryouandyourcustomers' MDM experts establish a solid foundation to support the digitalisation of your business.  As a Stibo STEP Premier Partner we guide you through the entire process of product data creation, enrichment, quality assurance, and publication to all channels.
More about us
If you'd like to learn more about foryouandyourcustomers in Australia then please don't hesitate to reach out to us and start a conversation.
---
More Info
Other useful content