Omnichannel Challenges for Luxury Retailers 
2023-03-14 ・ Tobias Felbecker
A decade ago, the debate around whether luxury goods could be successfully sold online was still raging. However, today it is evident that online luxury sales have not only arrived but are here to stay. Pure players like Matches Fashion, Net-a-Porter, and Farfetch, along with luxury brands such as Gucci and Burberry, have demonstrated the potential of online sales. As a result, most luxury brick-and-mortar retailers, including luxury department stores, have embarked on their own omnichannel journeys.
According to a report by McKinsey, the global high-end market will witness a more than threefold increase in online luxury sales by 2025. Notably, nearly 80% of the current luxury sales are impacted by online channels.
---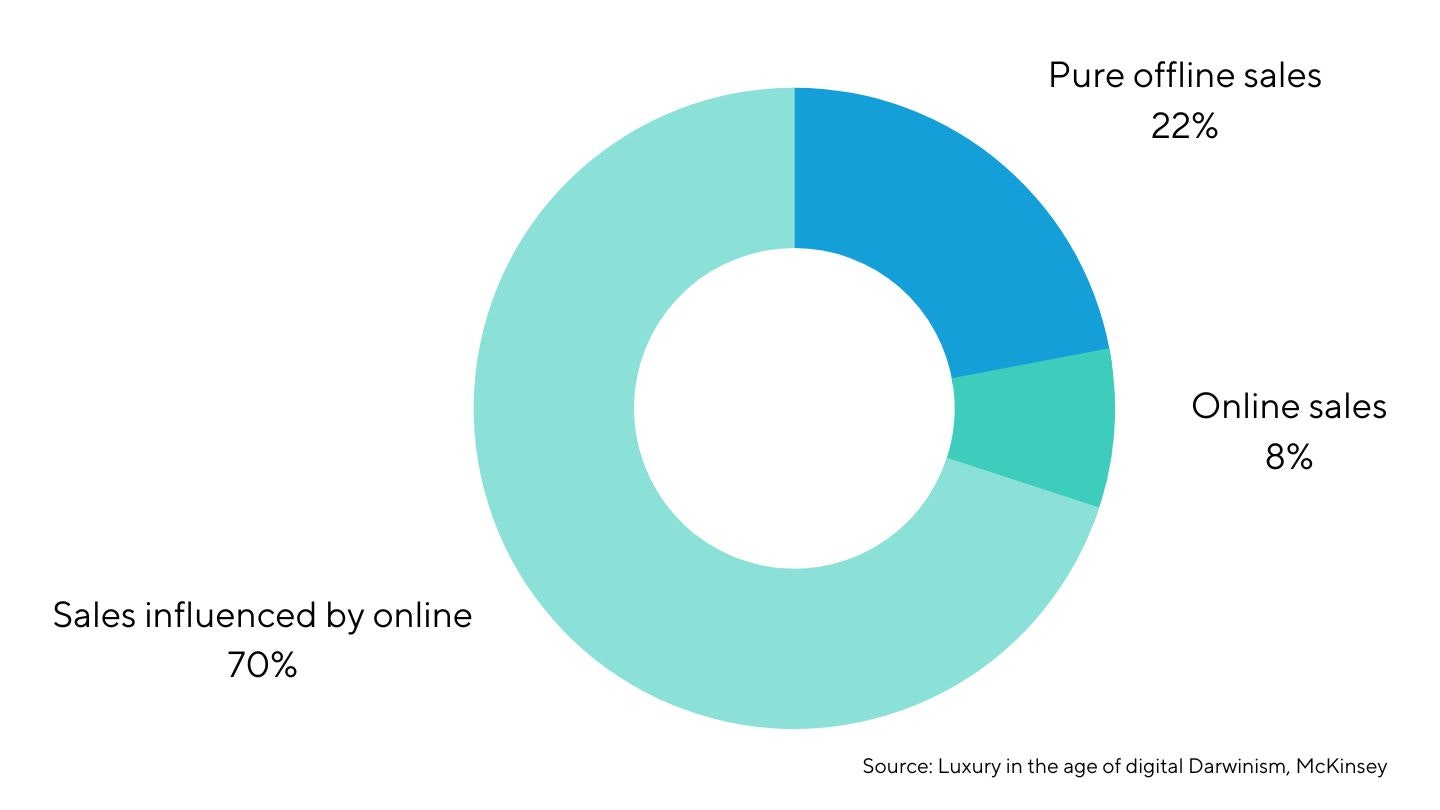 ---
The challenges for premium and luxury retailers
As we witness this increasing impact of omnichannel in luxury sales, retailers are faced with the challenging task of providing exceptional customer experiences across all channels while preserving their brand's esteemed reputation. These challenges significantly impact customer satisfaction, brand reputation, supplier relations and overall business performance. To ensure success in the competitive luxury retail sector, it is crucial to address the following key challenges:
Providing an excellent omnichannel experience: Luxury customers expect outstanding and tailored services across all channels. Luxury retailers must effectively translate the in-store experience to the digital realm. While an excellent brick-and-mortar experience is driven by warm and welcoming in-person interactions, a unique store design, and a great product experience, the online experience is driven by the quality of service, personalisation, and exceptional content and design. To deliver this both online and offline, retailers must adopt a unified mindset while developing distinct capabilities for each channel.

Maintaining brand exclusivity: Luxury retailers depend on exclusivity and prestige to uphold their brand image. Striking a balance between exclusivity and accessibility in the digital realm can be challenging. Brands must ensure their online presence does not compromise their luxury image, while still offering seamless and convenient experiences for all customers in any channel. Consistency in pricing and avoiding excessive online discounts are crucial aspects of maintaining exclusivity.

Suppliers' expectations: Luxury brand suppliers prioritise brand image protection. As they increasingly adopt direct-to-consumer (D2C) strategies, they choose their distributors and channels carefully. They often impose stringent requirements on the online channels of their distributors regarding online presence. Retailers must provide a platform where suppliers feel comfortable and are proud to showcase their brand, both in physical stores and online. Additionally, luxury brand manufacturers increasingly emphasise the importance of maintaining control over inventory and customer relations. Solutions in brick-and-mortar retail, such as concession or in-store concepts, can be addressed online through marketplace models.

Profitability impact of new sales channels and underlying business models: The emergence of new digital sales channels in luxury retail comes with varying cost structures, such as those related to high-quality content or top-notch logistics services that meet customer needs. These channels also entail different pricing structures and margins. While a one-size-fits-all approach for all channels might be the easiest way to create a seamless customer experience, it can lead to varying profitability. Additionally, the impact of new business models, such as marketplace models, must be considered. (For further insights on this topic, please see: Redefining Omnichannel Profitability: A Data-Driven Approach)

Digital marketing and targeting: Luxury retailers need to carefully design their digital marketing strategies to reach the right audience without compromising their exclusive image. They must strike the right balance between engaging potential customers and avoiding brand overexposure.

Integrating online and offline channels: Luxury retailers must deliver a seamless and consistent experience across all touchpoints, necessitating strong integration between online and offline channels, including inventory management, customer service, and marketing efforts. 

Training and staff development: Exceptional customer service is the foundation of the luxury retail industry. To ensure consistency across all channels, retailers must invest in employee training and development programs focusing on digital skills, in addition to traditional luxury customer service aspects.

Fraud detection: High-priced goods sales often attract higher fraud rates. Luxury retailers need to deploy effective fraud detection tools to minimise fraud.

Omnichannel revenue distribution: Sales incentives for brick-and-mortar staff can strongly drive sales, and these salespeople play a critical role in delivering omnichannel services such as click-and-collect or endless aisle service. A smart revenue distribution approach and incentive mechanism are required to reward all involved parties according to their value addition.
The luxury retail landscape has evolved dramatically over the past decade, with online sales becoming an essential component of a successful omnichannel strategy. To stay competitive and provide exceptional customer experiences, luxury retailers must address the unique challenges that come with this new digital era. Embracing innovative technologies, leveraging data-driven insights, and adopting best practices will further strengthen luxury retailers' ability to meet and exceed customer expectations. The future of luxury retail lies in the seamless integration of online and offline experiences, and those who adapt and innovate will continue to thrive in this dynamic market.
How do you tackle your challenges?
At foryouandyourcustomers, we provide an array of services to assist retailers in their omnichannel journey. Our industry experts have created an Omnichannel Retail Framework based on our Exploded View model. As your trusted advisor, we help guide you in making informed business decisions while planning and designing your omnichannel experience.
As your technology partner, we support you in selecting and implementing the most suitable tools for your unique needs. Read more about our approach here. To learn more and discuss how we can support your specific needs, please get in touch with our retail expert, Tobias Felbecker.
---