A practical case: How to enable your ecommerce platform to serve multiple brand stores
2023-05-10 ・ Eric Vanderfeesten
When a company has multiple brands on the market, the internal organisation is often faced with managing multiple platforms. This significantly impacts IT, marketing, and customer service teams. Restructuring the landscape helps to streamline processes, systems, and the experience of your customers.
It is not unusual for an organisation to manage multiple stand-alone platforms and use different systems for a similar purpose. Hopefully, your business is just doing very well, and new business development initiatives have become sustainable and need more online presence, or different units act independently of each other and use their own, or the holding company has expanded through mergers and acquisitions bringing in a diverse set of systems. In these and other cases, it makes sense to think about how distinct brands within your company are digitally visible as this affects the entire digital information supply chain, including product lifecycle data management, information modelling and ecommerce and/or order management.
A practical use-case
One of our clients asked us to help them restructure their ecommerce system landscape. The organisation, an international retailer with both brick & mortar stores and broad online presence, has distinct brands on the market and uses different systems to present these brands to their customers. In addition, each brand has specific visual and functional requirements for their online presence. They wanted to make more use of key systems while phasing out other systems. 
The goal was twofold:
Achieving a more uniform system landscape, and

Simplifying the future realisation of new functional requirements.
Simplify and enrich the ecommerce landscape
To know which adjustments were necessary, we first wanted to get an overview of the bigger picture. Using our Exploded View model, we looked at all relevant aspects of the digital business and ecommerce landscape. The model supported us in visualising the relevant aspects of their digital business by highlighting all related systems and processes, tools and resources, and users and their interfaces to form a complete picture of how the ecommerce lifecycle works within your organisation. If you are interested in learning more about the Exploded View, feel free to read our whitepaper on How the Exploded View model helps you optimise your system landscape.
---
Figure 1: High-level overview of the customer-facing ecommerce platform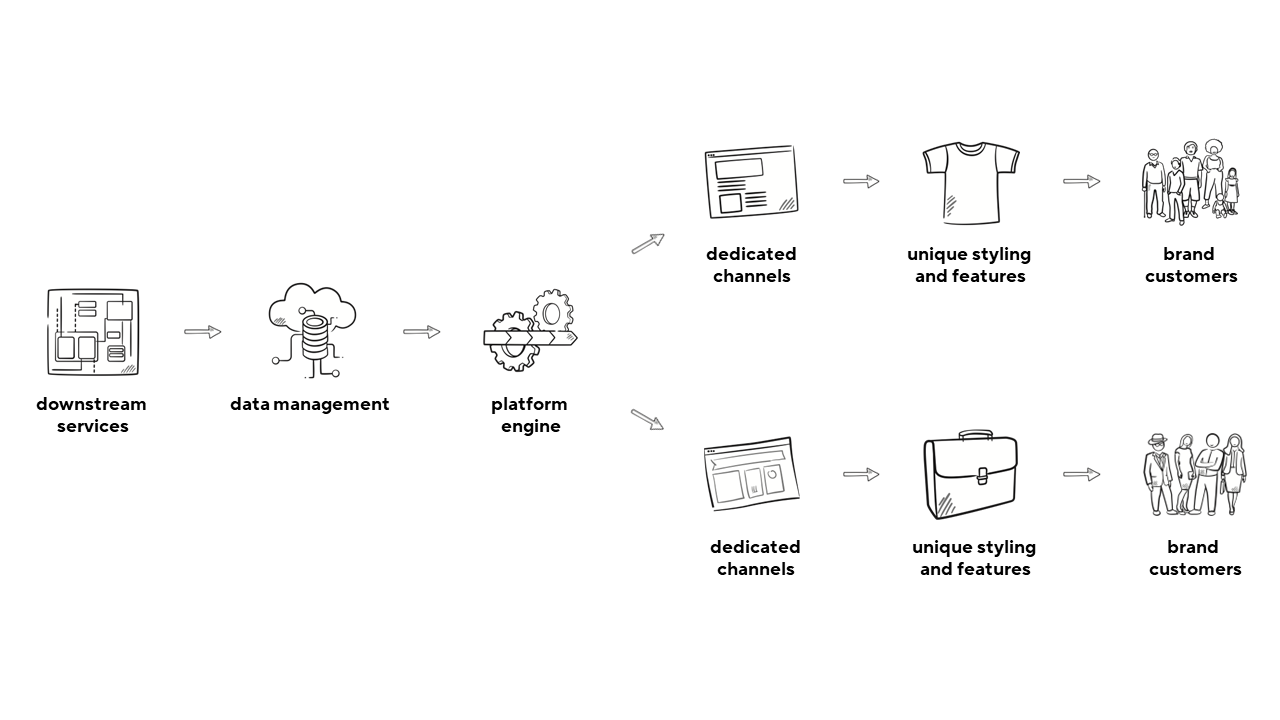 ---
In this case, we analysed the different components used by the different systems in the overall architecture. We identified which parts had common functionality, and which parts served as add-ons used only in specific situations. Understanding the purpose of all components allowed us to remap and restructure the landscape of both the core systems and the various integrations.
Resolve identical functionality
Multiple brands had overlapping functional requirements, while still using different services. We could create a more unified backbone to serve distinct brands by adapting and merging functionality for amongst others customer profile and loyalty services, product and order management, and monitoring systems.
Enhance the integration layer
Parts of the technical integration layer that exposed the underlying functionality of the ecommerce engine still required change. We modified and enhanced different services in this integration layer to support all brand stores with multi-brand and multilingual functionality.
Create unique brand experiences based on a similar blueprint
Apart from unifying overlapping functionality, each brand also required dedicated interactions and visual experience. We took one of the existing online brand stores as a blueprint for other stores, as this already offered a full user experience to start with. For optimal experience we restyled it to accommodate the specific brand requirements. Finally, we enhanced it with a set of unique features to deliver a rich and recognisable brand experience for the additional brand stores making use of the unified platform.
Increased sales through a uniform and optimised landscape
By mapping and streamlining the various components, processes, and systems, we were able to create clarity and overview in the ecommerce landscape. This allowed the client to focus on their core activities once again. The renewed unified platform now forms the basis for all future ecommerce developments and is enriched with new capabilities to support multiple brands, each with their own unique brand experience. In addition, the client no longer has to worry about the multitude of systems that must be licensed, maintained, and used.
Order and product management pipelines have become more efficient by combining and optimising processes in the connected downstream dependent services. By unifying and reducing the number of systems in use, we have also made life easier for the teams involved in marketing, content creation and IT services.
The individual brands already make use of the functionality and capabilities of the unified platform. It provides new opportunities to improve brand experience, expand the customer base and drive conversion. This gave them clear results in the form of more positive customer feedback and a significant increase in sales on their digital platform for the upgraded brands in the recent period.
Summary
In this article, I talked about how we supported one of our customers in achieving a more unified ecommerce system landscape that simplified the realisation of future requirements. We have used the Exploded View model to provide insight into the bigger picture and thus create overview and clarity. This enabled us to make conscious choices for adapting specific parts of the landscape.
The people at foryouandyourcustomers are talented and specialised in the field of ecommerce, product information management and digital information supply chain. We provide advice and consulting services to your digital business and are also able to implement custom solutions end-to-end for your unique challenges. We are a guide to your digital needs and work closely with you to realise your ambitions.
If you are curious about foryouandyourcustomers or want to learn more about how we support businesses in digital change, feel free to reach out and contact Eric Vanderfeesten or one of my colleagues in Amsterdam.